Update: Contest: Win Baby's First Book from Barefoot Books!
Update: The winners are: Sarah S., Mary Alice B., Claire L., Lisa F., and Mary M.
---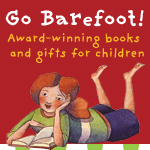 Go "Barefoot" this spring with BarefootBooks! At BarefootBooks we believe that art and story play a vital role in fostering children's creativity and capacity for independence. So, we offer books, CDs and gifts that are thoughtfully written, beautifully designed and illustrated, and have high educational value. They are lots of fun and designed to last (even in the littlest hands!), but above all they are meant to be shared and enjoyed! See why Oprah (as seen in O Magazine), Paul McCartney, Debra Messing (both as seen in Child, 10/06) and Mary-Louise Parker (as seen in Parents Magazine this month) have all gone "Barefoot" and found their own favorite BarefootBooks titles!

You can win a copy of the newest BarefootBook for babies – Baby's First Book!This book features Clare Beaton's exquisite hand-sewn collageillustrations and offers babies all types of things to look at andlearn about – a perfect book to share with baby.
Continue reading to see how to enter.
Enter to win one of 5 copies of Baby's First Book (a $20 value). Email the following info to celebritybabyblogATgmail.com (make sure you replace AT with @).
Your full name, mailing address, and email address.
Visit www.letsreadbarefoot.com to answer the question: What isthe title of your favorite "New for Spring" Barefoot Books product?
Make sure you put "Let's Read Barefoot" in the subject line in order for your entryto be counted.
Any entries that don't include all of the info will not be counted. The contest closes March 29 at 7 am EST. (For terms & conditions, click here.)