Introducing Jaden Anthony Shentall-Lee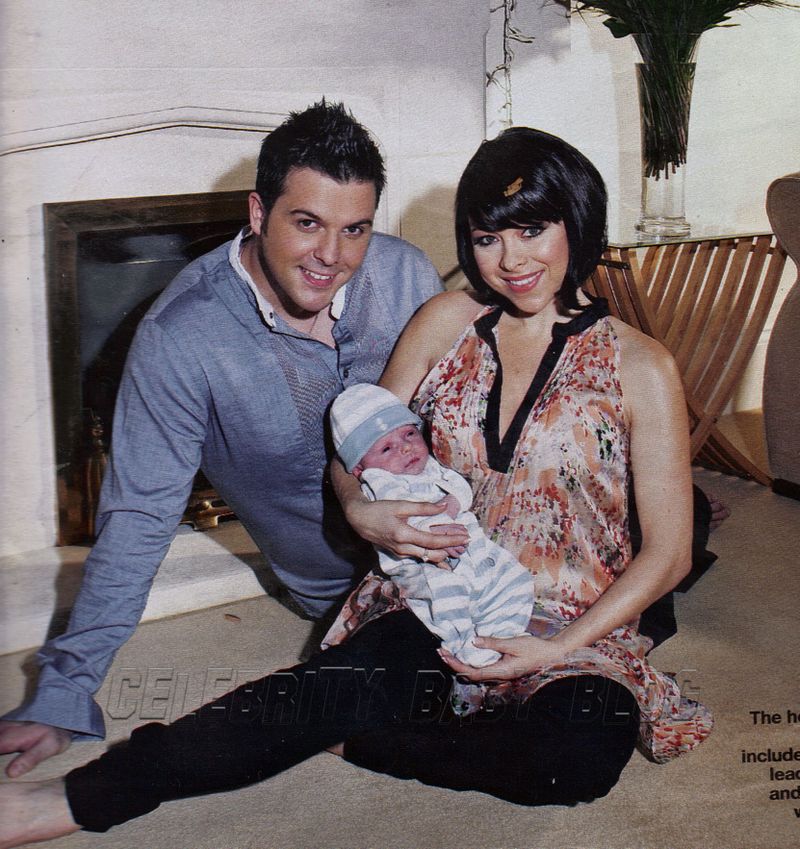 UK stars Lisa Shentall-Lee, formerly of Steps, and Johnny Shentall, 29, formerly of Hear'Say, welcomed their first child on February 23rd at 2:29 pm. Jaden Anthony Shentall-Lee weighed in at 6 lbs, 10 oz. The couple introduce their son, 5 weeks on Saturday, in the latest issue of Hello! UK.
In the article Lisa, 32 — who now prefers to be known by her married name rather than Scott-Lee — discusses their son's early arrival, her waterbirth, having a delivery surprise and more.
Click below for the photo and interview highlights.
L: [We made a decision] last year. Johnny and Ihad always wanted children, but decided to enjoy time together for afew years before trying.


We'd both done a lot in our careers and feltthe time was right after I'd competed on 'Dancing On Ice.' I was thefittest I'd ever been thanks to the show, which I believe made me morefertile.
On cravings:
L: Only cake.We had lots of birthdays in September — Johnny's, my mum's, and my dad'sand Johnny's mum's — so there was loads of cake for me. For the firstthree months, though, I went off food in general because I feltnauseous.

J: It was hard for me because it reached a stage where I told her: 'Lisa, you've got to eat.'
On enjoying the pregnancy:
L: After the nausea subsided, I hada lovely pregnancy. Sometimes I felt strange about my body changing andhad to adjust. Having trained as a dancer, I felt self-conscious aboutmy bump. I'd ask Johnny: 'Does my bump look big in this?'

J: It suited Lisa being pregnant. I thought she looked sexy and gorgeous.
On preparing for baby:
L: [We didn't shop] for a while as we were stillworking and I performed during a promotional tour to China. Then Johnnyand I performed in a pantomime together.

We waited until we'd reachedseven months before we actually bought anything, which was also partlybecause we were superstitious.
On music:
L: We always have music playingat home. But I when I was on stage performing during a show I couldfeel Jaden kicking like crazy. I wouldn't be surprised if he's musicalwhen he grows up.
On the labor:
L:I woke up at 7 am with contractions. I let them continue for about anhour before I knew instinctively that I was actually in labor.

When Ifirst found out I was pregnant, I'd woken up Johnny with the words:'Wake up, sweetheart. It's going to be a special day. We're having ababy.' So at 8 am when I went into labor, I woke up Johnny and said:'Sweetheart, I think it's going to be another special day!'

J:I leapt out of bed, ran Lisa a warm bath and put candles all around it.I thought the warm water would ease the pain. Then I tidied the housein a mad rampage.

L: Johnny was 'nesting.' By 11 am, mycontractions were irregular but very strong. 'This is it,' I told him.'But you've got days to go yet,' he replied. 'Oh no I haven't,' I said.'I'm having the baby today.' (CBB note: Jaden was two weeks early.)

J: By this stage Lisa was out of thebath and was wearing a TENS machine to relieve the pain. During hercontractions, Lisa could hardly speak. She had to communicate with meby putting her thumbs up for a mild contraction and down for a reallybad one.

When I phoned the birthing centre, at Wexham Park Hospital inSlough, the midwife told me that if Lisa had reached the stage whereshe couldn't speak, it was time to bring her in.
On the journey to the birth centre:
L: The longest 15 minutesof my life. We kept getting stuck behind slow vehicles and then came upagainst a police check of cars being randomly stopped. To top it all,my waters broke in Johnny's brand new car.

J: I'm just relieved wepicked a hospital that was close to home. If we'd opted for a hospitalin the centre of London, as we'd considered in the beginning, Lisawould have been giving birth in the car on the hard shoulder of the M4.
L: It was a beautiful experience.The lovely big white birthing pool was in a relaxing room with a mirrorball on the ceiling. I wanted a water birth because I've always beendrawn to water. I grew up by the sea and feel relaxed whenever I'm nearit.

Once I was in labor, a feeling of calm came over me. I think thewater acted as a form of pain relief, too, I couldn't have had anepidural anyway as there is a low platelet level in my blood.

Imust have been in labor for only seven hours and it was the mostextraordinary experience. Although it was painful, I felt as if I wason a natural high. I held on to Johnny quite a bit, and dug my nails into his arm.


My mum, who had four children, lives locally so she wasable to be there with me, too. She'd advised me to file my nails beforeI gave birth as she knew this would happen, but Jaden came sounexpectedly that I didn't have time.

We were the only couple in the hospital, so the entire place wasquiet and peaceful. The two midwives looked after usbrilliantly. To the sound of a James Morrison album playing on my iPod,little Jaden was born.

J: I hardly noticed Lisadigging her nails into me. I just wanted to do everything I could tohelp. I mopped her brow and whispered to her reassuringly to help keepher calm.

When it was happening, I recalled Myleene Klass' fiancé,Graham Quinn, telling me how he felt when he watched Myleene give birthto their baby girl Ava last August. 'You'll do anything in your powerto make sure your partner and the baby are okay,' he said.

Lisa was incredible. I've never seen so muchstrength in my life. It opened my eyes to a whole new world. I've got a newwave of respect for her. I don't think any bloke could go through withwhat she did. Then when Jaden was born, I felt an overwhelming feelingof love for them both. He's brought a new dimension into our lives.
On having a delivery surprise:
L: I felt sure it was a boybecause a psychic had predicted it. I was performing in the show'Dancing On Ice' when she told me I would fall pregnant in six weekstime and that I would have a son. She was almost spot on — I discoveredI was pregnant eight weeks later.

J: When Jaden arrived, Lisa and Iwere so overcome with emotion that we didn't even ask if it was a girlor boy. It was only when Lisa's mum asked. 'What is it?' that we evenlooked. We didn't mind as long as our baby was healthy.
On the moments after Jaden's arrival:
< em>L: When he popped out, the midwife placedhim straight on my chest. He latched on to feed straight away. Johnnyand I both had tears in our eyes.

It was such a wonderful moment andI'll never forget it. Putting a face to the little person I'd beencarrying for nine months was amazing. He had dark brown hair and themost beautiful lips.

J: I cut Jaden's umbilical cord. It was anamazing feeling, to see our baby come out and be put on my wife'schest. A powerful sense of love swept through me and took everything tothe next level for us in terms of our love for each other and our baby.
On her time in the hospital:
L: [It was] only one night. Johnny had bought me a special card in case I wanted to watch TV, but instead I stared at Jaden for hours.

[Now,] every time I strokehis cheek, he looks at me and smiles. When he gazes into my eyes, he makes my heart melt.
On bringing Jaden home:
L: It wasfantastic. Our families were waiting for us at home to meet him, whichwas an emotional time for us all. Although we didn't get much sleepthat night, Jaden settled into a routine straight away.

The day webrought him home, Johnny was so romantic. He presented me with 24 redroses and a diamond eternity ring placed in the middle of one of them.
On choosing the name:
L: My nickname for Johnny is'J' and my grandfather Jason, who I was very close to, was also called'J' for short. So Johnny and I had planned to name him Jay, until wewatched the Will Smith film 'The Pursuit of Happyness' the night before Iwent into labor. The film had a little boy called Jaden in it, whichreally appealed to us.

It seemed particularly appropriate because Igave birth the next day.
Who the baby looks like:
L: Jaden has the same expressions as his dad. When he yawns he looks exactly like him.
On their daily routine:
L: Jaden slipped into one as soon ashe came home. I feed him every three hours throughout the day, thenevery four hours at night. He turns into a gremlin at night, makingall these strange noises. He only wakes up for his feeds, so he's adream baby.

Johnny and I are very much a team. He does all the cookingand cleaning, then brings me breakfast in bed in the morning while helooks after Jaden to give me a rest. I crave [soft] boiled eggs as Icouldn't have them for nine months.
On Jaden's christening:
L: [It will be] this summer. We plan to organize it the week of our fourth wedding anniversary [in August], and have a big garden party here.
On Jaden's godparents:
L: We have lots of celebrity friends, but have chosen seven of our closest non-celebrity friends for this special job.
Celebrity friends who have visited:
L: [My brother] Andy [Scott-Lee] was the first person to visit at the hospital. He and[Liberty X star wife] Michelle [Heaton] bought Jaden a beautiful soft play mat and some lovelyclothes. Claire [Richards] and Faye [Tozer] from Steps also came to seeJaden at home.
How parenthood has changed them:
L: I used to get bogged down byall the knocks in the music industry. Now none of it bothers me. Takingtime out to be with Jaden and Johnny is all that matters.

J: It'smade the world of difference to me. I went for a game of snookerrecently but couldn't wait to get back to Jaden and Lisa.
More kids?
L: Definitely. We moved to this house to start a family and now we'd like to fill up these empty rooms.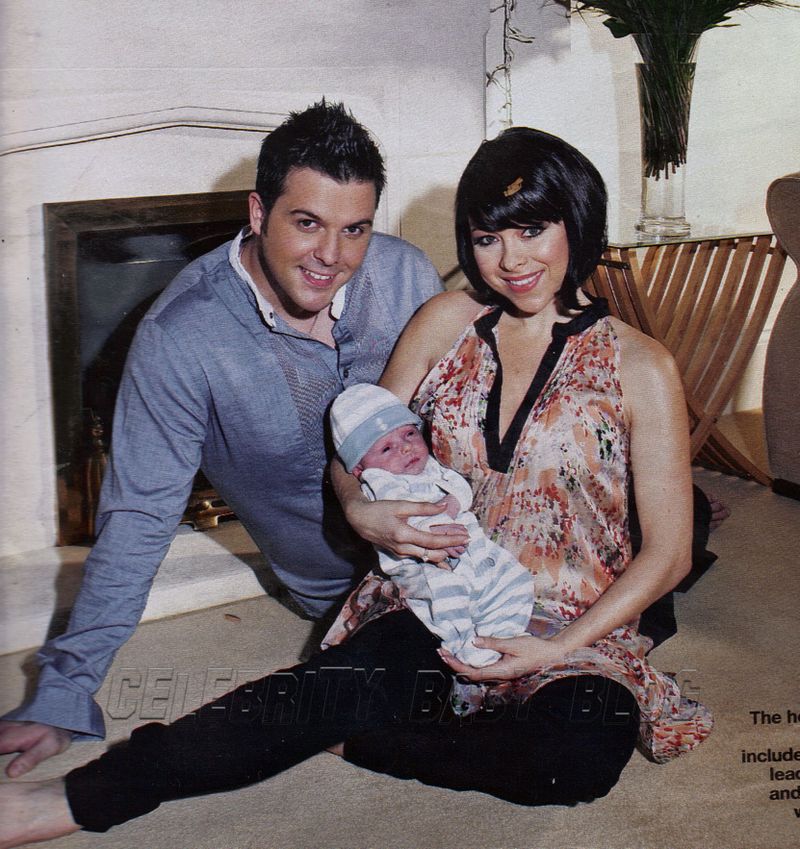 Source: Hello! Magazine, Issue: 1014 1st April 2008
Thanks to CBB reader Carlie.