Tina Fey compares writer's strike to maternity leave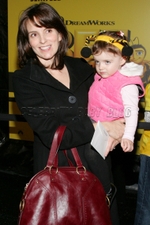 30 Rock's Tina Fey, 37, is happy to be back at work following the writer's strike, but it breaks her heart to leave daughter Alice Zenobia, 2.
The strike was a bit like the maternity leave that I didn't have, except for my duties on the union line. Now my daughter is old enough to say, 'You don't go to work, you stay inside.' That breaks my heart.
Alice's dad is composer Jeff Richmond.
Source: US Magazine