Princess Perfect: Steal Anya's princess dress style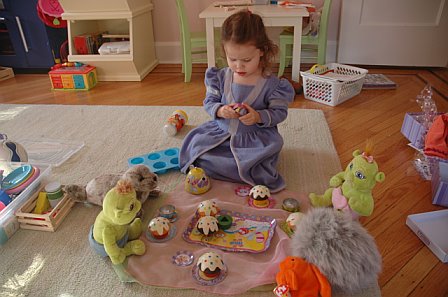 CBB Publisher Danielle's daughter Anya is a huge fan of princess dresses, and her favorite one seems to be Shrek's Princess Fiona costume. She's not alone, toddlers love to play dress up. Even older kids and adults like to engage in a little bit of innocent fantasy play now and then, think Halloween! We decided to round up our favorite princess dresses so that little girls all over could enjoy playing dress up, too.
Click continue reading to see our favorite pretty princess dresses.
Nothing's Too Good
We have no doubt that when Hollywood's elite play dress up they do itin a grand way. So we were not surprised to find fancy dresses and prettycostumes at prices over $250.
Favorite Items: Glass Slipper Princess Costume (right, $390), Pirate Princess Costume ($410) and Jottum Sunrise White Suspender Dress Red Polka Dots ($286)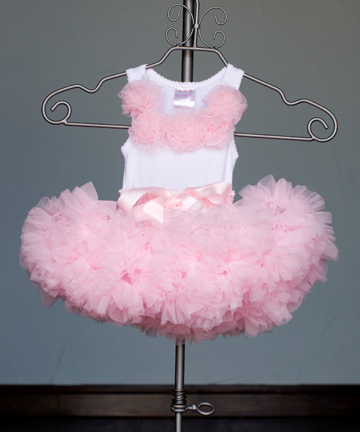 Spare No Expense
What better way to splurge on a beautiful dress, then with one that canbe used as a party or special occasion dress, too. Keep in mind withlittle girls that the fuller the skirt, the happier they will be totwirl and twirl!
Favorite Items: Oopsy Daisy Baby Infant White & Pink Pettidress (left, $110), Luna Luna Candyland Tulle Dress ($104) and Pretty Princess Tutu Costume ($150)
Not Pinching Pennies
If you're looking for a costume that's fit for royalty, these are some great picks. Dress up wear is notorious for falling apart easily, but when you spend a little more on the item, it's typically built to last through a little more wear.
Favorite Items: Pink and Green Orchid Princess Tutu Halter Dress ($80), Kaiya Eve Princess Pink Pettiskirt ($80) and Princess Pixie Tutu Costume (right, $90)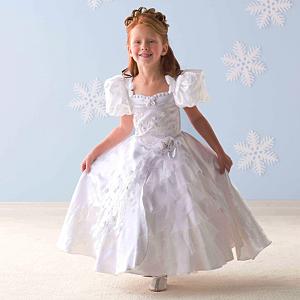 Looking for a Better Value
DisneyStore.com makes officially licensed costumes for most of their famous Princesses. These costumes are made for little ones to play around in and hold up pretty well. And the Disney ones look really authentic, too!
Favorite Items: Pink Petal Dress ($65, on sale), Disney Giselle Costume ($50), Disney Sleeping Beauty Costume ($40) and Snow Princess Poof ($40)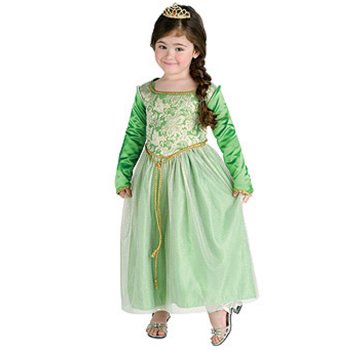 Can't Stand to Spend Over $20
Many top retail stores carry costumes on their websites year round. Here are some great costumes at prices that may cause you to spoil your little princess with more than one!
Favorite Items: Barbie Ballerina Dress ($20), Starring Me Deluxe Princess Costume ($20), Disney Princess Nightgown Set ($18) and BuyCostumes Shrek the Third Karate Fiona Costume (right, $27), or the costume Anya has- Shrek Princess Fiona Costume ($12.98 on sale).