Update: Jaid and Jax pose with Garcelle Beauvais-Nilon for JET
Update: Photos and interview highlights added.
Originally posted March 25th: Actress Garcelle Beauvais-Nilon, 41, posed for the cover of JET magazine with her fraternal twin sons, Jaid Thomas (l) and Jax Joseph (r), 5 months. Dad is Michael Nilon.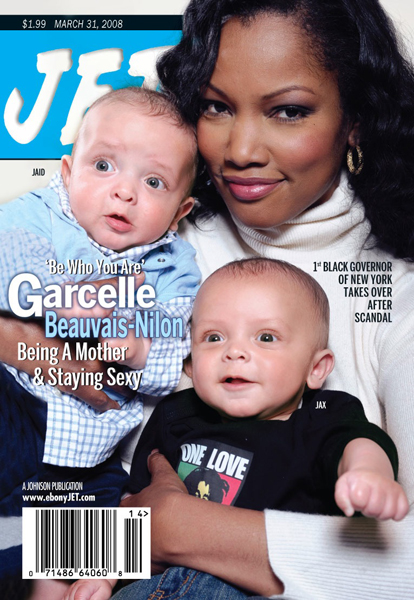 Note from Danielle: The race discussion is getting out of hand.Please refrain from talking about how black or white you think thebabies look — biracial children come in all shades and they areGarcelle's biological children.
Please re-focus to the photos or the interview highlights.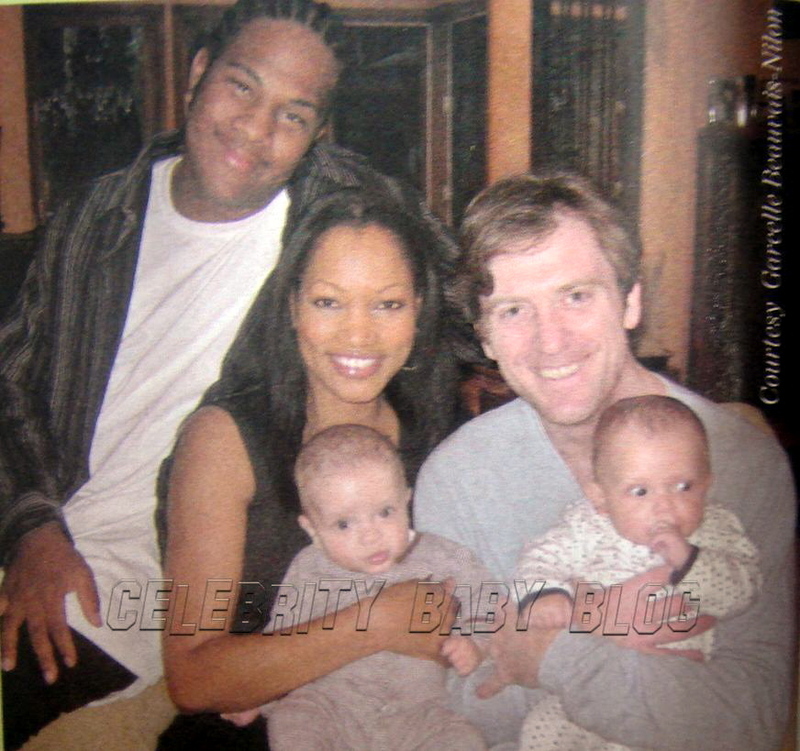 (Oliver, Garcelle, Jaid, Mike, Jax.)
On her Playboy pictorial last year:
G: I knew I was trying to get pregnant. I said who knows how my body will look, maybe we should document this now. I wasn't doing this for anyone other than to prove I could do it. Then they offered the cover, which they don't normally do for black women. That made it credible.

There are a lot of sides of me. I'm not just a wife and mother. I'm a woman. I wanted to celebrate what I was given … For me I hope I am an example to women to be who you are and not shy away from who you are.

I did not show everything. I had total photo approval. They were beautiful and classy.

M: When you're married to a beautiful celebrity and a beautiful person like I am, in a way, her beauty doesn't belong to you. It belongs to the world. You can't be too possessive and jealous if people will appreciate that she's beautiful. I'm comfortable with the nature of our relationship.

The pictures were beautiful. It was fine. When it happened, it was fine. I find it weirder if I see her doing a love scene in a movie. That's odd to see the person you're with kissing someone else. The pictures didn't bother me as much as seeing her making out with Will Smith in 'Wild, Wild West.'

G: When I called [my mom] about Playboy, she said, "If I looked like you, I would do it too." It shocked the hell out of me. She was very supportive. She was just great.

[As for my 17-year-old son Oliver,] we never made the body a bad thing in our life and at home. He's known I'm a model. I told him I really wanted to do this, but if he didn't want me [to], let me know. He looked at me like I'm his mom. To him it was baffling and gross to him, like, "Who wants to see you?!" Then he asked, "What did Mike say?" When the pics came out, at first he didn't want to see them. Then he saw them and said they weren't so bad.
On getting pregnant:
G: I was married to Oliver's father for six years. I was a single mom for awhile [after the divorce]. I didn't think I wanted [more] kids. God blessed me with such a great kid. So when I met Mike and we fell in love and got married, I thought, "I could do this again." But by then the clock is ticking.

We tried for a year, then started in-vitro fertilization. We definitely went through a long journey to have these babies. The roller-coaster ride is mentally draining. You think you're pregnant and you're not. Then we had a few miscarriages. It's draining and as a couple, you're dealing with a lot.
On her pregnancy and the birth:
G: Towards the end, I was really uncomfortable. I couldn't sleep in any position and started getting a lot of swelling. My legs got huge. They weren't used to the weight and getting numb. My blood pressure was really high and I kept on getting a lot of headaches. Then I kept going to the hospital for observation and tests.
The boys were born by emergency c-section at 34 weeks after Garcelle showed signs of preeclampsia.
G: I didn't want a c-section, but that's what they do. It's less risk on the second child.
Choosing the names:
G: Jax's name is a derivative of his paternal grandfather's name, Jack. We chose Jaid because we wanted another 'J' name so it could be similar.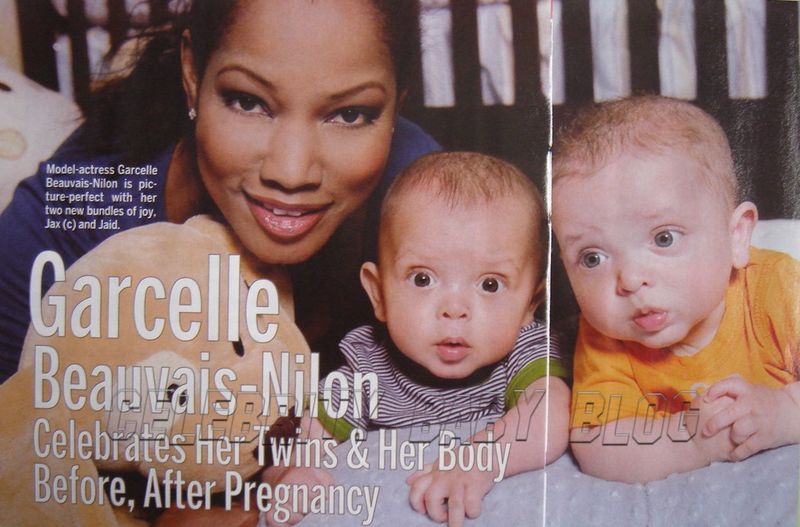 On the boys' personalities:
M: Jax is very personable and outgoing. He's also very demanding and cries a lot more and smiles a lot more. You get the good and bad with Jax.

Jaid is much more laid back. He's much more reserved and he just sits around looking good. That's his role. He's also much bigger and stronger than Jax.
On baby weight:
G: I always maintained my body because of my work. I don't think it was hard. I haven't worked out. I took a couple of dance lessons, I was in good shape prior to getting pregnant because I did the 'Playboy' layout. I didn't eat everything in sight. I was more baby in terms of stomach. I need to work out in terms of firming and tightening up. Part of it is the genes I was born with. I'm really surprised.
On being the only female in the home:
G: I'm surrounded by boys! I'm the only princess in the house, as it should be!
On her mother Marie Claire Beauvais, who recently passed away:
G: My mother wasn't the typical island mother who was protective and conservative. She was the opposite. She sent me to New York at 17 to live with Eileen Ford to get into modeling. She wanted me to have the opportunities she didn't have. She was very supportive.

There are seven of us and she had 25 grandchildren. She lived a very full life … If it wasn't for her, I wouldn't be here and be who I am. She brought us from Haiti as a single mom and made life happen for us. I am indebted to her forever.
Source: JET, March 31st issue; cover courtesy JET.
Thanks to CBB readers Hazel, Elma, and Christina.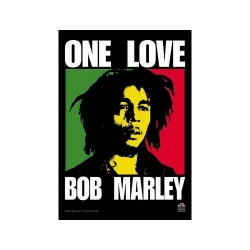 Jax is wearing a Real Baby Rock-A-Bye Tee in their Bob Marley Style ($30).