Brooke Burke says four kids is 'a whole other world'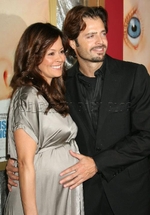 It looks like baby boy Charvet, born 3-weeks ago today, won't be nameless for long! His parents — actors David Charvet and Brooke Burke — are making steady progress in their efforts to give their little one a name, although from the sound of it those efforts might be hampered by the baby himself. Brooke, 36, tells People,
Going from two to three was easy. Going from three to four, a whole other world … We're so sleep-deprived right now, we can both barely see straight.
The couple — who've been waiting their "whole life for a son," according to Brooke — have managed to agree to a first and last name; It's the middle name that they're "fighting on," she says, adding,
He did leave the hospital without the birth certificate. I know that's terrible!
The as-yet-unnamed baby joins his three big sisters at home — Neriah, 7 ½, Sierra Sky, 5 ½, and Heaven Rain, 14-months.
Source: People
Note from Danielle: The baby DOES have a first name and it sounds as though they are waiting to release the information until they've decided on a full name. Brooke has also been clear that David wanted the experience of having a boy, and so did she. If you'd like to discuss that, please head over to our debate thread.