Anya at 29 months aka 2 years 5 months aka almost 2.5 years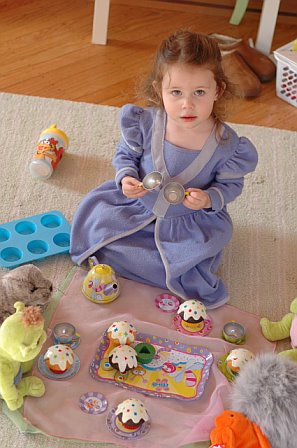 I figured it was time for an Anya photo update since Josh had recently uploaded new photos to our Kodak Gallery. I don't have time to write an update so I'll just post this link to the album and tell you the latest things she's talking about:
Baby, Baby Boy and Baby Girl are her much adored Shrek babies. Baby Boy has a blue diaper and a tuft of hair, Baby Girl has a pink diaper and a tuft of hair with a bow, and Baby is apparently omnisexual as he is bald and has an off-white diaper and bib. Her favorite is generally Baby but Baby Girl went missing for a few days (she was tucked into a pocket of a stroller) and she asked everyone, even my mom's co-workers when we visited her office, "Where Baby Girl is?"
She loves her babies. Her latest thing is announcing throughout the day "it's baby's nap time." I'll try to get her to put the baby to bed but she just seems to like to tell me. Other times, when she's holding one of the babies, she'll rock side to side, singing in a high-pitched voice, "go to sleep, go to sleep lil baby." We have no idea where she got that from.
"button" and "kummy" = belly button and tummy. The girl loves to tickle ours.
"pea party" = tea party. Anya loves to lay out a small blanket, her tin tea set, play cupcakes, and her babies. She makes very good tea and is very generous with the cupcakes!
Max and Wooby, Kining Kime, Cats, and Doggies are her current favorite videos (also known as Max & Ruby, Signing Time, The Aristocats, and 101 Dalmatians).
She's obsessed with hot chocolate. Almost every day she tells me "I want hot chock-lat." I remind her that it's a treat and that we can have some after she eats her meal.
She eats an extraordinary amount of cranberry-pumpkin seed toasted bread with almond butter for breakfast and lunch. This dish is referred to as "dada-bread" with "peanut buddah." Sometimes she makes me do the peanut butter dance (you know, "peanut, peanut butter, and jelly!"
And finally, she continues to be crazy about princesses. If we let her, she'd be wearing her Shrek Princess Fiona dress every day. "Princess" is an adjective to her which means something like pretty. On a rainy crappy day last week, I took her to the mall to look for a new princess dress that she wouldn't trip on and introduced her to the Disney store. Big mistake! She keeps asking to go back!
Visit the album!