Paparazzi-proof your baby like a celeb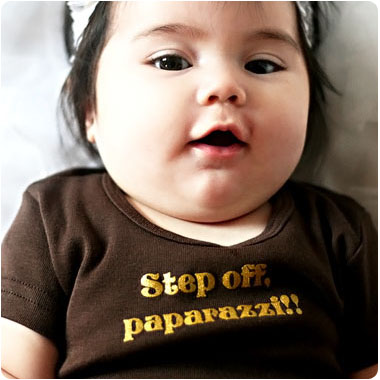 Keeping their brand-new offspring protected from the glaring eye of themedia is an occupational hazard of celebrities, but one that perhaps wecan all appreciate. Perhaps that is what inspired this adorable, andhumorous "Step off Paparazzi" tee from Baby Brewing ($14).
Even if you are not Tom Cruise and Katie Holmes, or Brad Pitt and Angelina Jolie, and People and Vanity Fairaren't engaged in a bidding war over "first look" rights, odds are thateveryone in your universe is going to be clamoring to get a good lookat your new baby. And sometimes, in certain situations, your baby justis not ready for his/her debut. New parents are (rightfully) protectiveof how and when their babies are seen. Sometimes you just want toprotect your baby from the over-interested onlookers, would-be cheekpinchers and sticky fingered toddlers in an older sibling's preschoolclass. Or then again, maybe you are a bona fide celebrity and lookingfor a more reliable cover-up than the old "drape the blankie over thecar seat". Because you'd hate to let Vanity Fair down. Rest assured, we've got the goods to keep your little star covered.
Click continue reading below to see what products will protect your bundle of joy from prying eyes.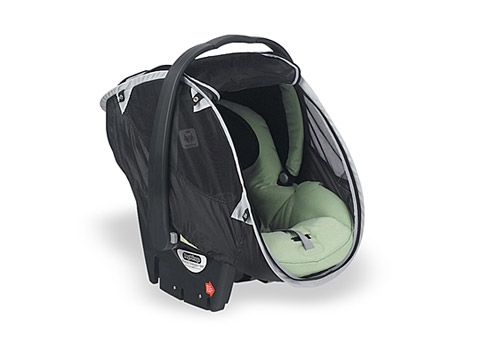 Baby in a Bubble: Ifyou are looking to keep your baby safe from wind, rain, sun and bugs,as well as the flashbulbs of fame and fortune, then check outUPPABaby's new pop up Bubble infant car seat cover($19.99). It attaches in an instant and boasts a universal fit thatworks with most infant car seats. It also folds up into its owncarrying case for those times when baby is having a really good hairday.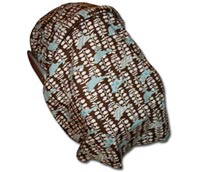 Kozy and covered: Looking for a solution that's equal parts fashion and function? The infant car seat covers from MyKozy($124) are carefully crafted from beautiful fabrics and have a hiddenasset. Tucked away neatly inside the hood cover is an attached blanketthat keeps your baby covered and protected. You never have to worryabout it slipping off or falling on the ground. The car seat cover isreversible as well, so you get two looks for one price. These coversalso boast a universal fit but we find they pair best with Graco carseats.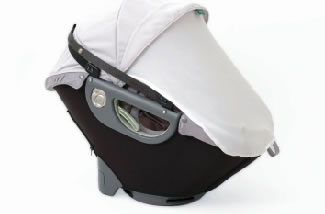 Baby in Orbit: If your superstar tyke is lucky enough to be strolling in the first class Orbit Travel System($900), they are already prepared to go incognito as needed. Orbit'sinfant car seats are designed with their own uniquely integratedsunshade/paparazzi shield. A favorite celebrity stroller choice (Tori Spelling is frequently photographed with hers) it is easy to see why a product like this would appeal. Bodyguard sold separately.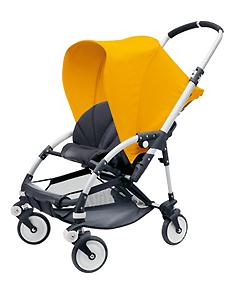 See and don't Bee seen: You may have already heard the buzz about Bugaboo's new Bee Stroller ($529). Celebrities such as Gwen Stefanihave chosen to push this well received compact and nimble stroller. Asa fringe benefit, they are enjoying the over-sized canopy that providesmore kid-coverage than other strollers. While it does not offer fullcoverage like some of the other options, it's a good choice for thosetimes when your toddler needs to catch a few zzz's.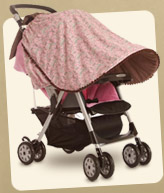 Made in the BellahMay shade: These sunshades from boutique designer BellahMay($80) attach to your stroller and cover and protect your child from thesun's rays and stranger's prying eyes. But they do more than that –they also give your old stroller an instant style makeover and provideyou with a handy place to stash your own disposable camera and giant,paparazzi-proof sunglasses. The sunshade folds up into it's ownattached carrying bag, and when unfolded and attached, that bag turnsinto additional storage. BellahMay sunshades come in a wide variety offashion fabric combos and are reversible so you get two looks for themoney. This one may not be the best choice for those truly looking toavoid attention, but hey, a little celebrity is almost always a goodthing!