Brooke Burke blogs on birth and her boy (yes, he's still nameless!)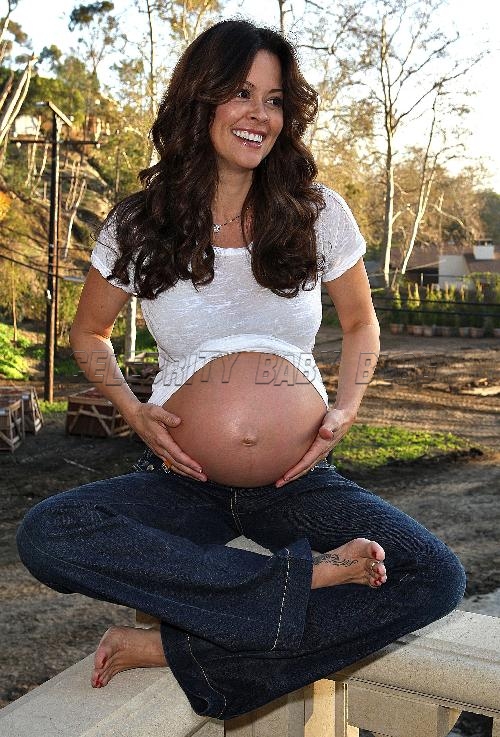 Actress, model, and TV host Brooke Burke, 36, welcomed her fourth child and first son on the morning of Wednesday, March 5th. Already mom to daughters Neriah, 7 ½, Sierra Sky, 5 ½, and Heaven Rain, 14 months, Brooke blogs about her birth, her girls' reactions, the event planned for Friday, and her postpartum use of Tauts.
Hi! As you already know, we have had our son and he is truly amazing! We are all quite sleep deprived, but nothing we were not expecting!


My birth was quick and easy, thank God! I didn't even get through my second set of pushes, and out he came. Can you believe that we have waited all our lives for a son and we still have not decided on a name?!


Neriah and Sierra welcomed him with excitement and open arms, but Rain is having a tough time. She is a bit aggressive by nature, and does not understand why she cannot pull him out of his basket. First, she was mad at me for two days for leaving her for the night in the hospital, then I came home with the "intruder." She is getting better, but there sure are a lot of feelings to take care of in my home!
Click below for details on her son's bris, and Brooke's experience with her own Tauts product (it didn't exactly fit at first)!
Tomorrow is our brit milah. Poor guy! The Jew that decided to plana party for their son on the eighth day after giving birth obviouslynever had a baby before! LOL.

FYI. I brought my Tauts to the hospital, size small. I was so sadto realize that it did not fit me. Just a word of encouragement, threedays after the birth I was able to squeeze into it. I have beenwearing it around the clock. It is not the most comfortable thing, butit sure is working. For anyone who is suffering, hang in there. Takeit off for short periods, like during feeding, if you have to.


Myswelling is going down fast, and the support that it is giving me feelsgreat. It seems as though every pregnant woman in the country hasplaced an order for Tauts and we are scrambling to keep them in stock.Please be patient with us, I promise it is so worth the wait. My staffis dealing with a lot of angry hormonal women, one being me…

Thank you so much to all of you that have sent congrats and sweetwishes for my family. We really appreciate all the feedback. I amamazed at how the Baboosh network has grown and the kindness that I getfrom all of you.

Here is a shot of me weeks before I popped. Happy not to resemble Buddha anymore!

Brooke
---
Baboosh Baby,Brooke Burke's new line of post-partum belly wraps, stretch-mark oils,organic t-shirts and recycled diaper bags, is named after the Frenchterm of endearment and is also Rain's nickname. For more info, checkout BabooshBaby.com.
If you missed CBB's exclusive chat with Brooke, in which she answered your questions, click here to catch up.