Tori Spelling announces that she's expecting a daughter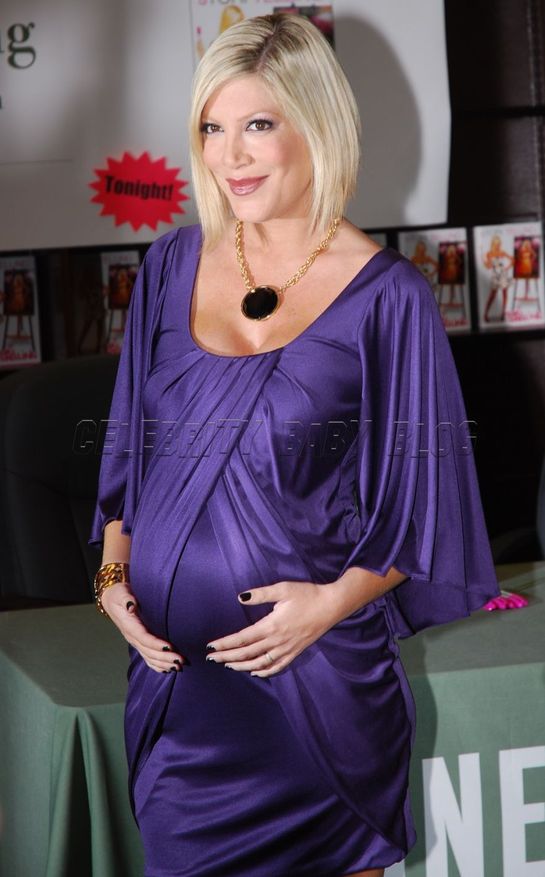 Tori Spelling is seeing pink! The actress has just found out that she and Dean McDermott are having a girl — something she wasn't expecting.
I just found out at my ultrasound, and we are so excited. I immediately started crying. I couldn't believe it. I have my beautiful little boy and now I'll have my little girl! It's amazing.

We were shocked when the doctor said the ultrasound showed a girl! Since Dean has Jack and now Liam, I always kid him that he's shooting only boys.
Click below to read about the nursery, Dean's tattoo plans, and more.
A fan of all things feminine herself, Tori is excited to start putting together a wardrobe and nursery for her daughter.
I just did my first shopping trip for her at Lola et Moi in Beverly Hills. It was so fun. I love pink, so I can't wait to get her tons of pink stuff. We don't have her nursery done yet, but we're thinking pink and chocolate brown.
Expounding on earlier statements that she both wanted and feared having a daughter, Tori explained,

I've always wanted a little girl since I'm such a girly girl, and Dean always wanted a little girl as well. Because my mother and I have always had a complicated relationship, I always wanted a girl to prove that the past doesn't have to repeat itself. I can't wait to be a great mom and friend to her.


I'm a little nervous to have a girl, but mostly, I'm just excited for the same reasons — to prove to myself that I can be an amazing mom to a little girl.
Tori shares that Dean already has plans for this summer — getting inked and not taking his eyes off his new daughter.
Dean wants tattoos for all his babies — Jack, Liam and our daughter when she arrives. Dean says he will be totally overprotective! [laughs] He says 'especially if she looks like her beautiful mamma!' Aaahh … Love my man!
Tori, 34, expects her daughter in early June. As of last week, the baby hadn't seemed to cooperate at the first ultrasound, so they still didn't know the sex. Dean and Tori's first child, Liam Aaron, just turned 1. Dean also has a son, Jack, 9, from his first marriage.
Source: In Touch Weekly; People
Thanks to CBB readers Stephanie, Katie, Angela, Leslie and Colleen.