Jennifer Lopez and Marc Anthony to introduce Max and Emme tomorrow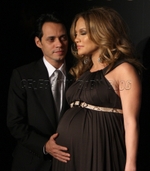 Have you been waiting on pins and needles for the first look of Jennifer Lopez and Marc Anthony's twins Max and Emme? Wait no longer. The three-week-old twins will be introduced in the new issue of People, to debut online Thursday morning at 7 am.
People editor Peter Castro spent the weekend with the couple and reports that the 38-year-old mom is in heaven.
She described it as the most magical time of her life. She said you know what you can win an Oscar, you can win a Golden Globe, and you know as an ambitious artist you strive for those things but when you have a kid, all of that is irrelevant. I mean this is what is most important to her. As she said, 'As a woman this is the biggest thing that can happen to me.'
Continue reading to find out how the new parents are managing and Jennifer's opinion on her postpartum weight loss.
Peter revealed that Jennifer gained approximately 45 to 50 pounds during her pregnancy, but she doesn't mind the weight gain at all.
She wanted to do that because she had twins and she wanted to get those twins big. And they were almost 6 pounds when they were born. And right now, yes, she's lost a lot of the weight, but she is no rush to lose all of it. She is enjoying motherhood and that is what she is concentrating on.
Even though the couple do have help in their home in the form of two nurses, they enjoy taking care of their new arrivals themselves.
I have to tell you even though they have two nurses, they do a lot of the work themselves. They are up until 6 o'clock feeding the babies, taking care of the babies. They do not want to leave them, they are so attached right now.
Jennifer embraced her pregnancy and part of that is due to the fact that she didn't believe it was ever going to happen.
It had been so long and she was trying so hard to get pregnant that she did not believe the first results. So she sent an assistant out and said, "Get me two more pregnancy tests." She took a second one, she took a third one. All positive and she still didn't believe it. Finally Marc said 'You got to look at the evidence here, you're pregnant." And they both started crying.
Source: People