Update: Contest: Win a copy of Enchanted on DVD!
Update: The winners have been selected and the DVD sent out.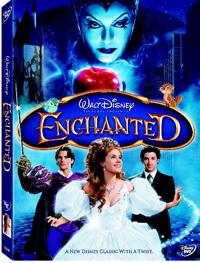 Enchanted is a modern day musical fairytale filled with uproarious surprises that the entire family will enjoy again and again. Enchanted cleverly combines heartfelt romance with a gentle spoof of Disney films of the past as an animated heroine from a far away kingdom finds herself transformed into a real live woman in bustling New York City.
Amy Adams leads an all-star cast as the lovely Giselle, a storybook princess-to-be lost in the Big Apple. Susan Sarandon plays the evil sorceress Narissa who exiles Giselle from her fairytale kingdom and James Marsden is her handsome prince, with Patrick Dempsey as a contemporary knight in shining armor. The film features dazzling animation sequences, spectacular costumes and unforgettable songs by award-winning composers Alan Menken (Aladdin, Beauty and the Beast) and Stephen Schwartz (Pocahontas, The Hunchback of Notre Dame).
The Enchanted DVD will magically transport viewers from Giselle's animated home in Andalasia to live-action Times Square and back for an array of enchanting bonus features. Besides being available on iTunes, Enchanted is available for $29.99 in the U.S. and on Blu-ray Disc at $34.99 in the U.S. and is now available on store shelves.
You can win a copy of Enchanted. Click Continue Reading for more details!
Enter to win one of two copies of Enchanted. Email the following info to celebritybabyblogATgmail.com (make sure you replace AT with @).
Your full name, mailing address, and email address.
Would you rather have the old-school Prince Charming (James Marsden) orthe modern-day Knight in Shining Armor (Patrick Dempsey)?
Make sure you put "Enchanted" in the subject line in order for your entryto be counted.
Any entries that don't include all of the info will not be counted. The contest closes March 20 at 7 am EST. (For terms & conditions, click here.)