Contest: The Lemonheads: It's a Shame About Ray!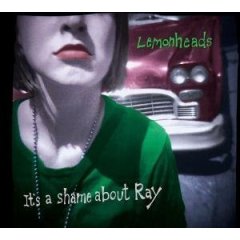 The Lemonheads' second album for Atlantic Records was an unforgettable gem. Powered by infectious melodic hooks and a mix of sweet and subversive lyrics, It's a Shame About Ray helped put the band on the map in 1992. Rhino honors the album with the label's special Collector's Edition treatment, remastering and expanding the original for a CD/DVD set that includes unreleased demos along with the DVD debut of the 1993 video Two Weeks In Australia. It's a Shame About Ray will be available March 25 at all physical retail outlets and www.rhino.com for a suggested list price $24.98. A digital version that includes all the CD content will also be available the same day for $10.99 from all digital retailers.
Take a listen!

We're giving away four copies of the CD/DVD! Click Continue Reading for more info!
The album features the trio — Evan Dando (guitar, vocals), David Ryan(drums) and Juliana Hatfield (bass, backing vocals) — breezing through13 songs in just under 30 minutes, including the title track, "My DrugBuddy," "The Turnpike Down" and a romping cover of the Simon andGarfunkel classic "Mrs. Robinson."
The 10 bonus tracks feature "Shaky Ground," which was originallyreleased as the B-side to "My Drug Buddy." The remaining nine songs areunreleased demos that Dando recorded in 1991, including earlyrenditions of album tracks "Confetti," "Rockin Stroll" and "Hannah& Gabi," plus "Bit Part," which includes vocals from Hatfield.
The DVD contains 45 minutes of videos and live performances that werepreviously released only on VHS as Two Weeks In Australia. The discfeatures videos for several songs from IT'S A SHAME ABOUT RAY,including the title track, the breakout single "Mrs. Robinson," "MyDrug Buddy" and more. Also included is a video for "Being Around," asong that would appear a year later on the follow-up to RAY and "HalfThe Time" from the Lemonheads' Atlantic debut, Lovey. A trio of liveperformances include "Alison's Starting To Happen," "Ride With Me" fromLovey and "It's About Time" from 1993's Come On Feel The Lemonheads.The DVD also features candid commentary by Dando recalling the band'swild Australian antics.
Enter to win one of four copies of the It's a Shame About Ray CD/DVD . Email the following info to celebritybabyblogATgmail.com (make sure you replace AT with @).
Your full name, mailing address, and email address.
Who will receive this CD/DVD?
Admit it- how many flannel shirts did you own in the age of alterna-grunge?
Make sure you put "

Lemonheads

" in the subject line in order for your entryto be counted.
Any entries that don't include all of the info will not be counted. The contest closes March 19 at 7 am EST. (For terms & conditions, click here.)
IT'S A SHAME ABOUT RAY (COLLECTOR'S EDITION) CD Track Listing
1. "Rockin Stroll"
2. "Confetti"
3. "It's A Shame About Ray"
4. "Rudderless"
5. "My Drug Buddy"
6. "The Turnpike Down"
7. "Bit Part"
8. "Alison's Starting To Happen"
9. "Hannah & Gabi"
10. "Kitchen"
11. "Ceiling Fan In My Spoon"
12. "Frank Mills"
13. "Mrs. Robinson"
Bonus Material
14. "Shaky Ground"
15. "It's A Shame About Ray" – Demo *
16. "Rockin Stroll" – Demo *
17. "My Drug Buddy" – Demo *
18. "Hannah & Gabi" – Demo *
19. "Kitchen" – Demo *
20. "Bit Part" – Demo *
21. "Rudderless" – Demo *
22. "Ceiling Fan In My Spoon" – Demo *
23. "Confetti" – Demo *
* previously unissued
DVD Track Listing
Two Weeks In Australia
1. "It's A Shame About Ray" – Music Video 2. "Ride With Me" – Live 3.
"Mrs. Robinson" – Music Video 4. "Being Around" – Music Video 5.
"Alison's Starting To Happen" – Live 6. "Hannah & Gabi" – Music Video 7.
"Half The Time" – Music Video 8. "Rockin Stroll" – Music Video 9.
"Confetti" – Music Video 10. "It's About Time" – Live 11. "My Drug Buddy" – Music Video