Update: Contest: Urban Babies Wear Black and Eco Babies Wear Green
Update: The winners and their suggestions for new titles in the series include:
Cathel, Bald Babies Wear Hats
Heather, Active Babies Wear Leg Warmers because my almost 1 year old daughter is very active and needs her Baby Legs to protect her knees!🙂
Christine, Hippie Babies Wear Cloth Diapers
Kinslee, Happy Babies Wear Smiles
Jennifer, Celebrity Babies Wear Burberry
Karen, Bathing Babies Wear Nothing, Sleepy Babies Wear PJs, Santa Babies Wear Red, Silly Babies Wear Smiles, Bald Babies Wear Hats
---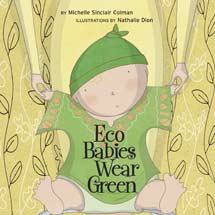 The Urban Babies Wear Black series is not your average board book fare. Featuring tiny — yet highly-fashionable — tots, these books show trendsetting toddlers lapping lattes, picking fresh fruit in the country, hanging-ten at the beach, and making the coolest snow angels.
This spring they're turning over a new leaf in Eco Babies Wear Green. Decked out in their all-natural knits, the urban babies are living life in the fast—carpool—lane, eating locally grown produce, and going the extra mile to reduce, reuse, and recycle.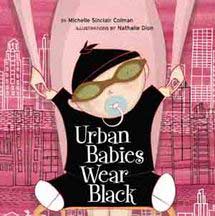 Enter to win two books in the Urban Babies Wear Black series of your choice (there will be 6 winners) . Email the following info to celebritybabyblogATgmail.com (make sure you replace AT with @).
Any entries that don't include all of the info will not be counted. The contest closes March 13 at 7 am EST. (For terms & conditions, click here.)