March Strolling: Luck o' the Stylish!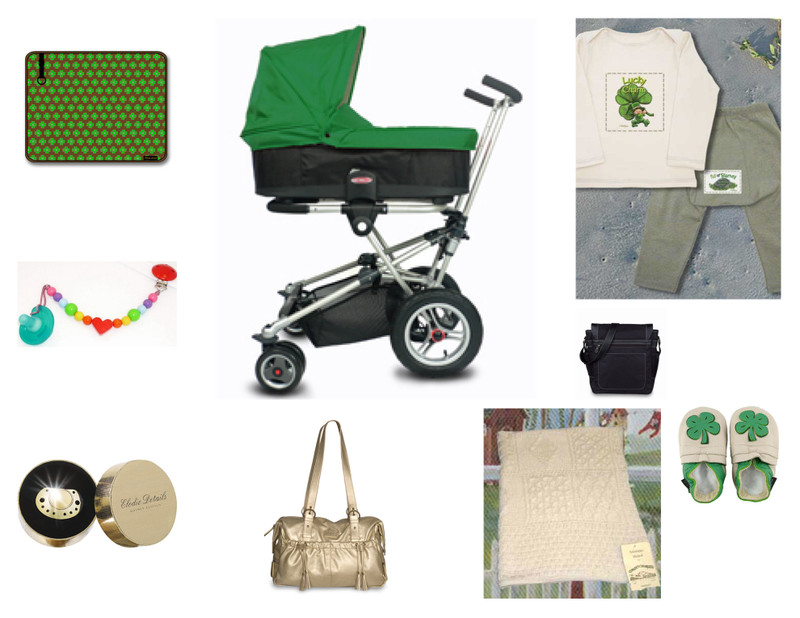 Out for a jaunt with your lucky, little leprechaun? Want to make all the other town folk go green with envy? Check out these stylish finds just perfect for a March Stroll…
Click continue reading to see what makes up this fabulous ensemble!
The Stroller: The Micralite Toro in Emerald Green.Its verdant tone and trim chassis catch the fancy of many an admirer.With super-tight one-pinky steering, all terrain wheels and the fastestand easiest fold out there, this posh ride is perfectly fit for cityand country life alike. Available as a stroller only ($599) or newborn system(complete with stroller plus the bassinet for $789) this stroller isalso perfectly compatible with the Maxi Cosi Mico seat and has adaptersfor Graco's car seats as well. Celebs who have this stroller include Trista and Ryan Sutter, Halle Berry and Angela Kinsey.
The Blankie: Handknit lovingly in Ireland from pure Irish Wool, who could resist this classic fisherman style heirloom blanket (bottom right, $89)? Or for less cash, get a dash of style with the adorable shamrock security blanket from Elodie Details (top left corner, $40).
The Binkie & and Binkie Leash: Looking for a pot of goldat the end of that rainbow? Well a trusty paci is possibly the nextbest thing. Especially when it is a gold-plated paci, also from Elodie Details (bottom left corner). Track that treasure down at the end of this rainbow colored beaded binkie leash ($19.99)
The Bag: Leprechauns like to stash their goodies and hoardtheir gold, as do savvy moms. And what mom would not wish for a golddiaper bag, in which to store her treasures? Like the shiny new Shanti bag from Baby Kaed(bottom left, $138). This faux leather bag boasts many clever hidingplaces and won't lose its gleam as it wipes clean in a flash. Andbecause this month's ensemble has a unisex flair, check out Baby Kaed's handsome Dali bag for the gents (middle right, $138), it's sure to make him want to click his heels together and do a jig.
The Booties for the Cutie: Why even consider anything other than these lucky little Shamrock Booties by Bobux (bottom right corner, $28) when they are so magically delicious?
Final Style Statement: Go green and show your green style pride in an adorable organic cotton St Patrick's Day outfit, also from Belly and Bum (top right corner, $40). We love the patches on the bum! Pucker up and kiss the blarney stone on the bum …
Looking for more green style for your little one? Read our St. Patrick's Day Style Guide!