CBB Exclusive: Leighanne Littrell discusses Wylee Bags and her family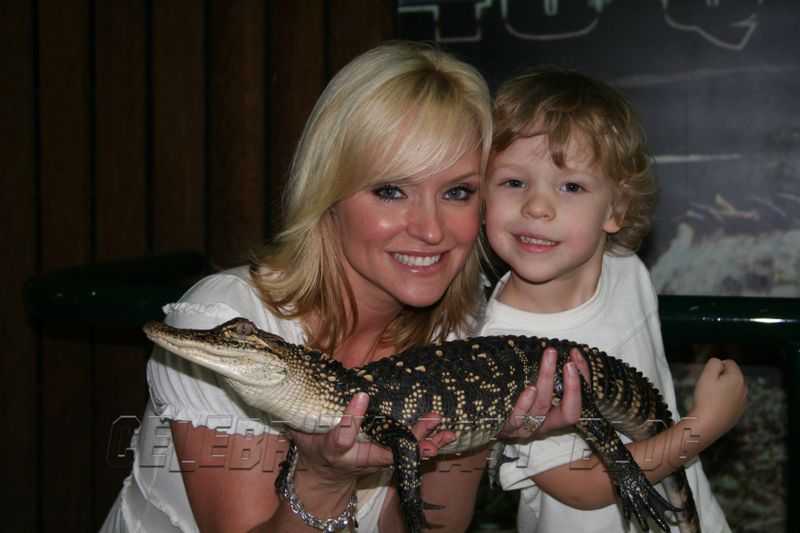 Leighanne Littrell knows a thing or two about traveling around the world with a pop star husband, Brian Littrell of the Backstreet Boys and baby, Baylee Thomas Wylee, now 5, in tow. It's no wonder that she created the Wylee Bags line. CBB got the chance to pick 38-year-old Leighanne's brain about her new bag line and her family life in an exclusive interview.
Click below for the interview.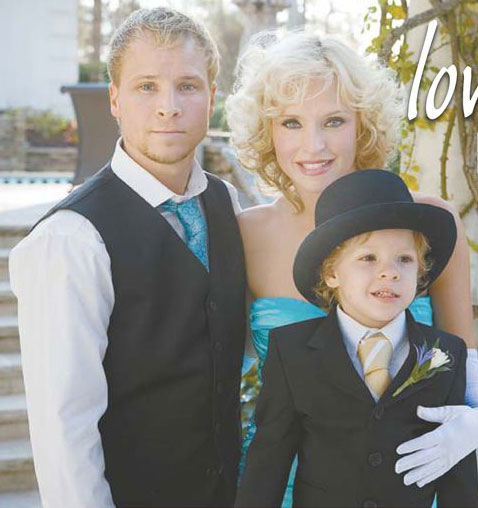 Wylee Bags
In the Bag:
My son inspired me to make my bags. We used to travel a lot and I was breastfeeding. And we had the Boppy and it was so great on planes because I would just sit him right there and he would just breastfeed during takeoff and landing. The [Boppy] was so awkward, and the only bag I could find looked like a little suitcase. So I came home and said, "We have to go buy a sewing machine. I don't know how to sew, but we're going to do it."

I got a machine and a sheet and I just cut out a pattern and started working on it. I literally, at one point, had pinned a ribbon from one side of the Boppy to the other and carried it on my shoulder to get through the airport. It's so awkward, but yet your lifesaver when you want your hands free.

So that's the reason why I did the baby bags. I could put my Boppy in there and have the whole entire middle section for diapers, bottles or whatever you need to put in it. Then the front pockets are for cell phones or your keys … so you can get to them easily.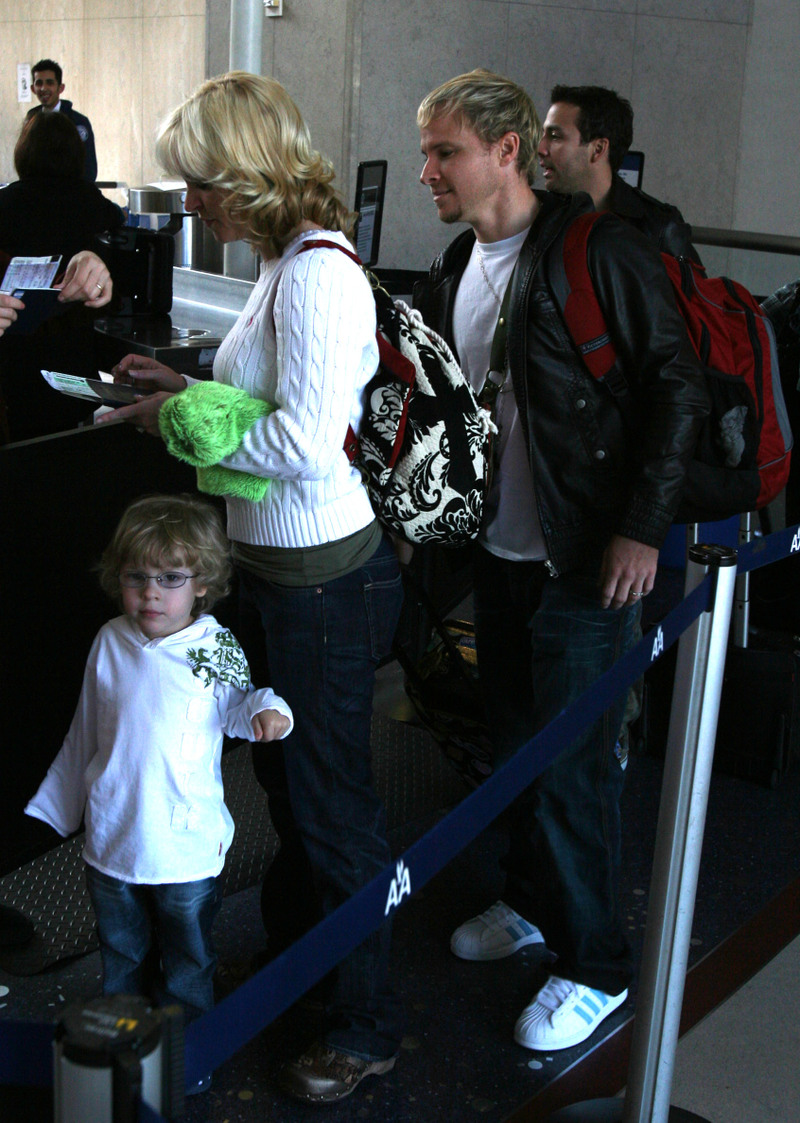 Regaining your "pretty":
You kind of lose your "pretty" when you're breastfeeding, or even when you're a new mom. Unless you have a chef and a trainer and all that stuff, you lose your "pretty."

I had a tough time with getting back into the swing of things because I'm the kind of person who's very hands on. I'm just a really, really hands-on mom, so it was really important for me to just learn everything.

It was a little tough at first, I was asking people, "How are you out? What happened to me?" But then I started the bags to help with regaining my "pretty."

The Marilyn bag was my absolute favorite. Because it was just really girlyand it just reminded me of my wedding dress — I had a corset weddingdress. I've gotten into the New York backpack, I like that one a lot.
From baby bag to toddler bag:
[Baylee], literally at one year, looked up at me and was like, "What is this boob for?" And that was it. I was like,"Thank God," because I don't know if I could have handled a rough weaning — my sister had a really hard time. But he did it for me and then I made a smaller backpack and I started calling it my toddler bag.

I have his DVD player in it, his movies, his paper and crayons, and then I have my stuff that I clip to the outside — like my cell phone so I can get to it really fast. And I also use it now when I'm shopping or traveling and even when I don't have [Baylee].
Listening to feedback:
Everyone has been asking for a handbag! So, I listened and I created a very functional and beautiful bag. We had a lot of Brian's fans emailing my site, saying that they'rereally beautiful, but they're so expensive. The reason [they're expensive] is becausethey're all hand made, everything is! I can't do it cheaply — I can't domass-produced.

You've got two bags in one and a lot of care goes intoeach one. They're not that expensive to people who shop at the higherend boutiques, but offering a bagthat's not reversible. It's still pretty and has the lining. I have three more new fabrics in this line coming in by the end of March.

I also came out with the [Mini Bag], kind of a teen lineof bags. They aren't reversible and they're fairly cheap and madefrom really, young contemporary fabrics. I have everything from handbags, clutches, wallets, of course backpacks, diaper bags, and our newest bag, coming in April, will be a tote!
Fashionable AND functional:
It has to be functional. I carry my bags for at least a year or so,and I've made sure they're comfortable. Is it easy to grab? Does ithurt me? I love the fabrics, the look of the bags. Is it pretty? Is itdesirable? Will it go with a lot?

A lot of the reason why I made themreversible is because one side is a little more crazy then the other — so you can tone it down. Functionality, obviously the pockets. Have youever gotten a bag and thought, "This will be great because it has a lot ofpockets?" But then you realize you don't know what to do with all thepockets?

I got a bag recently like that and I thought, "Oh gosh, thiswill be helpful." And it was too much! So I stuck with really simple,and the big bag has more pockets for when you have your hands free. ButI always look for beauty and functionality.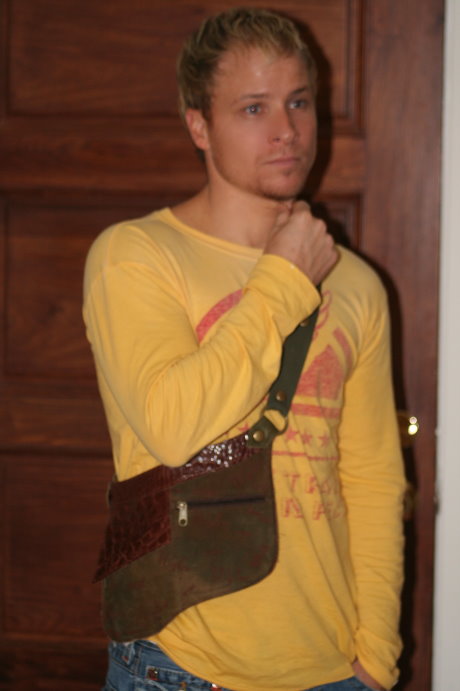 Brian's Bag:
When we found out that Brian was going to get to sell two pieces ofpersonal merchandise on the Backstreet Boys tour, we were excited andgot right to work on creating a bag that he loves and loves to wear. Hewas very instrumental in the design of the bag! It is a crossbody bag — some people alsolike to wear it around their waist.
Jeweled inspirations:
The circles represent never-ending love. And, every piece of jewelry I created with three circles represents our family — my son, my husband, and me.
Personal
And Baylee made three:
To tell you the truth, mepersonally, I wasn't ready for children. God just kind of decided itwas a good time for us to have one. I've always been a perfectionist,so you can imagine how hard it is to have a baby and then haveeverything go right or have everything go your way.

It's taught meto be a little more laid back. It's taught me how much I really know,like if you listen to your body and you listen to your child's body … howmuch is out there that we kind of ignore everyday. You learn to listento your baby.

You hear "You have to do this… You have to do that…"But no, you don't. If you listen to your baby, it will tell you exactly what it needs. You don't realizethat as a mom, you think you're supposed to "know" everything. It's alittle more laid back then I thought it was, but it's all consuming andall-time consuming.
Regaining sense of self:
It's hard for me to make time for myself.People always say "Leighanne, you have to make time for yourself." And I'm trying to do it now — make time for myself. And Ithink before I got pregnant that's what I was worried about, completelylosing myself. So I'm trying to find a happy medium.
All about Baylee:
He's so sweet. He's the kind of kid that makes a ball of wrapping paper into something amazing. He's into making things, the other day he decided we had to do a book.We homeschool, and my sister is a substitute teacher, so she comes twodays a week and homeschools him, and we do the other three days. It's beengreat that way, but again, it's very time consuming.

We're learningwhile he's learning. He's just amazing to me. He writes his own littlesongs and music; he decided that he was going to start a group with hiscousins. He's an amazing creator. He's probably going to be a writer orbe someone creative. But there's nothing easy with this one, you can'tjust say, "Let's go build a fort." It has to be a certain fort with a pulleythat flies across … And he likes everything motorized, he always saysit needs to move.
Terms of endearment:
[Baylee] has gone from BooBoo to Pooper to Punkin; he was my little monkey. He gets really mad if I call him Baylee. I call my husband, "husband" when we're out because if I yell "Brian!" everyone turns around. And the other day I called him Brian and [Baylee] said "Mommy, don't call him Brian, call him Husband or Daddy." And I was like, "Okay, honey. I won't call you Baylee or him Brian."

It was really heartbreaking the other day. He said, "Momma, can I stop calling you mommy?" And I was like "Noooo, you're 5! You have to call me Mommy until you're at least 16."
Being involved in everything:
It's hard in the celebrity part of it, to trust who's going to keep your kids. We don't have a nanny, we've only had an assistant who — literally — was like a glorified baby sitter. But we have done everything.

[Brian]'s a hands-on Dad. He's amazing that way. Our assistant left to be a nurse and I haven't replaced her, because it's very important for us to have someone in our lives who is good quality. Baylee invests a lot into these people, so they need to be right. We're just family first!
A day in the life:
When we're home, we get up and we're late risers, because none of us are morning people. So, we'll get up and eat our breakfast. [Baylee] likes to drink a cup of decaf tea — Earl Gray — or decaf coffee. He's my old soul baby. We'll have breakfast and he usually has some cereal and then some eggs, and we eat for like an hour. It's just kind of funny.

He's like I was when I was little, I'd eat myself to sleep. Then we'll go out and do school for a little while. If it's a "me" day we do it in the afternoon, but if it's my sister's day they go up around 10:30/11am. And they'll do school for two hours. They usually do a craft and they'll do their letters (he's starting to put words together). Then he'll play around with the piano or something — my sister is teaching him that as well.

We've got so many acres out here, so we'll just go out and play. If it's too cold we always do a craft. Then it's usually nap, because I'm usually exhausted and I'm a big nap person. If he's really tired, he's out. A lot of moms are like, "He just won't sleep for me." And, I'm like, "You have to know your kid. You can't miss your window." I know if I missed my nap opportunity to go do something that requires a little less patience.

When daddy's out of town we'll go do date night and he'll help me grocery shop. I could not have asked for a better baby.

We are strict though, I don't let him get away with murder, because Inever wanted a bratty kid. I didn't go through the terrible twos orthrees, but four has been treacherous, especially with the last fewmonths. It's like the aliens showed up and took my child! Four had beenkind of rough. I guess I'm getting two and three in a double whammy.
We usually go on tour with [Brian] — like 2-3 weeks at a time. But with the smaller promotional tour we didn't. I was helping manage [Brian's] solo stuff, so obviously when I travel [Baylee] comes with me, or he stays with my mom.

In February we [went] to Japan with [Backstreet Boys] and then on to Australia. This [was] Baylee's third time in Japan. We try to break it up if Brian's gone for a long period. Two years ago he was in Europe and we went out for two weeks and then came back, because it's hard to be on the tour.

Baylee actually loves it and the tour bus introduced him to a big boy bed. So that was fantastic — we put a guard up and everything. He's a great flier, too. He makes sure we wipedeverything down with the anti-bacterial wipes, he knows when we have to get up andhe carries his suitcase. He's been to seven different countries and he's a gold medallion frequent flier!

Baylee loves [Brian's band mates] and he's great with the production people and the band people! He'll get up and play the drums during sound check and they usually set up a mic for him when we're on the Backstreet tour. And then when they do sound check he has his little teeny mic with him.
Developing relationships on-the-go:
A lot of people were like, "If you don't have him a class at school, he's not going to develop relationships." I remember growing up, until I had to be in first grade, I was with my mom and the "ladies." My mom was a beautician and I didn't want to go to school. I just did everything I could to not be in school. And I had a very "cool" childhood that I wouldn't change anything for.

I think Baylee's such an old soul that he gets it. He's very mature, other little kids don't "get" him.
But there's other ways, and he has friends in Tennessee and California and Florida. So, everywhere we go, he usually has a play date.

He's super-friendly, we'll be in a hotel and he'll go, "Let's go meet those people Momma." And I'm like, "Oh, well it's not that easy baby." But he's not shy in that way, he's very outgoing.
Baylee and the bully:
He firstmet a bully a year ago. This little guy was just kind of mean to him, andBaylee's small for his age (because, well, Brian and I are small!) sohe's been talking about this bully for a year, saying "If I everencounter a bully again…" And I've been saying, "Baylee, stop, you'regoing to bring this on yourself."

Well, apparently he was being bullied [at a birthday party]by the biggest girl in my nephew's class and she was picking on him. Sohe gave it right back to her. So, needless to say, I don't think we'regoing to have to worry about him!
Fan-demonium:
The [Backstreet Boys] fans give him everything, we literally have stuff in the closetbecause we don't want him to have everything at once. And we do somedonations of things that we get doubles of or things he wouldn't beinterested in.

We have like 40 acres, and he has more vehicles then we do. Andlast year two separate people — one producer we worked with, and a fan –sent him tractors. So, he had three, we make sure to give some away.
The spirit of Santa:
Every year we go to thesame Santa. And we tape it. It's been really cool, this year he wantedto be an elf. He dressed up in his elf costume to go. He gets to askingthese questions, like "Is Santa a character? Is that the real Santa wego see?" I'm like, "Well baby, what do you think?"

He's so smart, sosmart! I always thought I don't wanna lie, but it's the spirit. So evenwhen he finds out, I'll still say it's the spirit, that's why we go tosee Santa.

We all watch 'It's a Wonderful Life' every year. We always make cookies,we usually have an open house where we have everyone come decorate thetree. This year we didn't do so much because we've been traveling somuch. I usually have a Christmas theme in every room, I get a littlecrazy!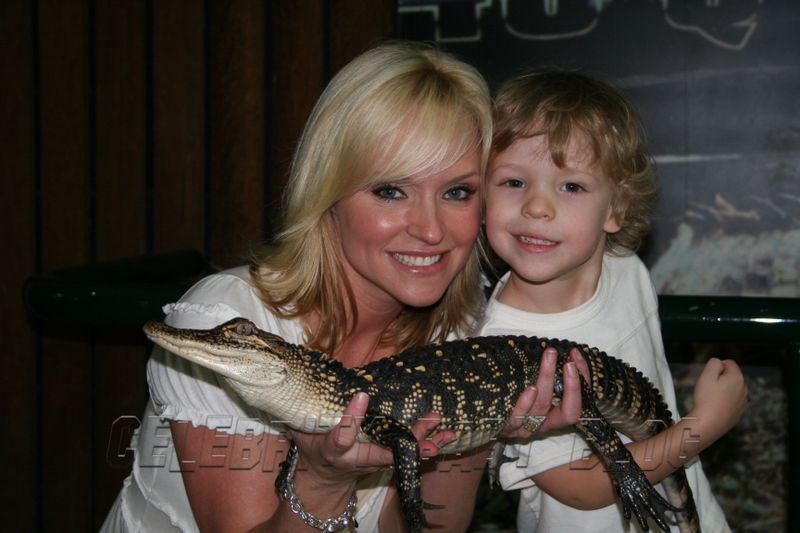 The buck stops here:
My husband would love four or even five kids. They're men, so of course they want more! I said, "So here's the uterus, here's the ovaries — you can have one." For me, personally, I'm 38, I popped back and I feel like I'm a really good mother of one.

Everyone's like, "It's easier with two." And my sister has two and it doesn't look easier — she looks stressed out a lot of the time. She's a year older then me, she had them later, too. So I feel like I have enough going on that I don't feel like I want to have another one.

A lot of people say you need two, and I sort of say you need to mind your business. I think some women [have another] because of the pressure and the expectations of the world. I looked at my husband the other day and I said, "I don't know why we have these expectations."

If you look at families in general, I've seen how some moms react to their children and they're short-tempered, and I'm like, "Why are you having kids?" And the people who have all the nannies. I'm not opposed to nannies, but I've heard stories from interviewing, etc. that there are like 10 nannies, one for weekends, one for evenings … And, I'm like, "Why are you having children?" Look at who these kids are going to, they'll never get to know their mommy and daddy. If you have to work so much to afford more kids, why are you having them?

And there again, in the end, it's you. I've had to learn how to get my life back. I'm a perfectionist, I have to have a lot going on, I get bored very easily. And I grew up with two sisters; I [initially] wanted another child because I was worried he'd be lonely. My mom said I always wanted to be an only child. Women should really and truly not be ashamed of what their heart and head says, if they think they don't want more [children].