Alltop – your new homepage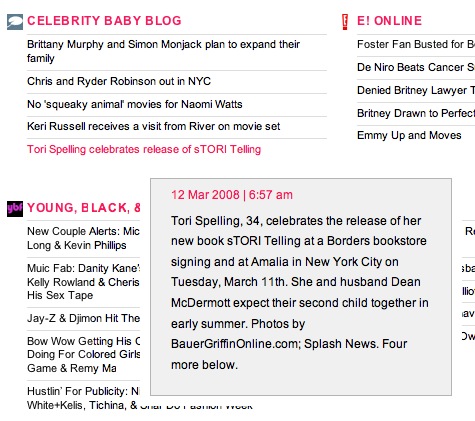 Even though I'm a blogger, I don't have much time to read other blogs so I like using services like email delivery, RSS readers like Bloglines or Google Reader (though I often forget to check them!), and newsletters. But I find one of the problems with this is that sometimes I don't know which blogs are hot and the ones I need to be reading.
I have a new way of finding the right blogs to be reading and a way of keeping track of them in one easy place- Alltop.com, the new brainchild of Guy Kawasaki, one of those internet geniuses/entrepreneurs. It's not much to look at, but it's a time-saving stroke of genius- a dashboard of the best sites on the most important topics. Organized by category, and then blog, links are listed to each blog's most recent five stories, letting you read an excerpt by putting your mouse over the link. As Guy himself puts it, it's RSS "aggregation without the aggravation."
And of course we're in the Celebrities section!
Click Continue Reading to learn about the other sections you'll want to check out or visit Alltop.com to find out for yourself!
The easiest way to understand the value of Alltop is to try it.
You get up in the morning and need to get a quick overview of theimportant things- celebrities (http://celebrities.alltop.com/) and oh yeah, world news (http://news.alltop.com/). It's election season, so politics (http://politics.alltop.com/)are also important.
After school, your kids need help with areport for science (http://science.alltop.com/) class. It canbe about the environment (http://green.alltop.com/) or health(http://health.alltop.com/). Stuff like music(http://music.alltop.com/) and cars (http://autos.alltop.com/) aren'tappropriate for this report though gadgets(http://gadgets.alltop.com/) and design (http://design.alltop.com/)might be okay.
You'd like to find some cute (http://cute.alltop.com/) pictures toentertain your kindergartner while you read what other moms(http://moms.alltop.com/) are saying. Sometimes your kids drive younuts, so there's always humor (http://humor.alltop.com/) andodd stuff (http://oddities.alltop.com/) available. Not to mentionlifehacks (http://lifehacks.alltop.com/) to help you get through theday. Still, their education (http://education.alltop.com/) andreligion (http://religion.alltop.com/) are very important to you. And after a while, you realize it's time to start thinking about dinner (http://food.alltop.com)
Other topics you may be interested in include:
http://fashion.alltop.com
http://career.alltop.com
http://photography.alltop.com
http://personalfinance.alltop.com
http://health.alltop.com
http://mac.alltop.com
http://windows.alltop.com
And many more… at alltop.com.