Get the Luck O' the Irish: St. Patrick's Day style guide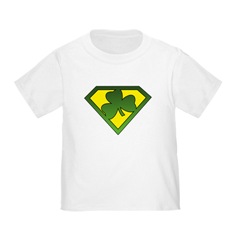 Don't forget that March 17 is St. Patrick's Day and your little one should make sure to wear some green to avoid getting pinched — though we can't promise his/her little cheeks won't get pinched anyway. There is rarely a shortage of green clothing, but we wanted to help you find the perfect green accessory for your little leprechaun this St. Patty's Day. And let us mention that you don't need to be Irish to celebrate this fun holiday. While the holiday is held to honor St. Patrick, the patron saint of Ireland, the spirit is all about learning a little something about Irish culture and/or wearing something green on March 17.
Click continue reading to see our picks for St. Patrick's Day style.
Tops
The easiest way to infuse a little Irish pride into your wardrobe is with a t-shirt or onesie. Paired with jeans or a basic skirt you've got an easy look that works! This is also, usually, the most cost effective measure, as it should include only the purchase of a tee.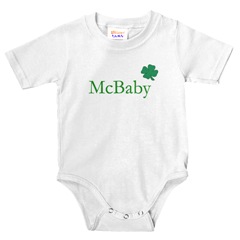 Our Favorite Items: Old Navy St. Patrick's Day Graphic Tee ($10), Old Navy St. Patrick's Day Onesies ($7), nina and tom Organic Color Theory Onesie in Green ($23), The Children's Place Irish Graphic Tees ($6), JKL Creations Designs McBaby Infant Bodysuit (right. $12), St. Patrick's Day T-Shirt Super Shamrock T-Shirt (above left, $17) and BabyGap Polka-Dot Cardigan
($25 on sale)
Bottoms
If you want a really GREEN outfit you can opt for one of these bottoms. You could also go plain up top and let the bottom do the talking for you, it's up to you!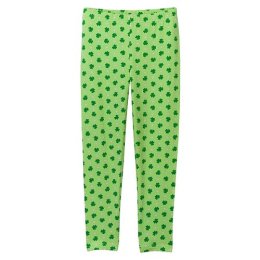 Our Favorite Items: Old Navy Striped Active Pants
($7), The Children's Place Yoga Pants in Seaweed ($6), The Children's Place Chinos in Seaweed ($13), Target St. Patrick's Day Ditsy Clover Leggings (left, $6) and BabyGap Bootcut Leggings ($9 on sale)
Dresses/Rompers
Little girls will twirl and delight in these pretty dresses and little boys will wriggle and squirm in these one-piece rompers.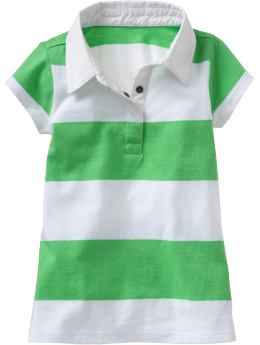 Our Favorite Items: Old Navy Striped Polo Dresses(right, $15), BabyGap Reversible Terry Tank One-Piece
($17), Old Navy Striped Polo One-Pieces ($13) and Charlie Rocket Stripe Romper ($34)
Shoes
Just think how cute one of these pairs of green shoes will look on your little darling's feet!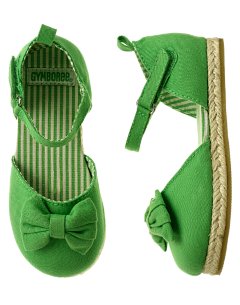 Our Favorite Items: Gymboree Espadrille Bow Sandal (left, $30) and Crocs Kids Cayman in Kelly Green ($25)
Accessories
Add a little Irish flair to an otherwise unassuming outfit with one of these great accessories.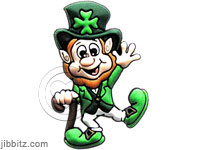 Our Favorite Items: Janie and Jack Car Patch Baseball Cap ($14 on sale), Jibbitz Four Leaf Clover ($3), Jibbitz Leprechaun (right, $3), Target St. Patrick's Day Beaded Necklace with Shamrock Charm ($9 for 60 pk.) and Janie and Jack Lime Floral Sunglasses ($12)