Elisabeth Röhm poses for Pregnancy's May issue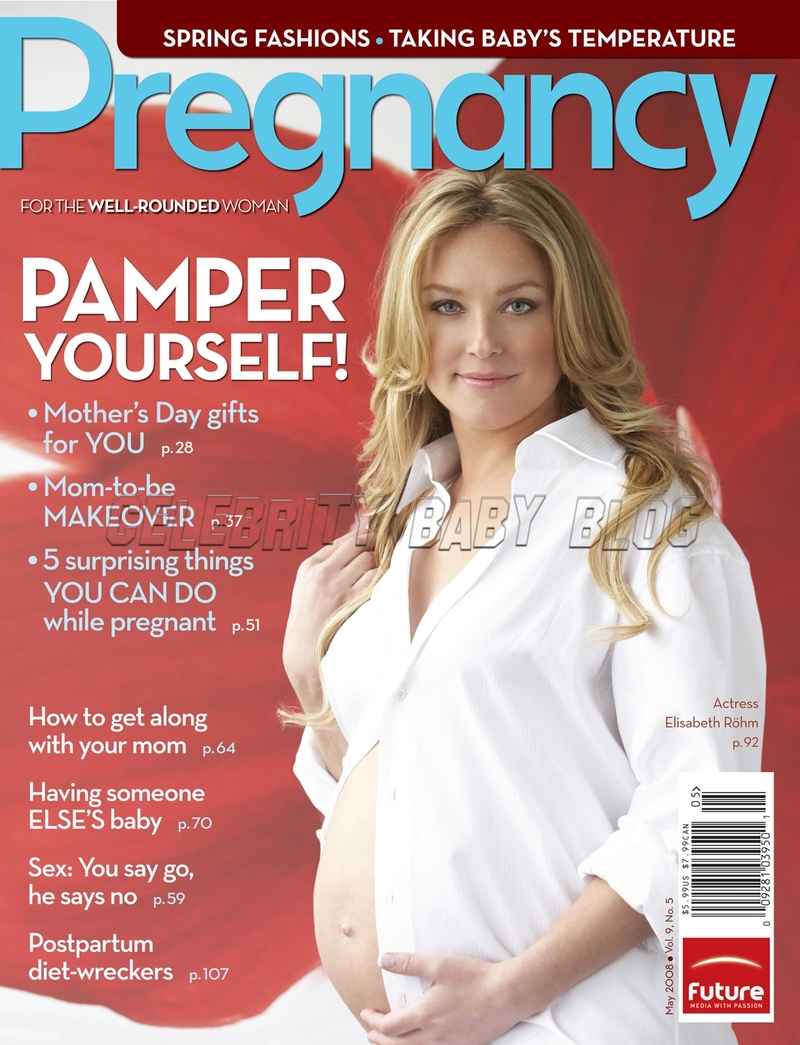 Actress Elisabeth Röhm, 34, and her fiancé Ron Wooster expect their daughter, to be called Easton, on April 28th. Between now and then, the Law & Order and Big Shots actress is appearing on the cover of the May issue of Pregnancy magazine, with a brief interview and photospread inside.
Click below for the photo and interview highlights.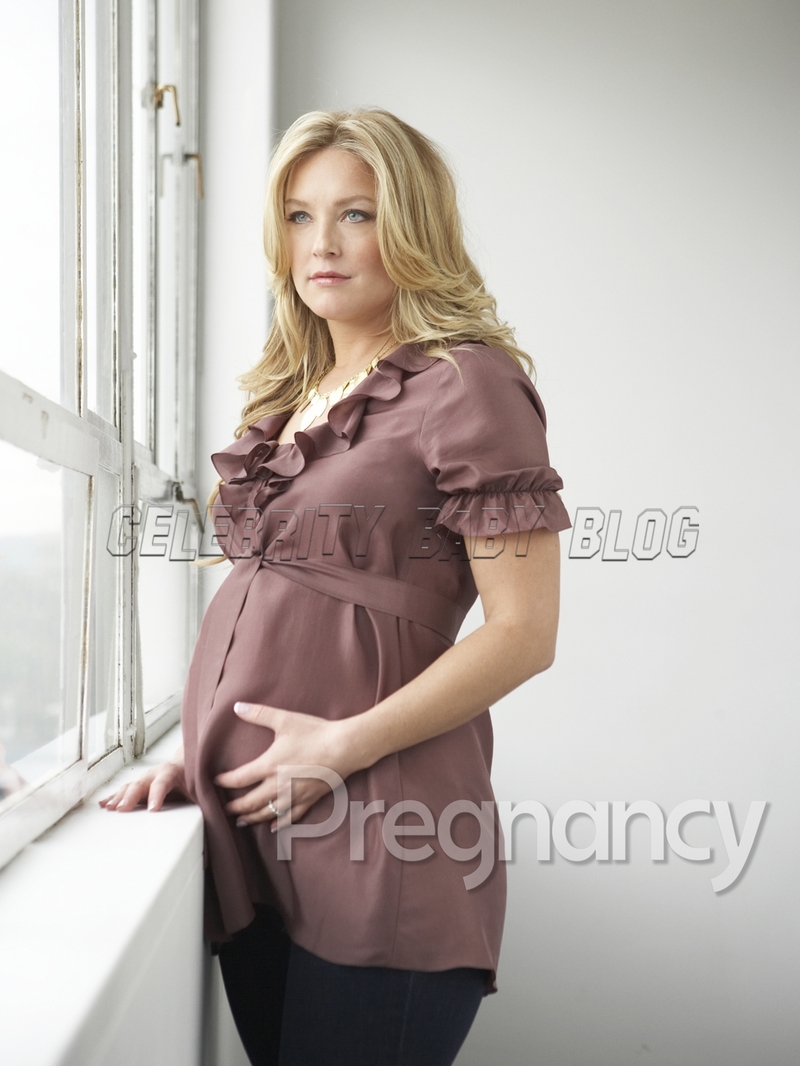 (Cadeau ruffle-front silk belted tunic in burgundy ($115; no longer available.)
On the pregnancy:
I'm loving this time with her alone, because right now she's all mine. When she gets here she's going to be his, and my mom's, and my friends'…

When you become pregnant, you get off your back a little bit in a million different ways. You just allow yourself to be.
On advice:
The best part of being pregnant is the love and support. I've gotten through my friends and my mom and my aunts and women. I've met on the street, on the plane, at lunch, in the bathroom.

Accumulatively the advice I've gotten from my friends and my family has probably brought me closer to them than I've ever been in my life, because I don't often call them and say, "What do I do?" And I think that reaching out to them has been really bonding — they've all been my doulas.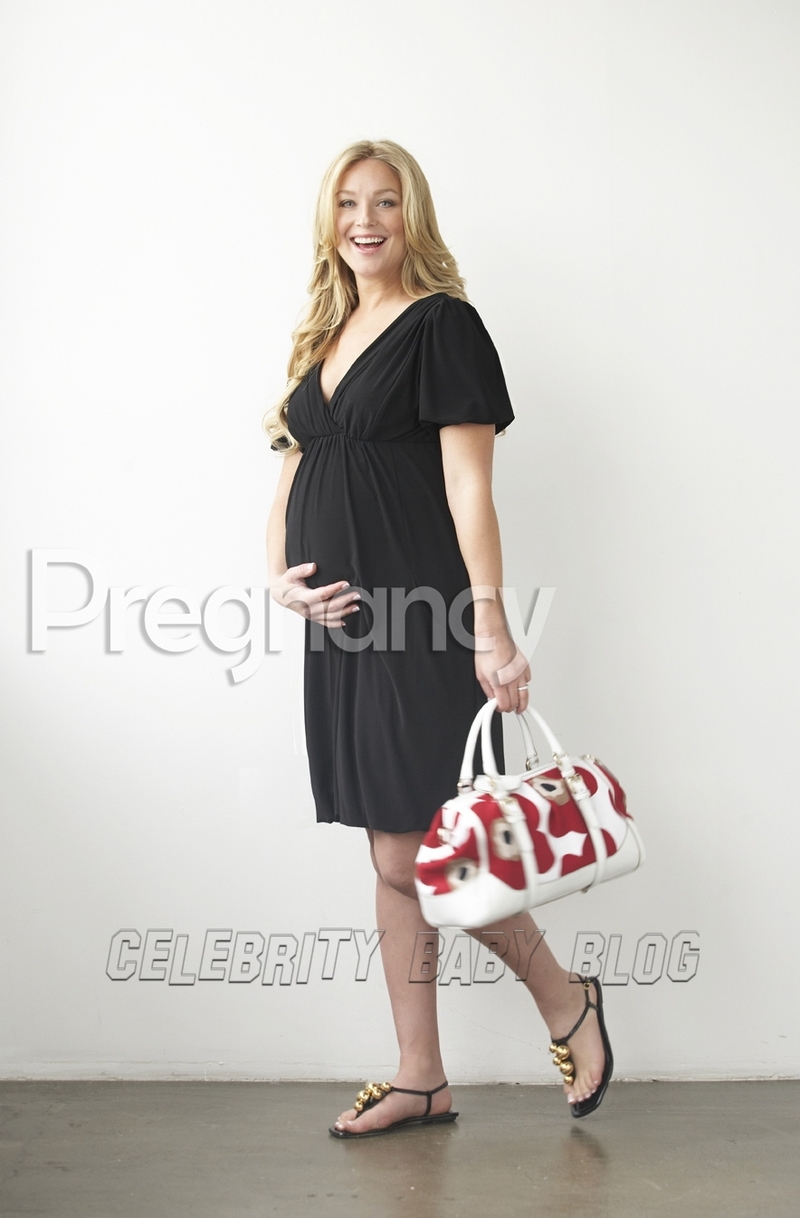 (ABS matte jersey dress in black ($225); Max Azria embellished patent thongs ($180); Dolce & Gabbana poppy satchel ($845)).
On indulgences:
I don't know if my doctor would really approve of the sugar intake. I've always had a big appetite, but I've never been a huge dessert person, and now dessert is a part of my vocabulary morning, noon, and night.
On surprises:
My back hurts! Other than that, I think what's surprised me is how easy its been — I've traveled and been to New Zealand and Australia and New York twice, and I'm going to London next week.

It has surprised me that I can do as much as I was doing before. It's also surprised me to discover how much I love sleeping!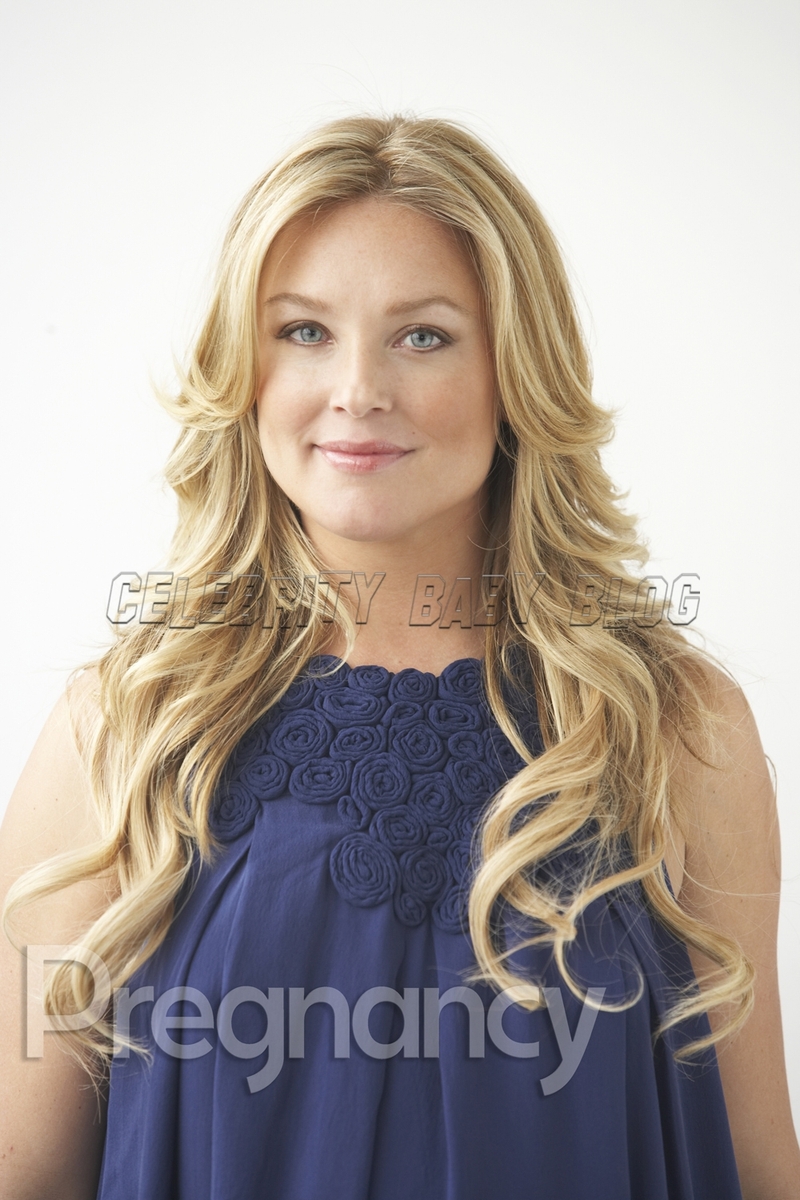 (3.1 Phillip Lim A-line dress with rosette detail in blue ($595)).
On preparation:
I would always say to my friends, "I have room in my life for a child." So I was making my home ready for Easton way before she's ever gotten there.

I think the journey for me hasn't been about making a nursery as much as its been about confirming that I'm as ready as I'd hoped I was to love her and be selfless when it comes to her.
On parenting:
There's a beautiful book called 'The Prophet,' by Kahil Gibran, and there's a chapter about children that says that they're not our possessions, we're just springboards into their own individual lives. I think my mom was like that.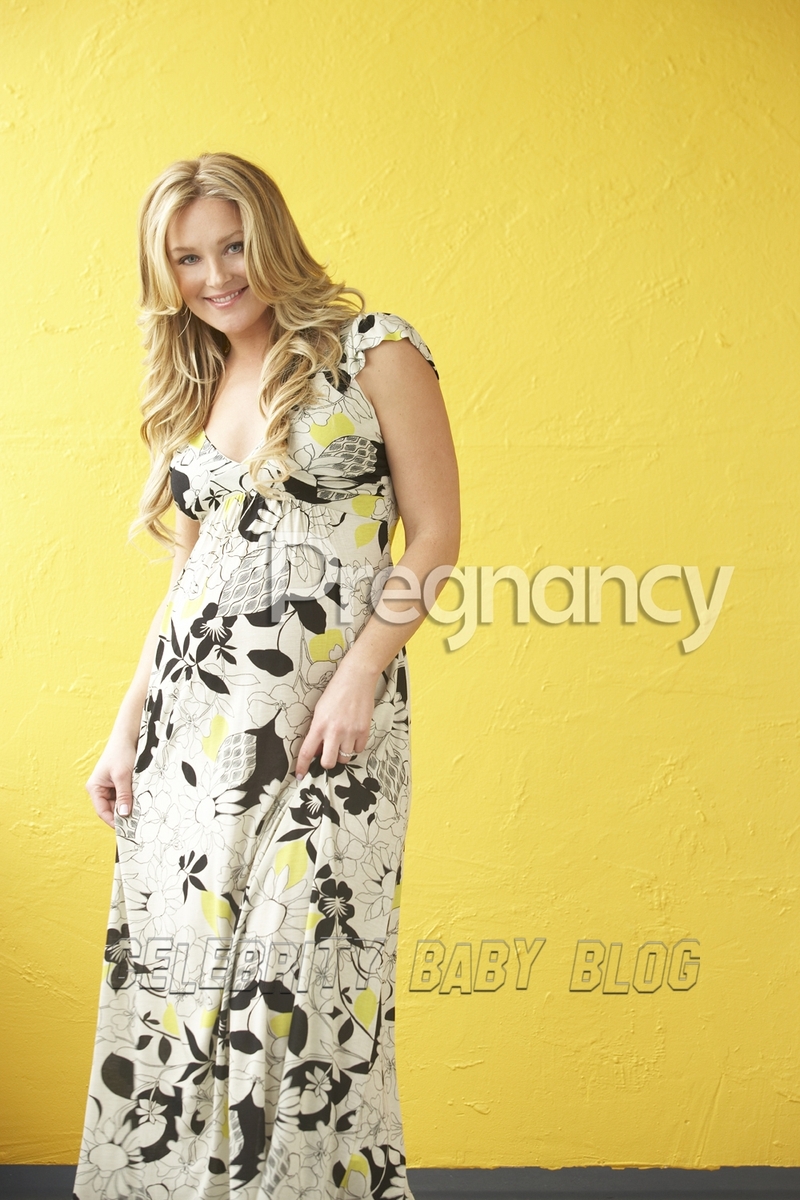 (Momzee flutter sleeve dress in sunrise ($128; no longer available).
On motherhood:
I think that its been really important to be in the moment of it being who I am, not who I'm going to be, like the metamorphosis of the butterfly. I'm just trying to be really present with her now and when she gets here, we'll go through those changes.

The planning is fun, but it can also derail you from being in the moment. And maybe there's no planning that can prepare you for the change of a lifetime.
The May issue of Pregnancy hits newsstands Tuesday, March 18th. Elisabeth has shared her Juvenile Shop baby registry here.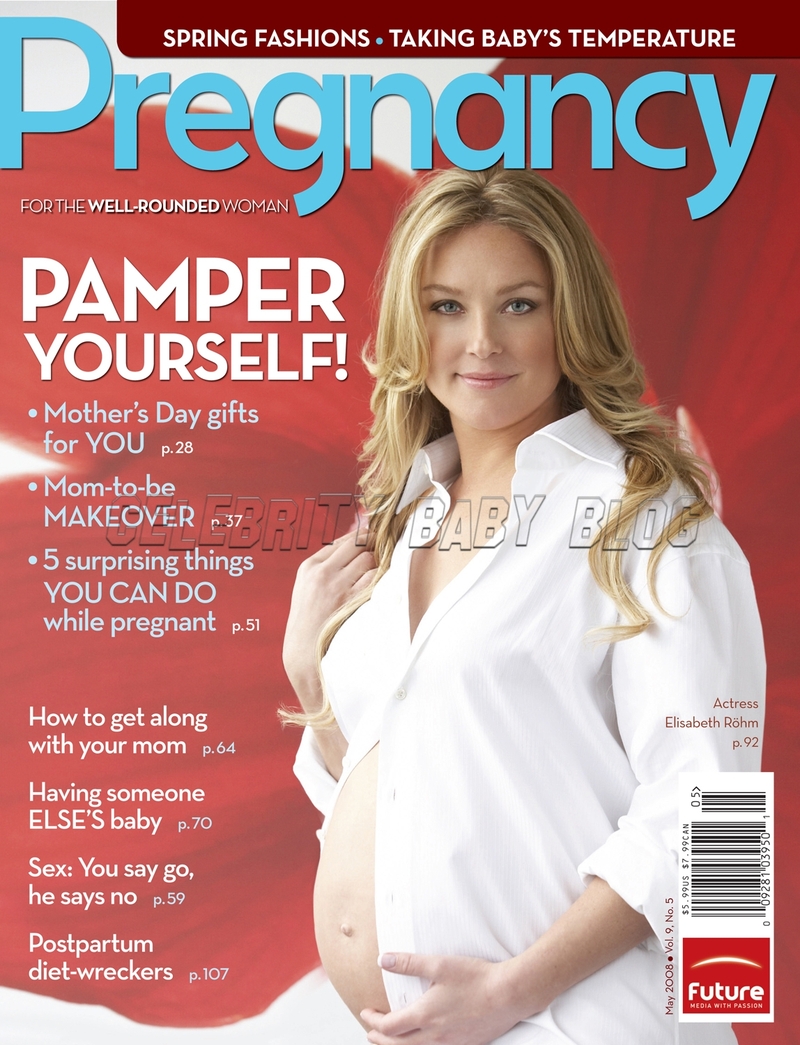 Source: Pregnancy, May issue, p. 92-100.
Photos by John Russo.