Lisa Maxwell and Beau celebrate Mother's Day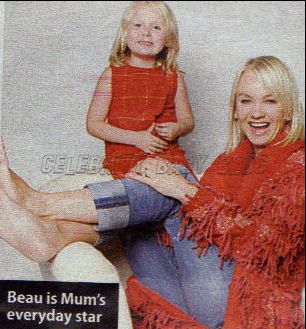 British actress Lisa Maxwell, 44, who stars on the police drama The Bill, recently spoke to Take It Easy about longtime boyfriend Paul, their daughter Beau, 8, and how the family celebrates Mother's Day, which was this past Sunday in the UK.
Click below for the interview highlights.
How she feels about Mother's Day:
Idon't think it's a commercialized rip off at all. I love being spoiledfor the day. My daughter, Beau, who's eight, and partner Paul arereally sweet. I get breakfast in bed, and Beau makes me a card, whichis lovely. Then, after a leisurely morning, we'll go out for lunchtogether near our home in North London. Perfect!
On juggling motherhood and work:
I've had to work onMother's Day in the past, so I really treasure it if I have a day offand can spend time with Beau and Paul. At the moment, work and homelife is great. I do have to get up early to be in make up for 7 am atthe Bill's set in Wimbledon and days can be 12 hours long. But I'mlucky that Paul, [who is] a sculptor, can pick Beau up from school and be withher until I get home. I couldn't do my job without him.
What Beau thinks of her celebrity mother:
To be honest, when I get homeshe's more interested in showing me her homework than who I've beenpretending to be all day. As she's growing up, she's become more of alittle mate to me. We have so much fun together, and I'm constantlyamazed by all the new things she's learning to do.

When I think back tohow tiny and helpless Beau was when she was born, and compare it to thefunny, clever little girl she is now, it's just unbelievable. I'm soamazed that Paul and I created this little human being who's sobrilliant.

I love the way Beau'sgrowing in to her own personality, and she's told me she wants to be amarine biologist, which is very impressive at eight! She'll have tolearn all that at school though. With a mum and dad who are a sculptorand an actress, we're quite a creative household, so maths and scienceisn't our strong point!
On Beau growing up:
I'm sure we've gotlots of interesting times to come, but at the moment it's great. She'snot reached the rebellious teen phase yet, so it's still okay to be seenwith your mum. I took Beau and her friend to the Strictly Come DancingLive Tour and we had such a great girly night out. We were supportingLouisa Lytton, my work mate on 'The Bill' [Beth Green], who was fantastic.
Source: Take It Easy magazine, March 2nd issue, p. 20-21
Thanks to CBB reader Carlie.