Hopping Down the Bunny Trail: Easter style guide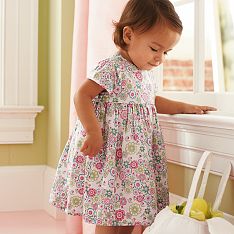 Easter, for those who celebrate it, is typically one of the dressiest holidays of the year. It's the one time of the year when patent leather Mary Janes and frilly skirts, collide with sweater vests and khakis in perfect harmony. This level of fanciness doesn't have to break the bank and it also doesn't have to be a pain to shop for. We've got some great outfit options for this Easter, or any spring holiday that requires dressing up!
Click "continue reading" below to see our picks for dressy Easter attire.
Nothing's Too Good
When you're talking about playing dress up the price tags can easily escalate. We found some stunning dresses for little girls and some sassy options for boys that cost a pretty penny. Because boys are conceivably easier — and we're assuming you already have a decent pair of khakis — we're primarily going to stick to tops. If you need bottoms feel free to peruse the sites we're offering up to you. Some of them even take the guesswork out of the equation and pair their tops with pants they recommend from their lines!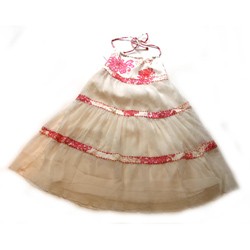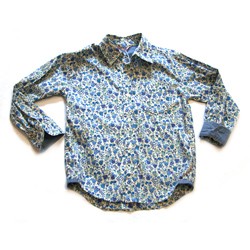 Favorites for the Girls: Save the Queen Rasberry Ribbon Dress with pink stripe top ($126), Pottery Barn Kids' Lauren Liberty Print Dress (above, $68) and Dino Et Lucia Chifon and Silk Dress (left, $196)
Favorites for the Boys: Pottery Barn Kids' Easter Sweater and Pant Set ($68), Hartford Blue & Cream Floral Liberty print cotton woven button down (right, $108) and Façonnable Stripe Shirt ($78)
Spare No Expense
For special occasions most of us are prepared to spend a little more on the right outfit, but sometimes you want to remain a little frugal in your selection. These are our picks for pieces with price tags that won't make you hyperventilate. Best of all, they're made from exceptional fabrics and show excellent craftsmanship.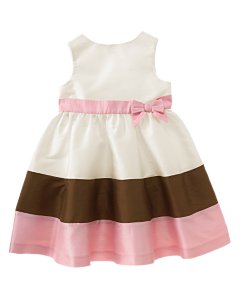 Favorites for the Girls: Gymboree Baby Girl Neapolitan Silk Dress (left, $50), C'est Chouette Spring Blossom Infant Cap Sleeve Dress ($74), Janie & Jack Floral Silk Duppioni Dress ($78) and Polo Ralph Lauren Little Girl Miette Seersucker Dress ($60)
Favorites for the Boys: Gymboree Baby Boy Seersucker Blazer ($43), Sean John Baby Boy Jacket and Pant Set & Knit Polo (right, $63) and Lacoste Piqué Polo Shirt ($45)
Not Pinching Pennies
At this price level you'll find some beautiful options at spectacular prices. In general people look to spend a little more when they dress their little one up, but they try to keep in mind that the outfit might only get one wear.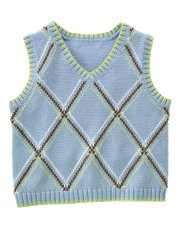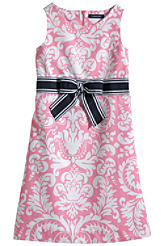 Favorites for the Girls: Mini Boden Baby Applique Dress ($36), Lands' End Easter Dress (left, $37) and Greendog Baby Girl French Terry Polka-Dot Dress ($28)
Favorites for the Boys: Janie & Jack Argyle Sweater Vest (right, $34), Lands' End Sweater Vest ($30) and Polo Ralph Lauren Little Boy Oxford Shirt ($35)
Looking for a Better Value
What we liked best about this price level was, for the boys at least, you could get an entire outfit. Stores like Target sold their dress up attire in bundles for the boys, so you got pants, shirt and a sweater, talk about a score!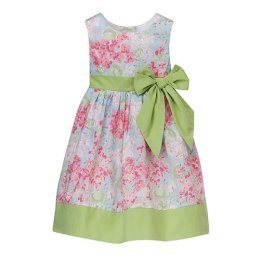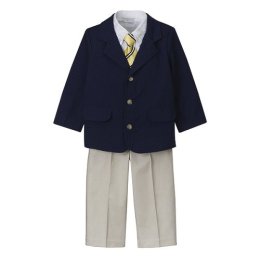 Favorites for the Girls: Perfectly Dressed Floral Easter Dress (left, $18) and First Impressions Baby Girl "Sea Tales" Sateen Jumper Set ($19 on sale)
Favorites for the Boys: Perfectly Dressed 3-pc. Sweater Set (right, $25 available in stores) andNordstrom Short Sleeve Essential Polo ($19)
Can't Stand to Spend Over $15
This is the price point for the people who think to themselves, "my child is only going to wear this once, why should it cost a lot?" And to be honest, there's no reason it SHOULD cost a lot. People who pay the pretty pennies are probably looking for a better quality or a certain look but we found a couple of options for the frugal fannies, too!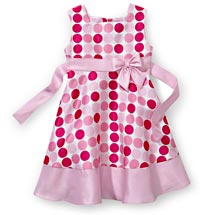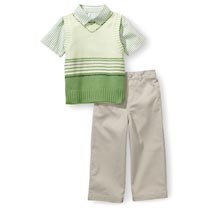 Favorites for the Girls: George Multi-Pink Polka Dot Dress (left, $12 on sale) and George Blue Multi-Dot Dress ($16)
Favorites for the Boys: George 3-Piece Set (right, $12 on sale) and Faded Glory Striped Polo Shirt ($4 on sale)
Editor's Note: Keep in mind that just most items we mention are available in amyriad of sizes from infants through toddlers and sometimes larger. Youmight have to do some digging on the vendor's site to find the size youneed.