Contest: Win Duracell's new Pre-Charge Rechargeable Batteries!
Duracell has recently introduced Pre-Charged Rechargeable Batteries – these are nickel metal hydride (NiMH) cells that come fully charged and ready to use straight out of the pack. Additionally, these new batteries retain power for up to 365 days while not in use, so they are not draining power while they sit in your drawer. Duracell's Pre-Charged Rechargeable batteries can be recharged hundreds of times in any NiMH battery charger and are designed specifically for use in high-drain gadgets such as digital cameras, portable gaming devices and MP3 players.
Duracell Pre-Charged Rechargeable bells are currently available at suchretailers as Target, Wal-Mart CVS, Walgreens, Staples, Best Buy, Toys RUs, Kroger, Safeway, Ahold and others. The mobile charger is available atsuch retailers as CVS, Walgreens, Staples, Target, Toys R Us, Safewayand others.
You can win one of 5 Battery/Charger sets that include 2 AA Duracell Pre-Charged Rechargeable packs and a recharger. Click Continue Reading for details!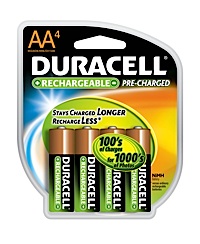 Enter to win one of five Duracell Pre-Charged Rechargeable Battery/Recharger Sets (a $37 value). Email the following info to celebritybabyblogATgmail.com (make sure you replace AT with @).
Your full name, mailing address, and email address.
What product in your household uses the most batteries in a year?
If you've used rechargeable batteries (any brand), what did you dislike most about using them? If you haven't tried them, why not?
Make sure you put "Duracell" in the subject line in order for your entryto be counted.
Any entries that don't include all of the info will not be counted. The contest closes March 7 at 7 am EST. (For terms & conditions, click here.)