Update: Contest: Win a tot-to-go Baby Sling!
Update: The winners are:
Karissa, who chose Pistachio Damask, and said, "With my last baby I tried a NoJo baby sling that I bought from Babies'R'Us that was supposed to be adjustable, but which never adjusted small enough for my frame so my baby always hung way too low. I do not intend to use the NoJo with
this new baby because I was very unhappy with it."
Valerie who also chose Pistachio Damask, used a Baby Bjorn with her first baby but wants a soft carrier for her second, due in July.
Leah who said she would be happy with any girly color and said she has a sling but it's "very uncomfortable and the support board on the insidecuts right at her back which doesn't provide great support. My Clairesure does luv doing chores w/mommy."
CBB Deal: Enjoy 20% off your purchase of any regular priced tot-to-go Baby Sling at www.tot-to-go.com. Enter coupon code: CBB20 upon checkout. Offer valid until June 30, 2008.
---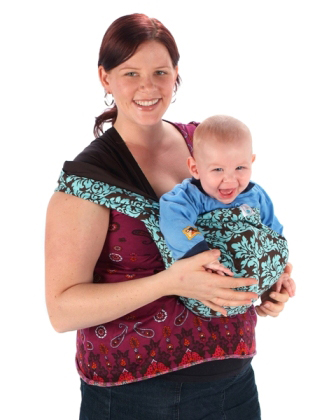 If you could simultaneously bond with your precious bundle of joy, show off your yummy mummy style and keep your hands free, would you? The tot-to-go™ Baby Sling is a fashionable solution for the mommy extraordinaire who wants to have it all! Simple and compact, the tot-to-go™ Baby Sling allows you to carry and bond with your baby hands free! Available in chic fabrics and prints, the tot-to-go™ Baby Sling is the perfect way to comfortably cozy up with your baby and look fabulous at the same time. With up to 5 versatile wearing positions, you will find the tot-to-go™ suitable for any stage of your baby's physical and emotional development.
The sleek, one piece design is ultra compact and easy to take anywhere. It also doubles up as a change pad or blanket so you have less clutter in your diaper bag! tot-to-go™–Your Life's Essential.
Courtney Thorne-Smith, Trista Sutter, Naomi Lowde Priestley are all owners of tot-to-go Baby Slings. Courtney was spotted with hers last weekend! Be sure to visit tot-to-go.com to find out the latest celebrity buzz!
tot-to-go is included in Jewels and Pinstripes' Baby Gift Bags.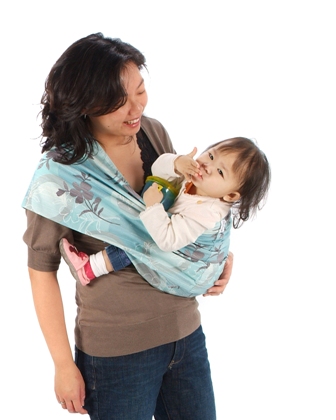 Enter to win one of three Reversible tot-to-go Baby Slings (a $60 CA value). Email the following info to celebritybabyblogATgmail.com (make sure you replace AT with @).
Your full name, mailing address, and email address.
What tot-to-go Baby Sling Print or Colour Combination and size would you like?
Do you own or use any slings or soft baby carriers right now (not a Baby Bjorn or other structured carrier)?
Make sure you put "tot-to-go" in the subject line in order for your entryto be counted.
Any entries that don't include all of the info will not be counted. The contest closes March 6 at 7 am EST. (For terms & conditions, click here.)