Michelle Collins on why girls shouldn't mature too quickly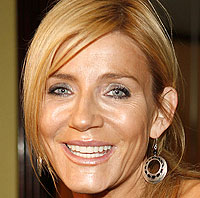 British actress Michelle Collins has seen a lot of young girls mature too quickly, and she wants to make sure that daughter Maia, 11, is not one of those. The 44-year-old mom has written about why she doesn't believe girls should grow up so quick.
Being a parent is scary –- I worry about all sorts of things. My life completely changed when I had Maia.

When you have children your priorities are different. I've got three friends whose children have been anorexic, and it's happening to kids who are much younger these days. Young girls are so obsessed with their weight and that does make me worry a bit.

But you can only do your best. And thankfully, for now at least, I have nothing to worry about with Maia. She is brilliant and is head girl at school. Luckily, Maia is very anti-everything — she hates smoking, drugs, everything.
Click below for the rest of her article.
We were talking about how brilliant Amy Winehouse was the other day and I said to her, 'You know the other stuff she does isn't cool, don't you?'. She knows. And she just went, 'Oh Mum, don't go all psychological on me'.

She also loves Kate Nash, who is very clean-cut –- I heard Kate even loves knitting. She's a really good role model for an 11-year-old.

And I do monitor what my daughter watches on the television too.

I've always been a bit careful about her watching some reality shows because you never really know what's going to happen in the Big Brother house, do you? But she loves Britain's Got Talent and X Factor. We voted for winners Paul Potts and Leona Lewis. I'm not sure I'd like my daughter taking part, though, because how many of them go on to be actually successful?

Hardly any. And what happens to the rest of them after their five minutes of fame? I'm surprised we haven't had more casualties among the would-be stars who have been rejected. There was a guy on a Big Brother-type show in Sweden who committed suicide because he was evicted.

And look at child stars like Lena Zavaroni, the Jacksons, Jack Wild who starred as the Artful Dodger in Oliver! –- so many tragedies.

Sometimes you have to think, 'What are we doing?'. There is a lot of pressure on young kids. Having said that, Maia and I loved watching X Factor together –- especially the auditions. We shouldn't laugh but they're hysterical. Maia's seen a couple of episodes of Rock Rivals, about a TV talent show, and she loves it.

All her friends love X Factor so, who knows, it might make me cool. Being on Doctor Who made me cool –- for about a week.
Source: The Sun
Thanks to CBB reader Carlie.