Cake Beauty: You can't eat it but you can have it!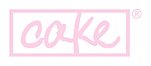 I adore dessert-scented bath and body products. Man oh man, I used to clean up at the semi-annual Bath & Body Works sales but over the past few months, I've become more aware that what I put ON my body is as important as what I put in it. With that in mind, I've begun eliminating products that contain petroleum-based ingredients like petrolatum and mineral oil. I'm kind of grossed out about the idea of rubbing hydrocarbons on my body so I have been looking for more natural options. (For more ingredients you may want to avoid, visit the Cosmetics Database.)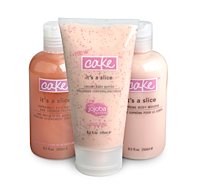 After trying Cake Beauty's products in my shower this morning, I've realized thatBath & Body Works is the McDonald's of body products and I've beenmissing out on better scented, better for you products for years! Their ingredient lists read less like chemical formulas than dessert recipes. Instead of mineral oil and petrolatum, their products' key ingredients include natural oils like avocado, almond and sweet almond, coconut, macadamia nut, jojoba, olive, grapeseed, sunflower, and butters like mango, cocoa, and shea.
Click Continue Reading for the complete Cake Beauty review and a great deal just for CBB Readers!
I had the yummiest shower this morning. Described as whipped vanillaicing with a pinch of exotic coconut cream, the Desseted Island products are deeply butnot heavily scented. The other two scent lines include It's a Slice(orange creamsicle) and Creme de la Creme (sugary Canadian maple syrupdrizzled over creamy vanilla ice cream).
Here's my bath menu (in order of use):
desserted island supremely rich bath and shower froth ($18): A creamy shower gel/bubble bath. Foamed up nicely and smelled delicious.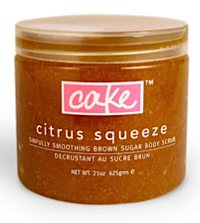 citrus squeeze sinfully smoothing brown sugar scrub ($30):I have super dry skin so I need hardcore exfoliation, especially inthe winter and not only did this scrub slough a lot of dead skin, itleft my skin moisturized post shower, with little need to moisturize.
desserted island creamy body buffer ($24): A creamy body exfoliating scrub. It wasn't as exfoliating as I need but would be perfect for someone with less dry skin.
desserted island supreme body mousse ($22): A rich lotion
desserted island moisturizing body glaze ($22): A non-greasy body oil that can be used as a bath oil
Satin Sugar All Purpose Treatment Balm($24): An all-purpose balm for your whole body (including lip, body,and hair). You have to work to get the product out since it's a verysolid solid. Still, when you get it out, it's really rich- it contains86% shea butter which is highly moisturizing.
cake kiss lemon chiffon($10): A solid sheer lip balm. I like that it's tasteless and sheer butit's too light for me – I feel like I need to reapply ten minutes laterbut then again, I've got pretty dry lips. I'm also not a huge lemon fan so Ithink I'd prefer one of the two other scents – Caramel and Whipped PinkBerry Cream.
I, personally, think the line could benefit by being categorized by the three mainscent lines and make all products available in all scents — shopping by scent! For example,I wish the sinfully smoothing brown sugar scrubcame in Desserted Island or Creme de la Creme. Also, not allof their products are free of semi-questionable ingredients though they tellme they are reformulating their products to remove things like parabens.
CBB Deal: Save 15% on your order at www.cakebeauty.com when you use coupon code CBB15 (expires 3/31/08).