Giveaway: The Gay Uncle's Guide to Parenting: Candid Counsel from the Depths of the Daycare Trenches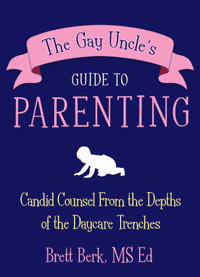 With over twenty years of experience working with young children, everyone's favorite gay uncle Brett Berk uses his expert outsider's perspective to break moms and dads out of the "parenting bubble," an alternate universe where under-table dining, Everest-like toy piles, and hourly tantrums somehow seem normal. Packed full of candid advice, handy checklists, and hilarious stories of parents even crazier than you, The Gay Uncle's Guide to Parenting reveals how consistency, patience, and keeping your emotions in check are key to overcoming almost any parenting struggle, will help your kids gain the structure they need to develop and learn new skills, and allow you to be a person as well as a parent.
He uses this outsider's point of view as a fresh perspective, andcombines it with the no-nonsense approach that only a gay man has tobreak moms and dads out of the unnecessary patterns and practicesthey've fallen into. Why do we buy Diaper Genies as if we've neverheard of trash cans with lids? Why are we so afraid of telling children"no" that we often take the scenic (and more harmful) route around it?And can we all finally admit that babies usually smell funny, acceptit, and move on?
Learn more and ask Brett your questions at BrettBerk.com.
We are giving away ten copies of The Gay Uncle's Guide to Parenting. Click Continue Reading for how to enter!
Enter to win one often copies of The Gay Uncle's Guide to Parenting. Email the following info to celebritybabyblogATgmail.com (make sure you replace AT with @).
Your full name, email address, and mailing address.
What's your biggest "parenting bubble" pet peeve?
Make sure you put "Gay Uncle" in the subject line in order for your entryto be counted.
Giveaway closes March 5, 2008 at 7 am EST. (For giveaway terms & conditions, click here.)