101 Dalmatians: Some things are just better with spots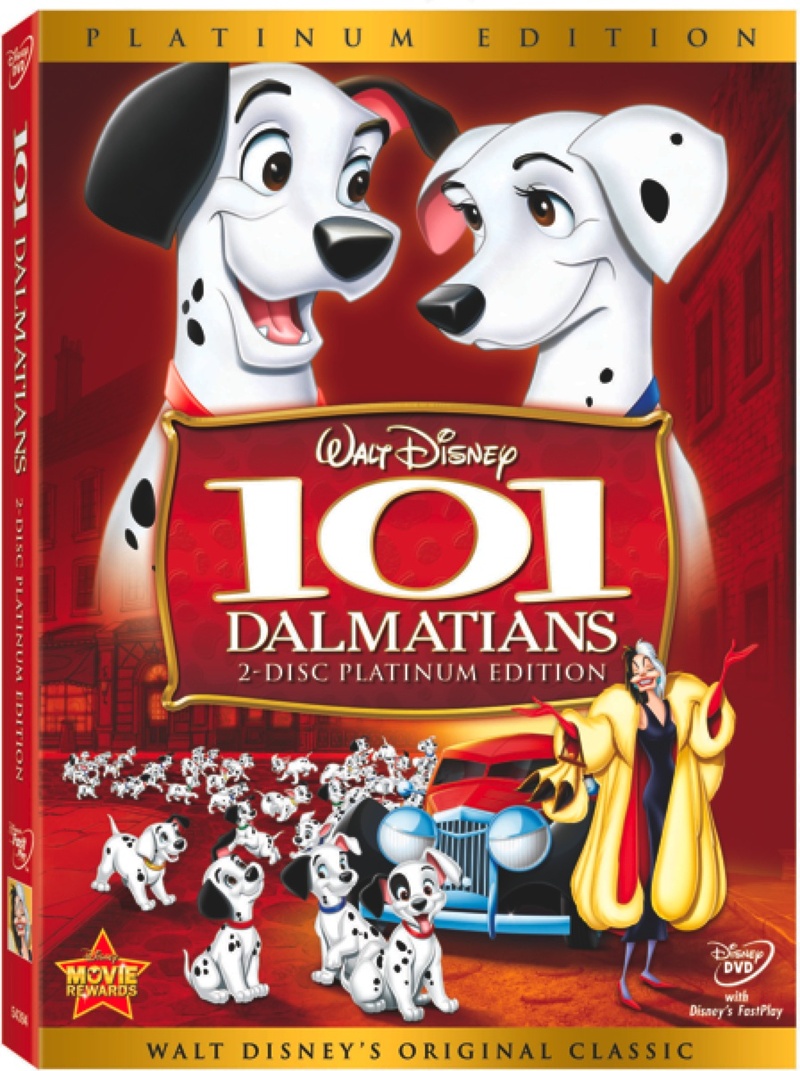 Pongo and Perdita are back and so are all 99 of the other puppies! Inwhat has been hailed as one of Walt Disney's most innovative Disneyanimated films, 101 Dalmatians has been released in a Platinum Edition 2-Disc Set for the first time on March 4.
For those who don't remember
101 Dalmatians
is the story of Pongo and Perdita, a pair of adorable Dalmatians whoplay Cupid for their "humans." In a short time, the dogs become theproud parents of 15 winsome puppies, but their happiness isshort-lived. The wicked Cruella De Vil wants to buy the all puppies —to make a coat! When her dastardly offer is turned down, she orders herbumbling henchmen Horace and Jasper to abscond with the puppies as wellas every other Dalmatian puppy in London. Pongo and Perdita must rallya network of animals across rk of animals across England with the"twilight bark" to help find Cruella's secret hideaway and rescue 99precious puppies.
Click here to watch the trailer for 101 Dalmatians.
Click continue reading below to read the full 101 Dalmatians review!
This movie will always hold a special place in my heart as it was one of my favorites growing up. I even liked Cruella, as de Vil-ish as she was! You just want to see Pongo and Perdita get their sweet pups back and then when there's so many of them, it almost breaks your heart. This story was an early portrayal of some of the animal cruelty that goes on this country, and as silly as it sounds is probably the reason I have two rescue dogs. I know it's just a cartoon, but this one dealt with a real issue that hit home with me!
Included on the new 2-Disc Platinum Edition are:
Disney's Virtual DalmatiansAdopt: name, train and care for your very own virtual puppy where there are over 101 possibilities.
Puppy Profiler:Find out which dog you're most like!
101 Pop-Up Trivia Facts For The Family & Collector:Discover 202 amazing things You Never Knew about the movie as you watch it – with 101 pop up facts for the family and 101 for the collector
All-New "Cruella De Vil" Music Video:The classic song "Cruella De Vil" gets a contemporary twist when multitalented teen Disney Channel star Selena Gomez performs the song in a brand new video!
Redefining The Line: The Making Of 101 Dalmatians:101 Dalmatians is considered by critics to be one of the best and most innovative Disney animated films. Go behind the scenes with its creators to find out about everything -including the technological innovation of the Xerox process in animation.
Cruella De Vil: Drawn To Be Bad:Inspired by flamboyant actress Tallulah Bankhead, Cruella De Vil has become a villain that movie fans love to hate. Marc Davis, an animation legend and one of Disney's immortal "Nine Old Men" reveals how this iconic character came to be.
Sincerely Yours, Walt DisneyExperience: Walt Disney and Dodie Smith's (author of the book The Hundred and One Dalmatians) actual correspondence during the movie's production.
Deleted Songs:Songs written for the film -finally come to life!
And Much More!
The best part about the Platinum Edition discs is the fully restored picture with enhanced sound, it makes an old classic look even better! And I always appreciate the deleted songs, as I like to see what was missing from my viewing experience. My daughter likes the songs the best, too!