Update: Marc Anthony and Jennifer Lopez welcome fraternal twins Max and Emme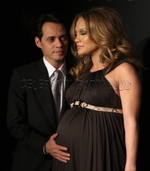 Update: The rumor was true! Jennifer and Marc's twins are named Max and Emme, per her rep.
Also, Max's stats were wrong. He was born at 12:13 am (the babies were delivered by c-section) and weighed in at 5 lbs, 13 oz.
Click below for the original posts.
Rumor Update February 26th: Jennifer's reported ob/gyn Dr. Anita Sadaty tells Life & Style that the babies were apparently delivered by c-section.
Jennifer was amazing. She has this motherhood glow about her, veryserene. Her boy and girl are healthy — and for that she feels sothankful and blessed.

The delivery went without a hitch. There were no complicationswhatsoever. Marc was by her side. He and Jennifer are simply overjoyed!
We're marking this as rumor for two reasons — one, patientconfidentiality and HIPAA laws have been broken if the doctor isspeaking without permission, and two, we're not sure why her ob/gynwould speak with Life & Style when they have been releasing statements exclusively through People. Plus, Dr. Sadaty is our CBB Reviewer Nancy's former ob/gyn. Nancy notes,
Dr. Anita Sadaty was my ob-gyn during my pregnancy with my toddler,Ben. She is a lovely person and NOT the type to speak to the press.
Update 11 am: The NY Post reports that Jennifer and both babies were discharged from the hospital on Monday.
Originally posted Feb. 22: Singers and actors Marc Anthony, 39, and Jennifer Lopez,38, are new parents after welcoming fraternal twins — a boy and a girl– just after midnight on Friday, February 22nd at North Shore Hospitalin Long Island, NY. Their daughter arrived first, at 12:12 am andweighed in at 5 lbs, 7 oz. Her twin brother followed 11 minutes laterat 12:23 am, weighing in at exactly 6 lbs.
Names have yet to be released, but People's editor tells the Today show that Jennifer and Marc will be announcing them to the magazine. The couple's rep says,
Jennifer and Marc are delighted, thrilled and over the moon. Everyone is healthy and happy.
After months of rumors, the couple confirmed the pregnancy on-stage in November. In January, Jennifer laughed that 'everyone knew anyway — I was on tour with a bubble gut!'
Although Jennifer's father confirmed that she was expecting twins, the couple laid low after the tour was over, save for only a few public appearances — the Movies Rock event, a few shopping trips, their baby shower, the Marchesa fashion show, and a UNICEF benefit.
The twins join Arianna, 13, Cristian, 7, and Ryan, 4 ½, Marc's children from previous relationships.
Meanwhile, OK! has confirmed that they've obtained international rights to the twin's first photos, while it appears People has secured US rights.
Source: People