Update: Contest: Win baby kaed's new dhara diaper bag!
Update: The winner is Angela, a self-described new AND experienced mom to a 2 month old boy and 5 year old girl, who chose Evening Paradise, and said, "These bags are beautiful! I had forgotten about how attached you become to yourdiaper bag and how it replaces you purse! So now I amon the hunt again for a pretty and practical bag.This would be perfect!"
---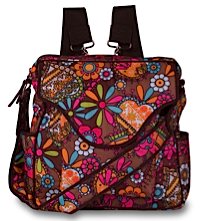 Win the new dhara diaper bag from baby kaed!
Not even in stores yet, exclusively for CBB readers, win a dhara diaper bag from baby kaed. The new backpack diaper bag from baby kaed comes in fun, bold and funky prints with name's to match such as: Party in Phuket (pictured left), Cozy in Koh Samui, Double Happiness, Lover's Lane (pictured after the jump and Danielle's favorite), Evening paradise and Morning Paradise.
These bags can be carried either over the shoulder or as a backpack, this is a zippered top bag so you don't have awkward flaps to maneuver while trying to reach for baby's essentials inside the bag. Stay completely organized with 11 total pockets! All baby kaed bags come equipped with coordinating changing mat, zippered pouch, drawstring bag, pacifier pouch, key clip, wipes case and duster bag!
CBB Deal: Enter promo code CBB15 to receive 15% off any baby kaed diaper bag and free shipping within the US at www.babykaed.com
Enter to win a baby kaed dhara diaper bag! Click Continue Reading for the details.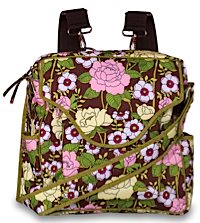 Enter to win a baby kaed dhara diaper bag! Email the following info to celebritybabyblogATgmail.com (make sure you replace AT with @):
Your full name, mailing address and email address.
Which print in the dhara bag you would like to win? (visit babykaed.com for the choices and more)
How many diaper bags do you own?
Make sure you put "baby kaed dhara" in the subject line in order for your entry to be counted.
Any entries that don't include all of the info will not be counted. Please note that the dhara bag will be shipped to you at the end of March. Contest closes Friday, February 29 at 7 am EST. (For terms & conditions, click here.)