Contest: Win a Cambodian Jingle Bell Anklet from Baby Emi Jewelry!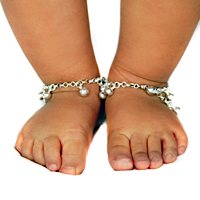 As seen on The View in Jewels & Pinstripes' Celebrity "BUMP" Bag, Baby Emi Jewelry makesthe celebration of a new life sweeter than ever with their personalizedbaby bracelets and Cambodian Jingle Bell Anklets. Celebs like KevinJames and his wife Steffiana De La Cruz and Brooke Burke and DavidCharvet own some Baby Emi Glam!
Baby Emi Jewelry offers over 45gorgeous personalized baby bracelets to choose from. And each ishandcrafted with careful attention to detail and safety while keepingstyle and durability in mind.
Baby Emi Jewelry's Cambodian Jingle Bell Anklets offers parents a senseof safety and security by allowing them to hear their baby's movementsand whereabouts. Historically, Cambodian mommies adorned the ankles oftheir children to ward off any bad spirits. For the modern mommy, thisis a practical must-have item for a peace of mind. The CambodianJingle Bells Anklet is made from sterling silver, is adjustable, andavailable in 5 different sizes for baby or mommy.

Enter to win one of five Cambodian Jingle Bells Anklets from Baby Emi Jewelry. Click Continue Reading for the details.

CBB Deal: Save 10% at babyemijewelry.com when you use coupon code CBB10 (expires 3/31/08).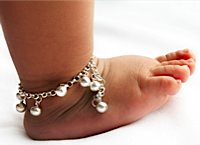 Enter to win one of five Cambodian Jingle Bells Anklets from Baby Emi Jewelry (a $40 value). Email the following info to celebritybabyblogATgmail.com (make sure you replace AT with @).
Your full name, mailing address, and email address.
Visit babyemijewelry.com and tell us what the deadline for Mother's Day gifts is.
Tell us about the child who will receive the anklet and why they should win it.
Make sure you put "

Baby Emi Anklet

" in the subject line in order for your entryto be counted.
The contest closes February 29 at 7 am EST. (For terms & conditions, click here.)