Mommy Track'd: Jane Kaczmarek talks about making her children a priority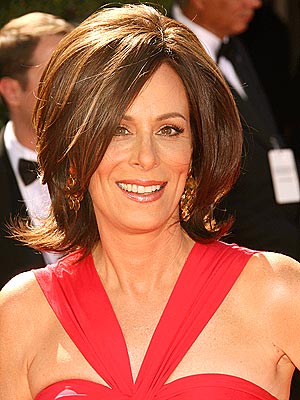 Although losing her job in May 2006 with the cancellation of Malcolm in the Middle may have been distressing for Jane Kaczmarek, it was anything but for her 10-year-old daughter Frances. Having a mom starring on a popular sitcom and a dad — Bradley Whitford, of West Wing fame — starring on a popular television drama no doubt had its perks, but from the perspective of a child, it also came with its fair share of drawbacks. Says Jane in a new interview with Mommy Track'd,
The seven years 'Malcolm' was on the air were extremely hectic…We had nannies standing by at all hours of the day because we rarely knew what our shooting schedules were.

My daughter Frances once told me that the best news I could give her was that 'Malcolm' had been canceled. She screamed with joy the day they pulled the plug.
Now, the 52-year-old actress — also mom to George, 7, and Mary Louisa, 5 — is settling in to life at a slower pace. Although she's about to start shooting a new project for TNT, Jane feels that the days of letting work eclipse family are over for her. She says she makes sure to be home in the morning to get the kids dressed, fed and off to school, and then she takes them to lessons afterwards, has dinner and puts them to bed "just like a real mom!"
I actively turn down all job offers if I can't make them work with my schedule. I waited really long to have children, all three were born in my 40's and I want to spend as much time with them as I can.
Something else Jane will undoubtedly always make time for is Clothes Off Our Back, her non-profit organization which auctions off celebrity clothing and which has raised over $2 million for various international children's charities since its creation. The idea behind Clothes Off Our Back came when Jane found herself "overwhelmed with the amount of waste in Hollywood." She notes,
When you are a celebrity, you are showered with so many clothes and accessories and publicity that you don't need. Clothes Off Our Back seemed a good way to raise money for children's charities without bothering celebrities to spend more of their precious time. We like to say there are so many children in need and so many clothes that you'll never wear again.
Do your children want you to quit your job?
---

A great deal of attention has been paid to the professional womenopting out of the workforce when they have children. What about thoseof us that by choice or necessity continue to work? According to theBureau of Labor Statistics' latest poll, well over 70% of all womenwith kids under the age of 18 work outside the home. That's over 24million juggling, struggling women with jobs and families.
Whether you work full time, part time or are taking some time off butplan to go back, Mommy Track'd is the multi-tasking site for you. Weoffer busy moms something they desperately need — a smart andentertaining resource to help manage the daily tug of war between workand home.