Tina Fey talks about the 'amazing joy of having a child'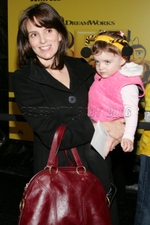 She's spoken previously about her daughter's love of song and dance, and 30 Rock star Tina Fey says that that love is still going strong. But when it comes to favorites, Alice Zenobia, 2 ½, is adding a certain fruit to the mix as well.
Alice is singing a lot and dancing. She just discovered raisins. She's eating a lot of raisins.
Tina's 30 Rock co-star Scott Adsit says the mother-daughter dynamic between Tina and Alice is different — but "not in a bad way." Tina, whom Scott describes as "very doting," nonetheless "expects a lot from Alice." Fortunately, Scott says, the toddler is "up to the task."
I think Alice likes her — in a way every kid does their mother — being goofy and silly. It's funny to hear her talk to her. I never hear her doing baby talk to Alice. I always hear her talking to her like she's a peer. That's kind of cool.
Motherhood caught Tina somewhat off-guard, the 37-year-old actress admits.
I was never a pet owner — I'm allergic to all kinds of animals — so I didn't even have that middle step of 'you love your dog and your dog brings you joy.' I went right from nothing to this amazing joy of having a child. I didn't take the ramp up by way of yellow lab.
Alice is the first child for Tina and her husband Jeff Richmond.
Source: OK!
Thanks to CBB reader Valerie