Update: Tori Spelling, her belly, and Liam in People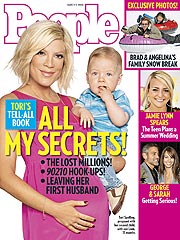 Update: Tori shares that she hasn't found out the baby's sex yet, and she tells Who, People's Australian counterpart, that she is due in July. This pregnancy has been tougher — she had terrible nausea in her first trimester, making it hard to balance being both expectant and mom to a baby under a year.
Tori discovered she was pregnant again just a week after reaching her postpartum weightloss goal. After taking three home pregnancy tests, she wrote a note saying, 'I'm a big brother,' and pinned it to Liam's shirt. Too bad Dean didn't get the message! Tori laughs,
Dean said, 'Cute shirt, did you make it?' I'm like, 'Babe, if he's a big brother…' He finally went, 'Oh my God. Seriously?' He was so excited, but it took him five minutes!
Click here to watch Tori's interview at People.com
Originally posted February 21st: Cradling her pregnant belly, actress Tori Spelling, 34, and son Liam Aaron, 11 months, are on the cover of People this week in promotion of her new book sTORI Telling, out March 11th.
The tag line says she discusses 'The lost millions, 90210 hookups, and leaving her first husband' — and also finally admits to her breast implants — but we're excited for some Liam news and details on her second pregnancy with husband Dean McDermott, which she's kept mum about thus far. However she does open up to People — check back tomorrow for the interview highlights. To shorten the wait, read this online excerpt regarding Liam's birth:
His heart rate was dropping. It eventually became clear that a C-section was in order.

It didn't seem like I'd been in surgery long when the doctorsaid, "Here he comes!" Then I heard Liam's first cry. It took my breathaway. I was overwhelmed with love. Dean said, "Oh my God, he'sgorgeous." I looked down at my baby and said, "Oh, he is. And thank Godhe has a good nose." Back home Dean and I settled into our new life asparents. Liam completed us.
My whole life I wanted to be normal. When I think of what Ihave now, it's not the biggest or best or most anything. It's familyand love and safety. It's work and laughter and imperfection. It's mynormal.
We'll have more from the issue tomorrow!
Source: People, March 3rd issue, p. 72-78