Update: Contest: Win a My Baby Nest baby carrier!
Update: The winners are:
Julie from Pickens, SC
Jeanne from NYC
Kinsey from Tuscon, AZ
CBB Deal: Save 10% on your order at My Baby Nest when you use coupon code JPCBB, 10% off, expires March 22, 2008.
---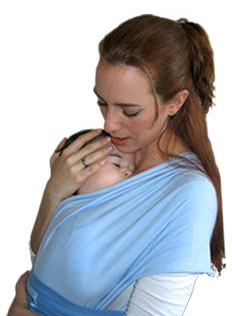 The My Baby Nest baby carrier is the ORIGINAL double loop carrier that is a cross between a sling and a more structured front carrier, yet it provides the positions and benefits of both. Our design is so innovative others have tried to copy it, but they can't copy our ultra soft and flexible fabric – it's made especially for us – it's 100% hypo-allergenic and manufactured in Europe from the finest cotton.
The My Baby Nest™ carrier was especially designed with newborns and premature babies in mind; providing unique support for nursing during the early stages of your baby's life. Most importantly the Baby Nest sling is versatile and adaptable offering five different positions, allowing continued use as your baby grows – up to 35 lbs.
The My Baby Nest sling is easy to wear and safely distributes your baby's weight over both shoulders, making it extraordinarily comfortable to wear for an extended period of time. Our unique design is a double looped, double stitched sling with a ring closure belt that is completely comfortable for both parent and baby; there are no hooks, knots, snaps, or hardware. Our design will hold your baby safely, comfortably and is extremely easy to use – NO WRAPPING INVOLVED! It is easy to put on and take off. The belt even has a pocket offering convenience for those important essentials.
My Baby Nest is included in the Jewels and Pinstripes Celebrity "BUMP" Bag.
Win one of three My Baby Nest baby carriers! Email the following info to celebritybabyblogATgmail.com (make sure you replace AT with @).
Your full name, mailing address and email address.
Make sure you put "

My Baby Nest

" in the subject line in order for your entryto be counted.
What's the most important feature you look for when selecting a baby carrier?
If you won, which color and size would you like?
The contest closes February 25 at 7 am EST. (For terms & conditions, click here.)