Introducing Tyler Joseph and Markus William Thomas
University of Maryland women's basketball coach Brenda Frese holds twin sons Tyler Joseph (l) and Markus William on Thursday, February 21st. The 37-year-old and her husband Mark Thomas welcomed the boys on Sunday, February 17th.
Source: Yahoo! News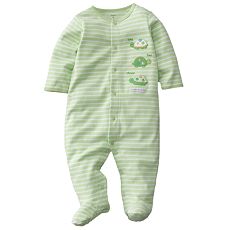 Tyler is wearing a Carter's Green Striped Embroidered "Turtle" Sleep & Play (on sale for $2).