Bedrest Style: Make lounging around more stylish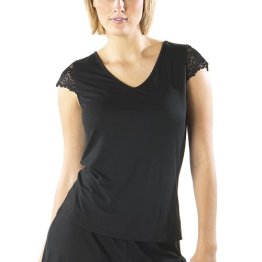 Brooke Burke recently was put on bedrest. Stella McCartney, Julia Roberts and Marcia Cross have all also done time in the sack to minimize risks during their pregnancies. Odds are that you or someone else that you know may have to do the same. Be nice to them – bedrest is a lot tougher than it sounds! Whether you spend a week or a trimester (or longer!) on bedrest, at home or in the hospital, after a day or two you are likely to run into the challenge of what to wear. As cute as that maternity wardrobe you lovingly assembled is, who wants to wear jeans and a tailored jacket in bed all day? But then again, who wants to wear their "sick day" wardrobe of baggy old sweats and t-shirt for two months straight either?
I've been in the same boat – having spent close to eight weeks of my own current pregnancy on modified to strict bedrest. I've entertained family for New Years Eve and New Year's day celebrations, invited pals over for movies and have had lunch dates with kind, compassionate friends from my spot right here in bed (where I have also written many CBB posts!). Searching for inspiration on what to wear, I looked to the celebs for ideas on the kind of garb most likely to make me feel more like a gestating princess and less like an invalid. Here are some of my best finds!
Pea in the Pod: Halle Berry, Angelina Jolie, Garcelle Beauvais-Nilon, and practically every other celebrity who has ever been pregnant, has turned to Pea in the Pod to clothe them during their pregnancies. Known best for their high end gowns and and gorgeous designer quality maternity clothes, they also do some lovely and luxurious lounge attire. I've always enjoyed lounging in my hoodie sets, but let's face it, this bedresting mama is not headed anywhere near a gym at the moment. So it is time to indulge in some cashmere and treat myself royally. This polished and sensual Cashmere and Cotton Hoodie Set ($169.99) is just the thing to make any mom on bedrest feel like a good sport.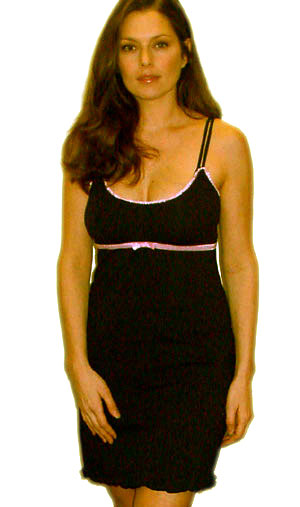 L'arrivo: Rachel Weisz claimed to practically live in the L'arrivo line while she was pregnant and after she gave birth to son Henry Chance Aronofsky. The comfy drawstring pants, tanks and dresses are all so stretchy, slinky and super easy/flattering to wear that you will want to wear them now and keep on wearing them when you are off of bedrest, and have had your child — as well you should. They are actually made for easy breastfeeding with built in bras and snap open access. And they're made to be worn day or night — to the grocery store, to the market and back home to catch a few quick winks while the baby naps. I have to warn that L'arrivo clothes are so insanely comfortable that they can be quite addictive. My favorite choices are the funky patterned dresses and basic pant/tank/shrug sets. Don't wear them on days when you are looking for sympathy — your friends will be jealous of your cute clothes and how you somehow look put together despite your travails.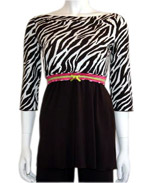 Lulu B: Lulu B Nursing and Maternity Loungewear is the sort of retro glammy attire that calls to mind the film stars of the 40's and 50's, who made it an art to be a little indisposed. These great women would not be caught at home in sweats or their husband's flannel pjs. They knew that being under the weather was no excuse for not looking the part. So, they could be found lounging in a gorgeous house jacket with a smart animal print and some fabulous pallazzo pants with a pair of high heeled maribou slippers. Jennifer Lopez recently received some items from this line, and it is easy to imagine her wearing them. You, too, can get your girlie glam on with Lulu B — and sneak in some zebra print and hot pink to lift your fashion spirits as well. The loungewear is made from slinky modal blend fabrics and constructed with built in bras and slimming, flattering lines. Their nursing tops have the built in bra and the advantage of lift the flap access, and a pocket to hold a breast pad. I should note I was able to comfortably wear the nursing tops, even while pregnant. Several of the pieces in Lulu B's collection easily pass as day wear and I look forward to wearing them beyond the pregnancy and bedrest – both at home and out and about.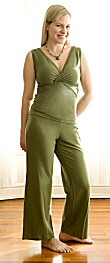 Aimee: We know and love Aimee for her nursing gowns and tops but her loungewear collection is just as comfy. And lets face it, if you are going to invest in good loungewear while you are pregnant, why not get something that will work for you beyond the next few weeks or months. In my weekly bedrest repertoire, my Aimee pajamas are one of my favorite things to wear. Simple, clean and elegant, these classic tops and knit pants feel like your favorite PJs but dress up in a flash with a chunky necklace or shawl. They are comfortable to wear without a bra and will hold a nursing pad when you need them to.
Target: While every mom on bedrest deserves to be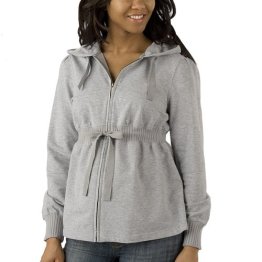 pampered with some high end loungewear, it's not always in the cards (the credit card limits, that is). Or maybe you'd prefer not to invest significant coin while your shape is so in flux. Don't despair, you can still look fabulous — Target to the rescue. Their Liz Lange line features some incredibly soft, slinky, and chic loungewear to wear anywhere. It's simple, affordable attire for any mom on bedrest (or not!) to indulge herself in. The best news is that although the average price per item is around $20, these pieces look and feel as high end as the celebs' favorite brands.
People always say "enjoy it while you can" when you are on bedrest, but that is easier said than done, as any mom who has been there and done that will tell you. However, I hope that these fashion choices make those days easier on some of you and at the same time, help you build a loungewear collection that you can not only enjoy now, but later as well. Because you know that later on, any chance to lounge in bed will likely be far more welcome than it is at the moment! All my best wishes to my fellow bedresters everywhere.