CBB Exclusive: Brooke Burke answers reader's questions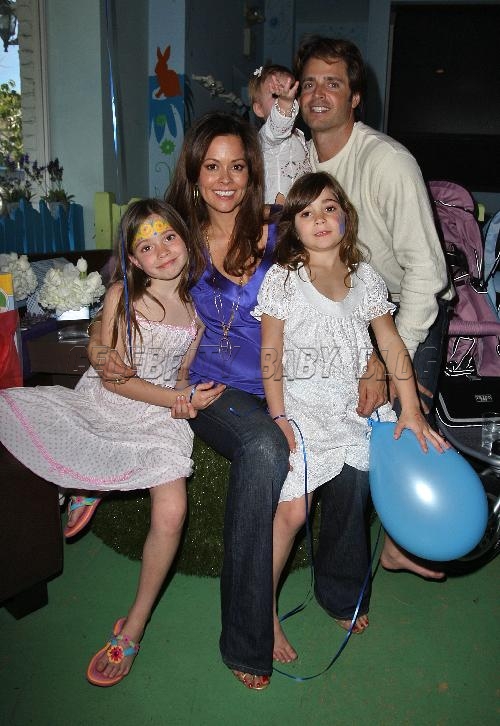 We recently spoke to Brooke Burke, creator of Baboosh Baby, a new line of postpartum belly wraps, stretch-mark oils, organict-shirts and recycled diaper bags, as well as mom to daughters Neriah, 7 ½, Sierra Sky, 5 ½, and Heaven Rain, 13 months.
The 36-year-old actress, model, and TV host and her fiancé, actor David Charvet, 35, are currently awaiting the birth of their first son, due in March 15th, although Brooke expects him earlier due to complications.
Brooke was very friendly and open during the interview, willing to answer all of your questions with well thought-out responses. She discussed her Baboosh Baby line, pregnancy, parenting, and more.
Click below for the interview.
Baboosh Baby
You had mentioned last year that you had heard of the idea of stomach wrapping from your mother-in-law, Christiane, who had suggested the use of an ACE bandage to you after the birth of Rain. How does Tauts improve upon the ACE bandage method? What makes it different?
Well, she never suggested an ACE bandage; in France, they had belly wraps, which I discovered most cultures around the world do have something that's similar.


I used an ACE bandage initially because I was desperate to find something immediately, but it slips, it slides, and it doesn't stay on the waist, whereas Tauts is one strip of material, and it creates compression.

Tauts was designed to have a no-bunching feature; its got acurvature in the back so it's a lot more comfortable. The Velcroclosure has really soft edges so it's not cutting into the skin. It's easy to adjust, really easy to put on, whereas a lot of wraps from other cultures around the world sometimes take two people to apply. So Tauts is designed really for compression, for comfort, and for easy use. I think its got a lot of great features.
I would like to know what kind of consultation process went into making the Tauts belly bands. Did you consult with designers, medical practitioners, etc?
No, I worked with several manufacturers, trying to get the right look and fit, and we designed it to have more of a lingerie feel to it. It was really just about comfort, and we did a lot of research to see what's going on around the world.
The Baboosh Baby website recommends that Tauts are not used by women who've had c-sections. Unfortunately, it looks like my breech baby will not be turning and I'm going to have to have one, even though I've already ordered my Tauts. I was wondering if Tauts may be safe for me after all? Why is it that they are not recommended for women who have to deliver surgically?
We've done a lot of additional research, and we have now changed all the information on Baboosh Baby. Tauts is actually great for mothers recovering from c-sections.

Most doctors provide a compression garment after a c-section; certainly after a plastic surgery procedure like a tummy tuck, which is much more complex, there's always a compression garment worn. So we've discovered that Tauts will actually support the abdomen and help for a quicker recovery.

The most important thing though –- and I can't stress this enough — is that you have to consult with your doctor to make sure you're treating your sutures and staples appropriately and according to your doctor's orders. Each case is individual and your recovery experience is going to be different than a mom who had a vaginal birth.

When we first launched the site, we wanted to be on the cautious side medically — and of course I can't give any medical advice — but we now know that Tauts is great for c-section deliveries.
I really appreciate that you're offering organic products like your tees at affordable prices –- hard to find sometimes! Why is organic important to you?
I really believe in the environmental movement right now — it only takes a little effort to make a big difference. I happen to really like the organic oils that went into our belly oils … I just think if we all contributed a little bit, it can still make a big impact.
Can you tell us a bit about your new media venture? I used to watch you all the time on Wild On… and Rock Star, and I've missed you on my TV screen!
I did just sell a pilot to E! Entertainment — kind of interesting that I'm going back to the place where I started from! It's a scripted reality show … I can't disclose the information yet, but I'll be executive producing it and I will have a small presence on-camera.

It's basically the story of five friends and what they're going through, their mid-life changes in their 30s and 40s.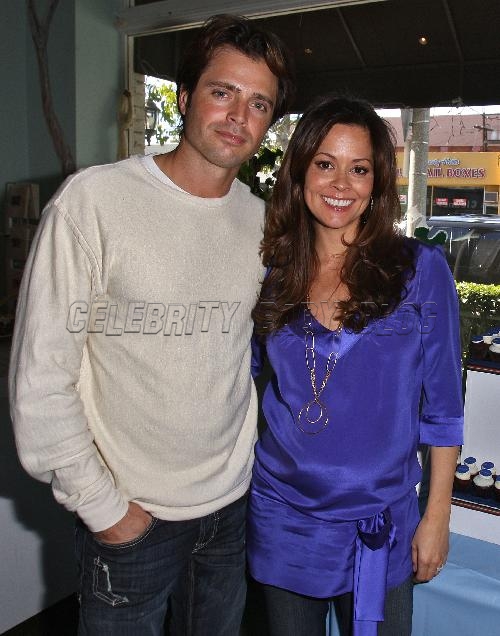 Pregnancy
You've mentioned that this pregnancy with your son was a surprise, but that four children was what you wanted. What is it about a big family that appeals to you?
I have a lot of brothers and sisters, but I only grew up with my full-sister in our home. I always loved family holidays, and I had this vision and dream as a little girl of having a big family of my own.

I promised David two children, now I've kept my word … I probably would have waited a little while longer! [laughs] When I say it was a surprise, there's this myth that you can't really get pregnant while you're breastfeeding — well, not true! [laughs]

Looking at it now, although the thought of four children is a little overwhelming at times, I'm actually really happy that I'm going to be done at 36. I'll get the challenging part over, and I'll be able to really start enjoying my family.

I think it's not for everyone, but I'm actually looking forward to having them both in diapers, both in cribs, both on a similar schedule at the same time, and going through those transitions together. And my two older girls are such good helpers.
In a recent blog entry,you mentioned going to the tanning salon to get some color. I'm havingmy maternity portraits taken next month, and would love some color, too.Do you do a spray tan or a bed?
Since I wrotethat I have gotten a lot of controversial comments — A lot of peoplewere like, 'Oh my God, I thought you couldn't do that, I was told youcan't do that' … again, consult with your doctor first! I have askedthe questions of my OB and I have been told that it's absolutely safefor pregnancy.

I very rarely go to a tanning bed, but I do like to have somecolor, so I tan when I feel like I really need it, maybe once every fewmonths. I think Mystic Tans, the spray-on tans, are a great option foranyone who's concerned about the pregnancy, but I was told that it'sokay.

There's also great bronzers for your face to give you that sun-kissed look; those are wonderful to use a lot too.
I love your casual maternity style. Where do you shop for your day-to-day pieces?
I don't buy maternity clothes, for the most part. I've actually found that the last few years in fashion its been really easy to dress the growing pregnant body, because there's a lot of A-line designs, baby doll dresses …


What I do is I wear a lot of stretchy yoga-type pants below my belly and some low-waisted jeans that go under [the bump], which actually are maternity and are great. I wear David's t-shirts and sweatshirts all the time, and most of my own tees and tanks are really stretchy.

As far as certain brands, I have found two designers that I love for maternity jeans — Paige Premium Denim and Serfontaine, but I also just find in fashion right now there's a lot more room around the waistline in most clothes. And I think babydoll dresses are great because they divert attention from the belly to the bust and the legs instead.

I shop at a store called Blonde in LA that I love — she has an online store too — that carries Rory Beca. She's one of my favorites right now and I've been able to wear her clothes throughout my whole pregnancy. She's great, it's not maternity, but you can really wear it before, during, and after pregnancy.

But for me, it's all about comfort, that's for sure. I hate the feeling of having restriction on my belly and having things that are too tight around my body. I really like the comfy, casual, baggy look that's in style right now that still compliments the belly.
I'm almost 30 and can't stop putting off having kids. I have afabulous husband, but I'm worried about feeling sexy again after I havethem. Any advice?
Hopefully your husband will help you feel sexy during your pregnancy! I think it's a state of mind. Going into a pregnancy is a really challenging time for a woman, because it's forever-changing, both mentally and physically.

I think that if you take good care of yourself, you have areally good chance of getting back in shape. It's amazing howremarkably the body can go back. You know, I'm on my fourth and I feel just as good now as I did when I was 27 and hadn't yet become a mother.

Either way and whatever the results, the sacrifices that amother makes physically are so worth it. Regardless of what happens tomy body, I think the choice to become a mother is selfless and worthany results that you might get.
After Rain's birth, David was snapped by paparazzi loading the placenta into the car. What did you do with it? I've been so interested in knowing because we planted our son's and are growing a tree!
Love that question! Lots of people thought I was crazy and it was just completely weird and bizarre, but that's exactly what I wanted to do too. They thought I was insane, but I didn't care! I wanted to plant the placenta with a beautiful rosebush or fruit tree to help it grow.

It's a concept that I learned about from a close friend of mine. Its got so many valuable components to it — it's believed in many cultures that if you plant it, it's supposed to grow something really extraordinary, both spiritually and physically.

There's actually a really funny paparazzi picture of my assistant carrying my placenta out of the hospital, and we've laughed about it so many times!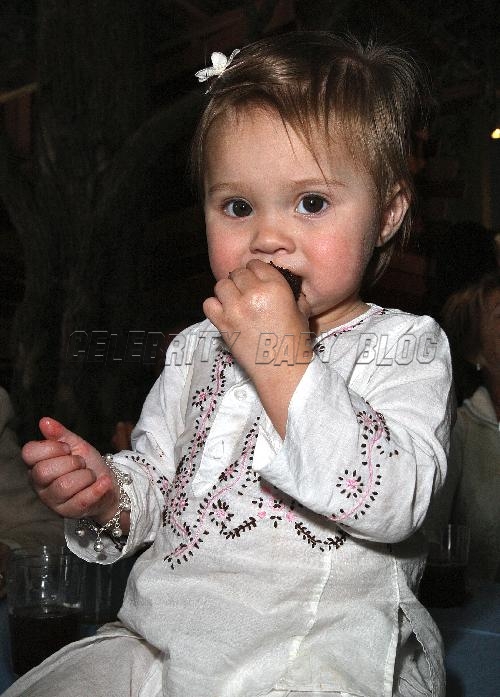 Parenting/Children:
I was wondering which child transition was hardest for you? Personally, I felt going from one to two was scary and hard, where as when #3 and #4 arrived, it was a breeze.
With Neriah, who was my first, I think being a young, new mom — I was 28 when I was pregnant — I didn't know better, so I was just sort of rolling with it.

I think introducing the second child, Sierra, was the most challenging because I was so used to doing everything with Neriah. She traveled around the world with me with 'Wild On…,' I took her everywhere, I wore her. She was just a really easy baby.

Then when I brought my second baby into the mix, I kind of needed to unpack my bags, stay home … introduce a more structured type of rearing, because you can't do the same thing with two that you did with one.

Rain's been really easy because I have two older daughters who aregreat helpers and are madly in love with her, and I also have David,who is an extremely involved father.

I have no idea what I'm in for with my fourth. I just hope for sanity!
I love the way you dress Neriah, Sierra, and Rain! I waswondering if you have any great finds for infant and children'sclothes, and your favorite shoe brands.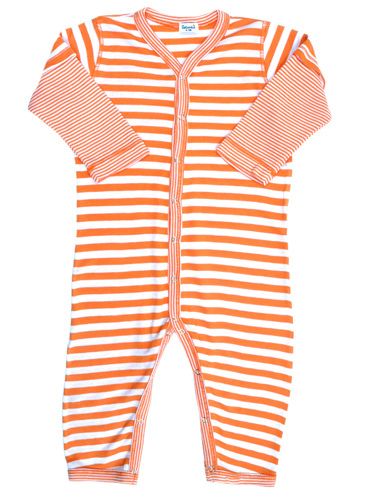 I love the Splendid line. I like Petit Bateau too. Believe it or not, I buy a lot of stuff from Old Navy and Baby Gap/Gap Kidsbecause it's inexpensive and affordable, and I don't get too worried ifit gets ruined — between activities and school, kids are sodestructive with their clothes! I love really comfortable, soft, cottonitems.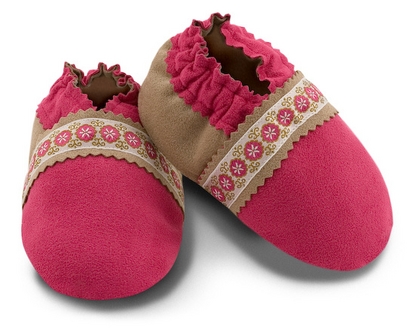 For shoes, I love Stride Rite and Isabooties, which make little moccasins for infants — they are so great.
Does David speak his native French with Rain, or plan to teach her?
Yes! He speaks the language with Rain, and I'm learning to speak French as well. Right now she understands both English and French.
I was surprised to read that you are Jewish! Are you and [ex-husband] Garth Fisher/David raising the kids in the faith?
Yes, we are. Well, Garth's not Jewish, but I'm Jewish, and David's family is Jewish. We keep Shabbat, we celebrate all the high holidays … my girls went to a Jewish school for all their early education. We're not religious, but we do keep all the traditions.
I had breast enhancement surgery, and in my 8 months of nursing my son, I have been really surprised at the misinformation that's out there. Aside from some supply issues, which I read is common among moms with implants, we've had a great experience. I was wondering if you hit any roadblocks yourself, and how long you ended up nursing your girls?
It's definitely true that there's a lot of controversial information out there, but it has been proven that breast augmentation done correctly does not interfere with a mother wishing to breastfeed.

There were no roadblocks for me. I ended up nursing Rain f
or 8 months, Sierra for 3 months, and Neriah was so premature that I couldn't breastfeed her, but I plan to nurse my son for quite awhile as well.
Brooke, my family situation is much like yours, but I'm in the beginning stages – divorced in '06, engaged again and pregnant with #3, my fiancé's first child. My fiancé is very involved with my older kids, and we've kind of become a three parent family. I'm hoping you can share how your older daughters deal with being the children of divorce, how they handle their relationship with both their father and David, as well as Rain, and how you balance things without toes being stepped on.
Wooo … that's a whole 'nother story! [laughs]

It was very difficult for the first year. Fortunately Garth and I have a great, respectful, responsible relationship. It's really hard not to step on toes. I'm really lucky that Garth, David, and I, and Garth's new wife Jessica [Canseco], all feel like we're parenting the children together; we have a great amount of respect for one another.

But it took a lot of love, a lot of patience, and a lot of nurturing the first year. I did consult with a child psychologist to get some tools and somecommunication advice, because there were certain questions and answersthat I needed guidance with. It was really important to me that mydaughters felt safe and secure.

There was definitely resistance from Neriah and Sierra … children are always hopeful that they will have mommy and daddy in the same house, but once they really accepted the fact that change was happening … it finally has all come together. It's not easy, but it's all workable.

I definitely think introducing a new baby into a mixed family was the best thing that we could have done, because it defined our new family, and now my girls feel like they're part of Rain and part of David. We all have a common denominator.