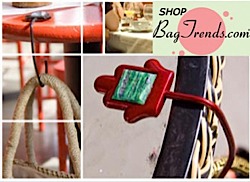 We're excited to announce that the new Gift with Purchase at SHOPBagTrends is a gorgeous PurseHand.
It's happened to the best of us – you're at the counter trying to pay for one cup of coffee that' you're convinced will save your day. In one hand is your handbag and in the other is your bundle of joy. You're struggling to get the wallet as your bag slides off your shoulder and you hold on for dear life as junior begins to cry! Let the PurseHand be your personal assistant for this and other dilemmas.
SHOPBagTrends.com is giving away a PurseHand with each handbag order. These stunning purse hooks made from study stainless steel and mosaic tiles will keep your yummy new Rebecca Minkoff hobo or HYPE tote off the ikky floors!
Visit www.SHOPBagTrends.com.