Mark Wilkerson and Melissa Joan Hart on Mason's new room and their active baby on the way
Three more weeks until their second child arrives, and Mark Wilkerson and Melissa Joan Hart are preparing. A few weeks ago, they were still in the process of moving son Mason Walter, 2, out of his nursery to make room for the new little one, but he's finally made the transition. Melissa, 31, tells People,
We actually moved Mason into a big boy room andleft the nursery the way it is. It's very neutral. We made Mason a big fish [themed] room. It was hisbirthday a few weeks ago, so we got him a bed from Pottery Barn –- andmy stepmom came and put murals on the wall of fish, whales and turtles.It's huge, and he's got a fish tank now.
See below for a photo of Mason's room, which our photographer Jennifer shot while at Melissa's home for our CBB photoshoot. As for the new baby, he or she is making their presence known. Mark, 30, reveals,
[The baby's] been way more active than ourfirst son. Every day [the baby's] doing aerobics inthere.
Hmm. Melissa's talking about the nursery being neutral, in her previous pregnancy column, she threw out a girl's name, and now Mark insinuates that it's another boy. So which is it? We asked Melissa earlier today, but she just laughs and says,
You'll all find out in a few weeks!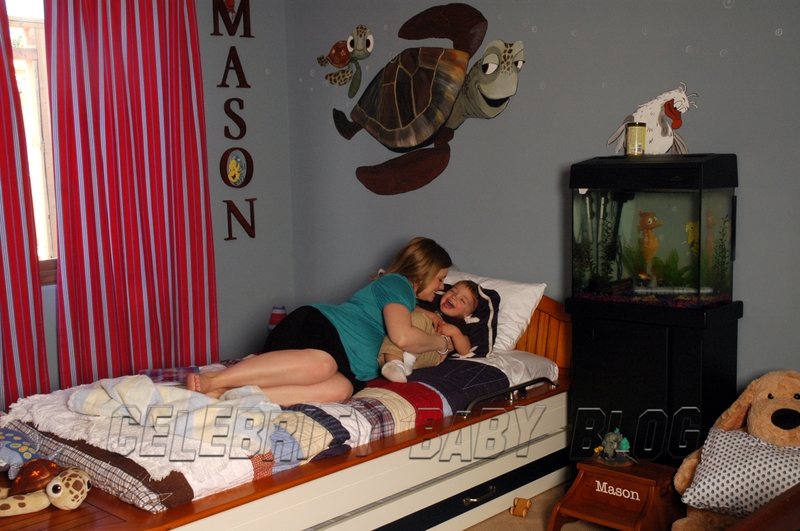 Source: People
Lower photo copyright Jennifer Parris/Gabbeli Photography, shot exclusively for CBB. Useelsewhere is prohibited.
Click here for Melissa's latest CBB journal entry.