Halle Berry and Marcia Cross's Stroller Solutions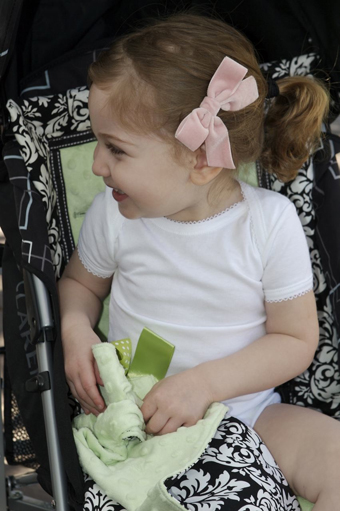 Looking to spiffy up a ho-hum stroller and at the same time make it a little easier to keep clean? Apparently celebs have the same fishy-crackers-in-the-seams problem that the rest of us do. And who wants to stroll down Robertson Blvd. with a boring and crumb filled ride? That's why moms and celeb-u-tots are are loving these fabulous stroller liners($69) from BooyahBaby.
There's a range of colors/designs that are sure to coordinate with almost any stroller. And because it is important to coordinate when you hit the streets, of course there are matching blankets, security blankies and bibs.
Marcia Cross has the Pink Central Park and the Pink Divine Damask stroller liners with the matching security blankets for twins Eden and Savannah. Jennifer Lopez has two Green Divine Damask stroller liners and plenty of bibs waiting from Booyahbaby. Isla Fisher and Sacha Baron Cohen's daughter Olive has a liner, and Halle Berry just picked up a stroller liner for her baby as well.