Update: Giveaway: OV-Watch
Update: CBB Deals: Code CBB15 gets you $15 off an OV-Watch value kit 3 at http://www.ovwatch.com or by calling 866-ovwatch Monday-Friday 9am-9pm EST. Code is valid Monday Feb. 11th-Friday Feb. 15th, 2008 only……
---
Update: The winner is Heather from Newport News, VA, who said,
I have tried ovulation tests, the whole natural planning andtracking my periods but I had never heard of the OV Watch before now.
---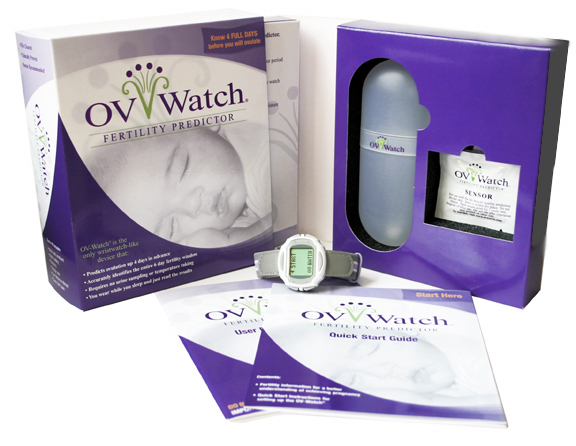 Are you trying to get pregnant? FDA-cleared and patented OV-Watch finds the 4 days before ovulation, which are the most fertile days of the cycle. When you are trying to get pregnant, OV-Watch can make trying to get pregnant less stressful for you and your partner. Double your chances with OV-Watch!

Trista Sutter, of the well known, ABC series, The Bachelorette talked about her experience with OV-Watch in a September 2007 cover issue of Us Weekly. After 2 years of trying to get pregnant, Trista credits OV-Watch and says,
Thankfully because of OV-Watch, I knew when I was going to ovulate.
CBB Senior Reviewer Nancy also used OV-Watch to get pregnant with her daughter Allegra and credits the device with her success saying,
I am delighted with the OV-Watch. It accurately predicted my four best fertile days before ovulation – which the ClearBlue Easy does not (it just tells you when you are low, high or peak fertility).
She most recently wrote that the OV-Watch "will tell you the four best fertile days BEFORE you ovulate to get pregnant. Which, I am convinced, is why I conceived the first cycle I wore this. We had been trying for over 6 months…" Click here to read more amazing success stories.
The OV-Watch can be purchased at www.ovwatch.com or 866-OVWatch. (Click Continue Reading for two great deals!)
Enter to win an OV-Watch, a $189 value. Email the following info to celebritybabyblogATgmail.com (make sure you replace AT with @)
Your full name, email address, and mailing address.
Answer this question: If you are actively trying to get pregnant, why have you not tried OV-Watch yet?
Make sure you put "OV-Watch" in the subject line in order for your entryto be counted.
Giveaway closes Wednesday, January 30 at 7 am EST. (For giveaway terms & conditions, click here.)