Update: Actress Paula Patton and singer Robin Thicke expecting first child?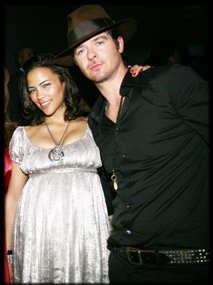 Update: Essence Magazine is reporting that Paula is due this spring. However, these photos of Paula at a fashion show February 3rd leave us a bit unsure! A CBB reader tells us she may have already given birth, and since they didn't announce the pregnancy (if she was even pregnant!), they didn't share the birth either.
Originally posted January 1st: Deja Vu and Hitch actress Paula Patton, 32, and R&B singer Robin Thicke, 30, look to be expecting their first child together. The couple have not commented, but were pictured at the opening of Jay-Z's club 40/40 in Las Vegas. Paula and Robin were married in 2005.
Source: Young, Black & Fabulous
Thanks to CBB readers Elisha, Stephanie, Tamika, and Michelle.