Jennifer Lopez dishes on maternity fashion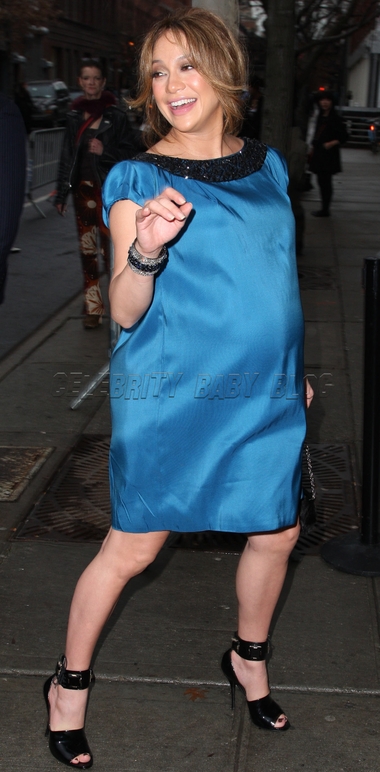 Like many of our readers, Jennifer Lopez was clearly impressed by the Marchesa dress she wore yesterday to the designers' Fall/Winter 2008 fashion show. Being so heavily pregnant — due to deliver twins, reportedly on Feb. 23 — Jennifer said that finding a frock that fits is becoming quite a challenge, especially since so many later-stage maternity gowns "make you look like you're wearing a tent."
We found one that fit! [Marchesa] knew kind of how big I was. I was like, 'I want to come to the presentation.' She was like, 'OK,' and sends a dress over. For the size I am right now, I mean it's just still kind of slim through the front — which is crazy! It's very cute.
As for her impossibly high heels, Jennifer admitted that they were tough to pull off, telling US.
These shoes are hard to walk in — it doesn't matter if you're pregnant or not!
Jennifer's husband Marc Anthony added that he's looking forward to the twins arrival, telling the magazine "I'm excited to be a daddy [again]" and "What's not to be excited about?" Marc is already a father to two sons — Cristian, 7, and Ryan, 4 ½ — with ex-wife Dayanara Torres, and a 13-year-old daughter, Arianna, with an ex-girlfriend. The twins will be the first children for Jennifer, 38.
Source: US