Introducing Piper Addison Fairplay
Survivor: Pearl Island's Jon 'Jonny Fairplay' Dalton, 33, and America's Next Top Model: Cycle 4's Michelle Deighton,22, introduce their daughter Piper Addison, now 3 weeks, in the latest issue of Life & Style. Piper weighed in at 6 lbs, 7oz when she was born by emergency c-section on Wednesday, January 16th.
During the pregnancy, the couple did a photoshoot and interview with CBB. Michelle's due date had been January 26th.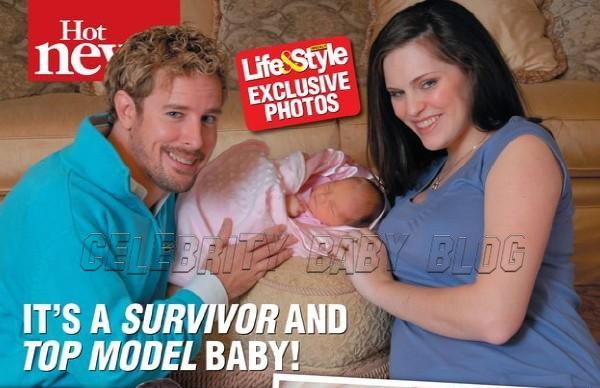 Checking in with Michelle this week, she says,
Piper just had her first photo shoot with 'Life and Style.' I look kind of fat in the pictures, but come on, it was two days after I had a baby by c-section! There were so many good pictures, I'm sure it was hard to pick which ones to use. Also, her first TV appearance will be Wednesday, Feb. 20 on the Tyra Banks Show! This kid already has a college fund started!

She is the cutest baby! I can't stop holding her and looking at her. I never want to put her down and I'm always going to check on her while she is sleeping … [She had] her first doctor's appointment. She gained one ounce! I don't know how it happened, but we got a really good baby. She is perfect!

I'm still recovering. I got the staples out and I can get up without help. I was having trouble walking, sitting up, laughing, coughing, everything! I was in so much pain. I'm still in some pain, but not anywhere close to what it was. The first time I got out of bed after I had her I almost passed out!
We asked Michelle to clear up some of the confusion in the comment section. She emails,
Yes, the shoot was done two days after I had her. I only made it about onehour then I was done!! Also, her last name is Fairplay. Jonis in the process of legally changing his from Dalton to Fairplay now.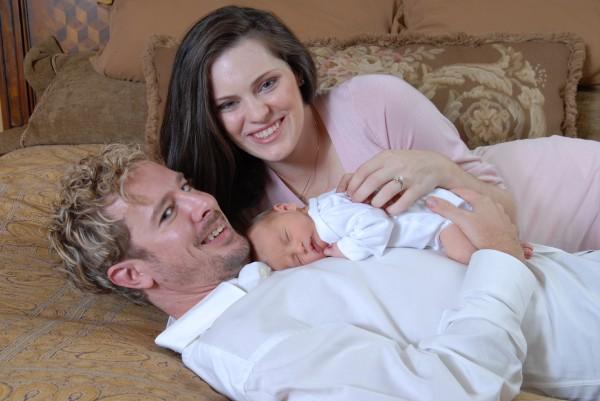 Source: Life & Style; Michelle's MySpace
Thanks to CBB reader Sarah.
Many more photos below!