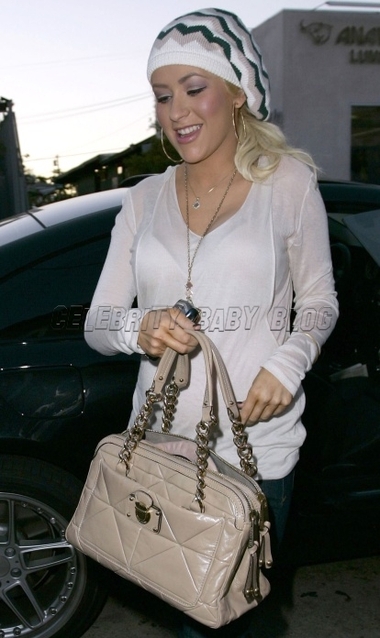 Update: Christina will be doing a signing for her new DVD, Back to Basics: Live and Down Under ($15), this evening. When asked by Ryan why she's out promoting so soon after the birth of her son, Christina replied,
I'm going stir crazy in the house! It'll be a nice outing.

After congratulating her on new parenthood, Ryan asked about 3-week-old Max. Christina gushed,
He's doing amazing. He's so incredible, the most unbelievable thing. It's still the first couple of weeks. Every weeksomething new happens — it's a constant change. He's constantly changing,doing these incredibly cute things — stinky things!
As for help, Christina and Jordan, who also have the assistance of a baby nurse, rely on family and medical professionals as well.
I have a lot of great help around me. My mother-in-law actually gives a lot of great advice, family does. Max has great doctors, he has a great pediatrician, my OB gives me lots of information. Me and my husband, we ask a ton of questions. I forget half of the [ones I had] by the time we get in there, but myhusband is really good at staying on top of questions.
At 8-days old, the family celebrated Max's bris — with some interesting decorations!
He did have a bris! It was really interesting because I'm not Jewish, but my husband is. I never reallyknew a lot of Jewish people growing up, so I really had no idea about a bris, and all the Jewish holidays — it'sall a learning process for me. It was a very sweet experience. We had a lot of close friends come over and experience the bris with us. Of course, we're such a non-conventional couple that we hadpenis balloons everywhere.

On the topic of her 'failure to announce' her pregnancy, Christina laughs and explains,
People thought I was trying to keep it this big bad secret for so long! And really, I just didn't want to address it. It really wasn't any big sort of deal — when it came out, it was going to come out, it's fine, obviously I'm going to start showing! I didn't want to make some big announcement of it, I just thought it should be a natural [progression] of it and come out on its own.
Christina, well known for changing her appearance with each album, shared that her pregnancy and the birth of her son has inspired her in many ways.
You know I was three months pregnant when we taped this. It's so weird to watch the DVD and know I was pregnant with this little guy in my belly. It's special. It's amazing. I'm very excited [for my next album]! I'm so inspired. This whole incredible thing that's taken place in my life, between the pregnancy and the birth…I've got so much in me to write about.

This next record, I just want to have a lot of fun with it. I can't say too much. I've been brainstorming for the last nine months of my pregnancy, actually, so I've got all these mood boards for visuals…You know how I like to evolve and change into new characters with each new album. This next album will have a whole new me. A different me.
If you missed the interview, you can listen to it here.
Originally posted February 4th: Christina Aguilera, 27, will be calling in to Ryan Seacrest's radio show on 102.7 KIIS FM tomorrow morning. This will be the singer-songwriter's first interview after giving birth to son Max Liron Bratman three weeks ago. You can listen in on kiisfm.com right after 7 am PST/10 am EST.
Sarah will be transcribing the baby parts of the interview for those who can't listen in.