Update: Giveaway: Angie Stone's The Art of Love and War
Update: The winners are:Precious from Omaha, NE, Tamika from Brooklyn, NY, Melissa from Huddleston, VA, Shalonda from Emory, VA, and Krystle from Knoxville, TN.
---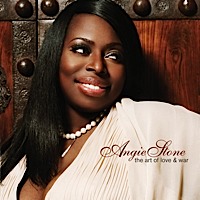 Angie Stone celebrates Black History Month with her recent CD The Art of Love and War and her new single "My People." Neo-Soul diva Angie Stone, declares that her new CD, is her best album ever.
The Art Of Love & War, in stores on October 16th on the reactivated iconic Stax Records label, channels the best of the classic tradition while looking forward and taking the genre to new places. Stone exclaims,
This is a reflection of where I am both mentally and spiritually and what I feel I've attained at this point in my life.
The CD was recorded in its entirety at Marvin's Room, Marvin Gaye's former studio on Sunset Blvd. in Los Angeles and the one-woman dynamo performed, co-produced, and wrote over 90% of the material.
The Art of Love & War is a musical distillation of everything that Angie has been through and has learned throughout her stellar career. "Baby" featuring R&B/soul/gospel great Betty Wright and production by Co-T, has an irresistible groove, and is the first single to radio. Renowned production team DOA worked with Angie on the introspective ballad "Reasons." Album openers, "Take Everything In" and "Here We Go" are two of six standout tracks produced by the acclaimed Jonathan Richmond. The anthemic "My People" with special guest James Ingram, was selected by Essence Publisher, Susan Taylor, as the theme song for last month's Essence Festival's return to New Orleans.
I think my personal favorite is 'Happy Being Me.' I guess that title gives you a clue about how I'm feeling right now.
Listen to her song My People: .qtl, .asx
Watch her 'Baby' music video.
Visit Angie's MySpace page.
We are giving away five SIGNED copies of The Art of Love and War. Click Continue Reading to find out how to win!
Enter to win one of five signed copies of The Art of Love and War . Email the following info to celebritybabyblogATgmail.com (make sure you replace AT with @):
Your full name, email address, and mailing address.
Make sure you put "Angie Stone" in the subject line in order for your entryto be counted.
Giveaway closes Monday, February 4 at 7 am EST. (For giveaway terms & conditions, click here.)