Gabrielle Reece on easing back into postpartum fitness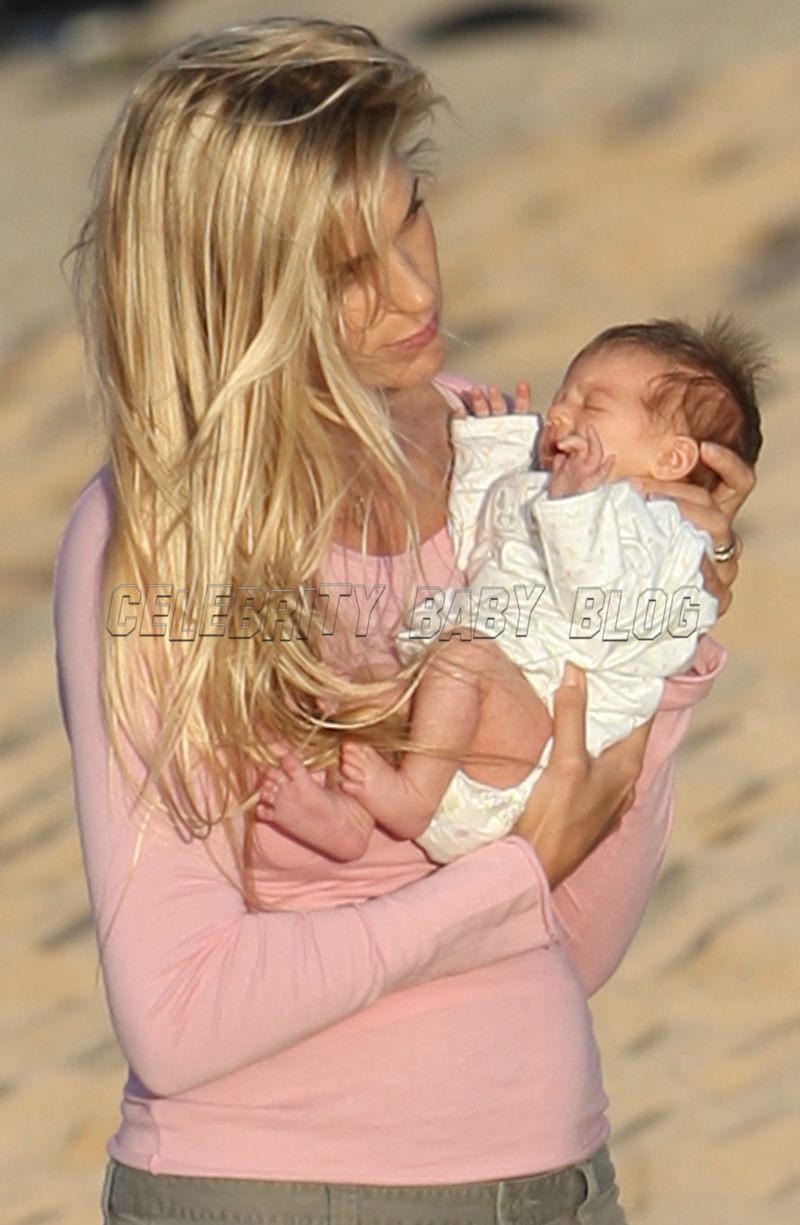 Gabrielle Reece talks about her post-pregnancy body rehabilitation in her latest ModernMom.com column. She gave birth to her second daughter Brody Jo Hamilton on January 1st. She mentioned that she had to have a second c-section — her 4-year old daughter Reece Viola was born after 17 hours of labor and two of failed pushing, and "here in Hawaii they don't like to do VBACs (vaginal birth after caesarean)." However, Gabby was already 6 cm dilated when she arrived at the hospital!
Having had a c-section, the 38-year old volleyball player knew she had to take it easy, but the athlete in her couldn't wait to exercise again. After 16 days, she started "very, very light exercises" and then at the three week mark, she climbed onto her bike for light spinning. And Brody, who Gabby reveals "looks like a smaller version of Reece" is her workout buddy — she said,
I would bring Brody with me intomy home gym and work out for as long as she would lie there. I can sometimesextend my workouts by breastfeeding her — I haven't started pumping yet so I'mmilking on demand for the moment — and then, I put her back down on a blanketwith me on the floor.
Gabrielle, husband Laird Hamilton and their girls posed for a photoshoot in Hawaii over the weekend (click here for more photos). It's refreshing to see that she still has a little belly, which goes to show that not all celebrity moms snap back into shape immediately. It's also nice that her column doesn't stress losing weight — her focus is just about getting back into shape.
Her tips to ease back into a workout are realistic and doable. They include moving a little each day, setting the tone of the day with your mind, and visualizing what you'd like your new body to look like. For the details, visit ModernMom.com. In closing, Gabby says,
Being pregnant, having a baby, and having had a C-sectionwould make anyone feel vulnerable -– I know that's how I feel. But I believeit's great to go through the incredible experience of giving birth and raisinga baby and allowing yourself to feel all your emotions to their fullest.
Do you have any tips for easing back into fitness? Also, if you hada VBAC in Hawaii at a hospital or birthing center, tell us which one!
---
For more of the interview and other great parenting resources, visit ModernMom.com.Modern Mom features smart and practical advice on topics such asparenting, finances, career, health, wellness, beauty, entertainmentand more.