Preggers n Proud offers 50% off to CBB readers
Celebrity gifting suites seem like such unfair advantages to the everyday person. Believe me, we saw your comments on the The "Boom Boom Room" event goes off without a hitch post. But, what seems unfair to some is truly a godsend to the brands — get the right celeb to use/promote your product and you're made for life. Uggs were just a pair of boots, until celebs like Paris Hilton, Pam Anderson, Kate Hudson, and more transformed them into a household name and must-have fashion accessory. And that's just one example in a long line of popular brands. Consumer product brands' histories are written with these kinds of stories. So, while it seems to stink that the ones who can afford the stuff get it for free, it's an unfortunate reality of the way things go.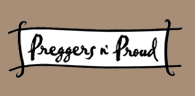 All that being said, our friends atPreggers n Proud, makers of great maternity, mommy, baby and daddy tees, read your comments and took them to heart.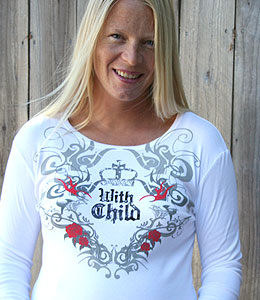 From 01/21/08 through 01/23/08 they are extending a 50% off discount on purchases from their site. Just use coupon code "CBB50" at your time of order. Who wouldn't love a trendy, graphic maternity tee? Like the "With Child" Maternity Tee (right, $29). What are you waiting for? Get shopping … and saving!
Preggers n Proud tees have been gifted to or spotted on Kate Hudson, Britney Spears, Denise Richards, Debra Messing, Jennifer Garner, Ben Affleck, Matt Damon, Courteney Cox-Arquette, Jennie Garth, Tiger Woods, Christina Aguilera, Nicole Richie, Scott Baio and Jessica Alba!