Jeri Ryan talks pregnancy and embarassing teenagers in Plum magazine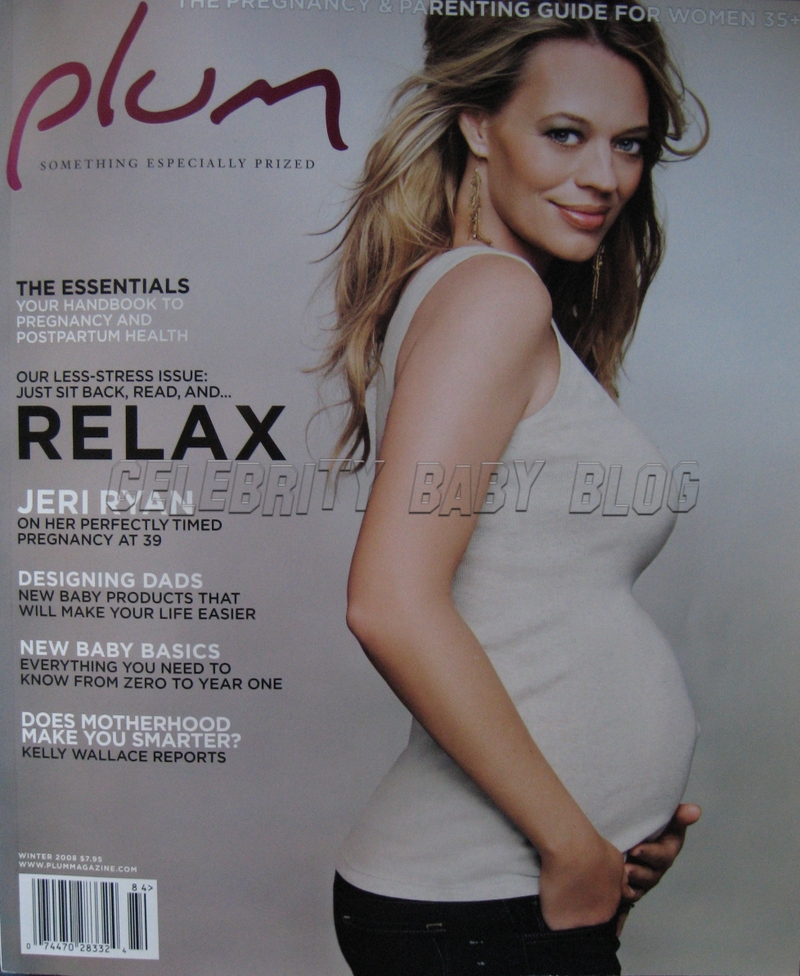 Actress Jeri Ryan, 39, has a varied resume — she's currently on Shark, and previously enjoyed roles on Boston Legal, The O.C., Boston Public, and Star Trek: Voyager — but with the writer's strike in full swing, she's now focusing on her honeymoon baby — a girl, due to arrive in early March, joining son Alex, 13. Jeri talked to Plum, a magazine for moms-to-be 35+, about the pregnancy and posed for a photoshoot.
Click below for the photo and interview highlights.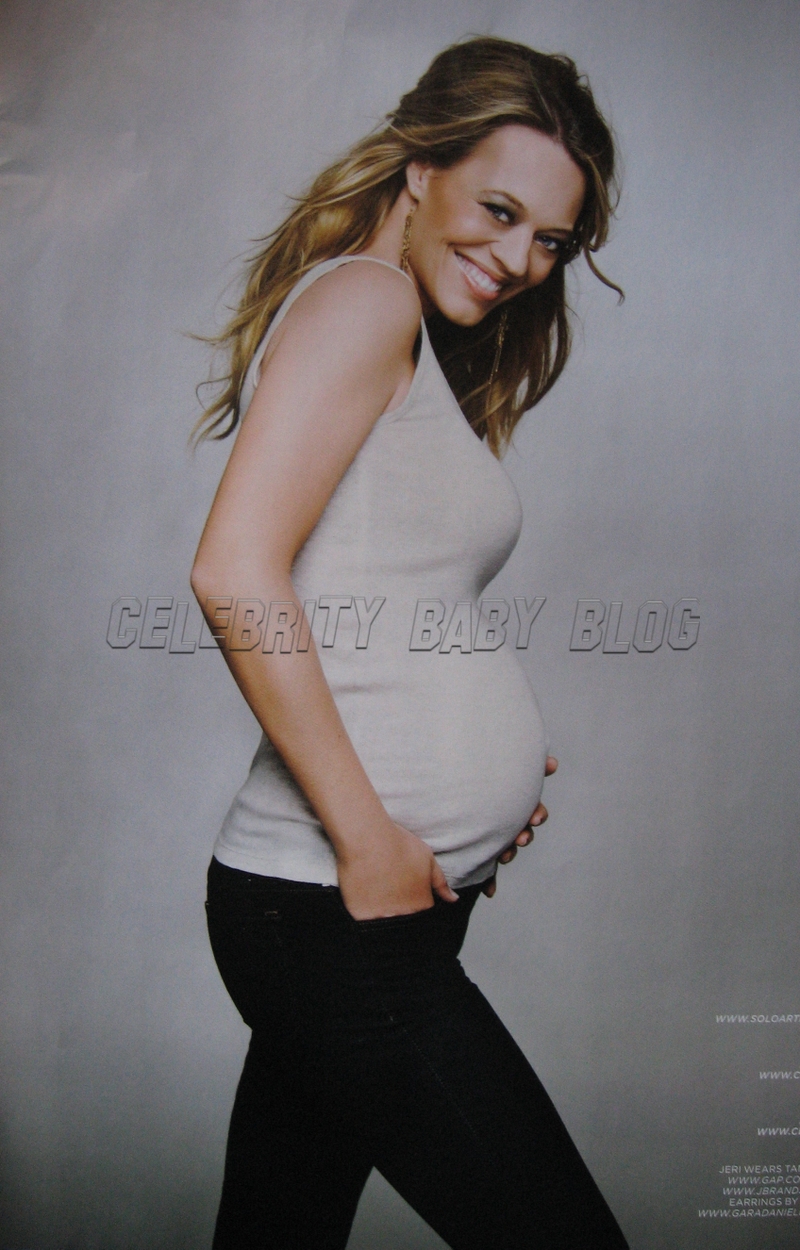 (Jeri is wearing Gap's seamless tank in white ($20) and J Brand's 'Mama J' maternity jeans in indigo ($210).)
On her first pregnancy, with son Alex, now 13:
When I was 26 and pregnant with Alex, I had these horrible one-piece jumpsuit things with buttons up the front. It was definitely not pretty!

I was actually on the pill when I got pregnant the first time. I didn't think I wanted to be a mom at all, I was just terrified. I had migraines every day and horrible back pain. I didn't have one millisecond where I was the glowing happy pregnant woman. Not for a millisecond.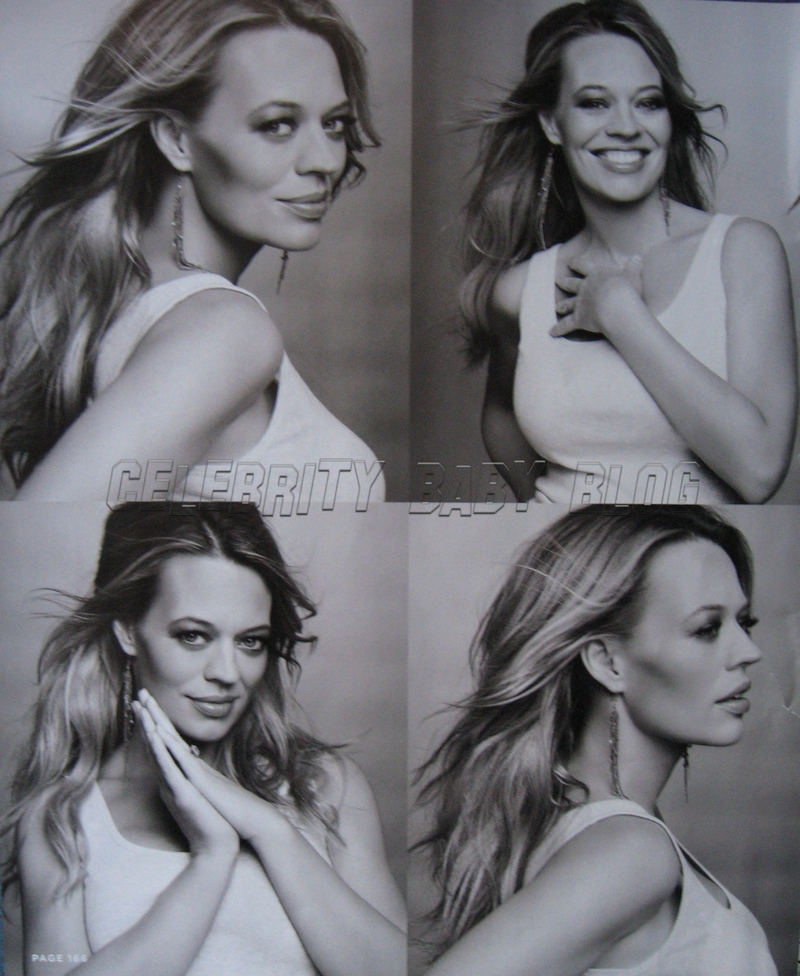 On her second marriage to chef Christophe Emé, and their honeymoon:
Last June, we got married in France. Then we took a 'familymoon' to Paris with my parents and Alex, then just the two of us went to Italy. My plan was to come back pregnant.

I think we were back a day and a half when I took a pregnancy test. I watched a blue minus line appear in the control window, then another in the test window. I almost cried because I thought, 'Well, I'm not.' A minute later, a much darker vertical line appeared. It took a minute for it to register and then I just started sobbing.

I couldn't even talk to Christophe. He just kind of looked at me and his eyes got really big. I was trying to explain to him how unusual it is at 39 to get pregnant the first time you try. We have so many friends going through fertility treatments and having such a hard time. His response was, 'Well, I'm French.'

It was exactly what we hoped for. I mean, how often does that happen?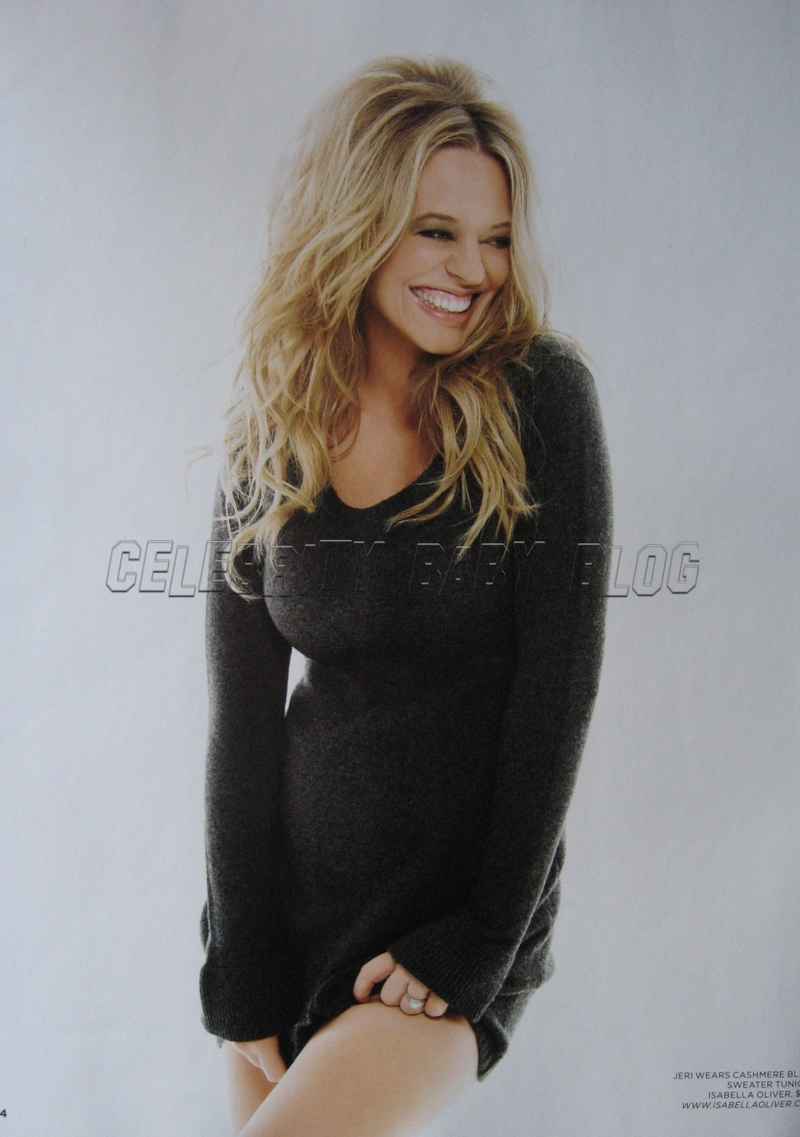 (Jeri is wearing Isabella Oliver's cashmere sweater tunic in charcoal ($99).)
On how Alex took the news:
He has been asking for a brother or sister for years. But I wasn't thinking of how big of a big brother Alex would be at this point. I was thinking more about the fact that this was a new marriage and not wanting him to feel left out.

But the age difference hit home when I told him I was pregnant. His immediate reaction was, 'You mean you're having sex already?!' Then I remembered that when I was 13, my best friend's mom got pregnant and we were mortified.
How he's doing now:
He's been so cute. When he first felt her move, he said, 'She's saying 'hi' to me.'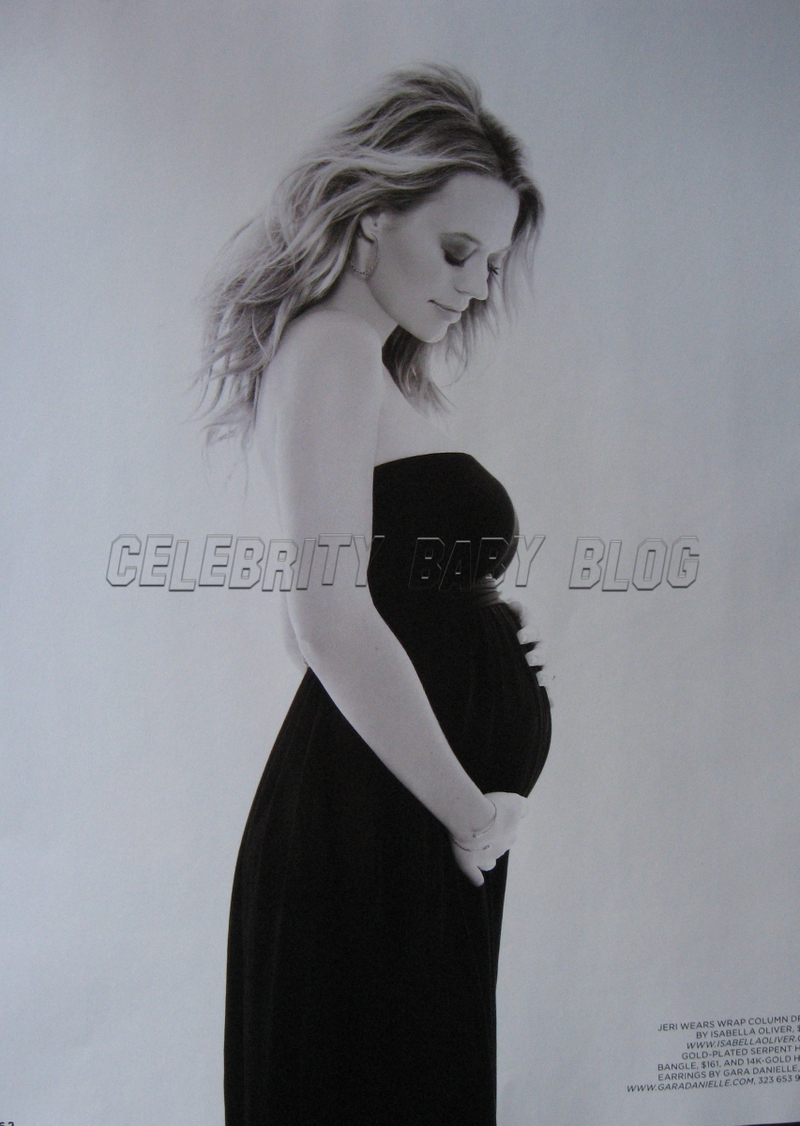 (Jeri is wearing Isabella Oliver's wrap column dress in caviar black ($212).)
What she's doing differently in her second pregnancy:
I don't have any migraines or backaches this time. I wear tight-fitting tops instead of jumpsuits. I've been doing Pilates, and I like to relax in my vegetable garden.

You know the single coolest thing I just grew? Peanuts!…It's so cool — the plant grows a blossom. When it dies, it bends over and digs into the soil and that becomes the peanut. I've just been out there giggling to myself like an idiot and digging through the dirt.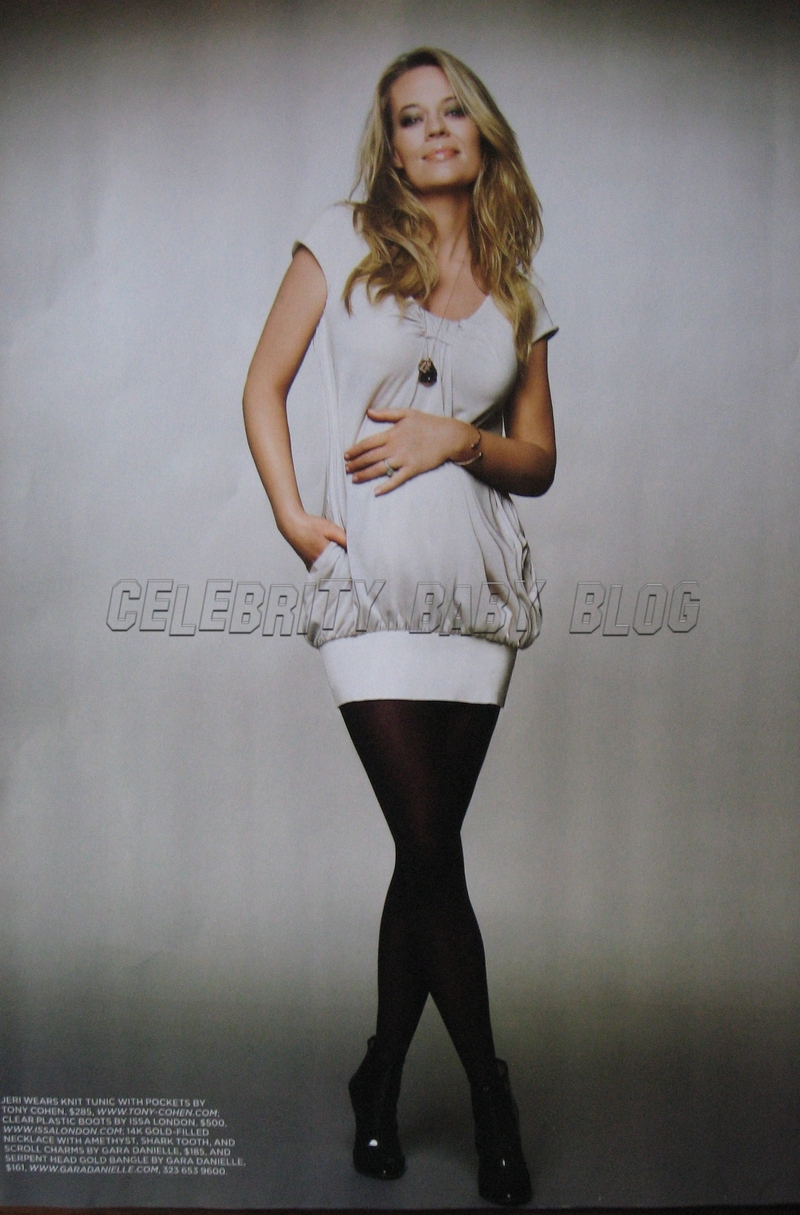 (Jeri wears Tony Cohen's knit tunic with pockets.)
Taking it slower this time around:
With age and maturity I know how fast it all goes now. And I didn't know that with Alex. I feel like I missed so much working so much when he was young. He shouldn't be 13 yet. He was just in kindergarten!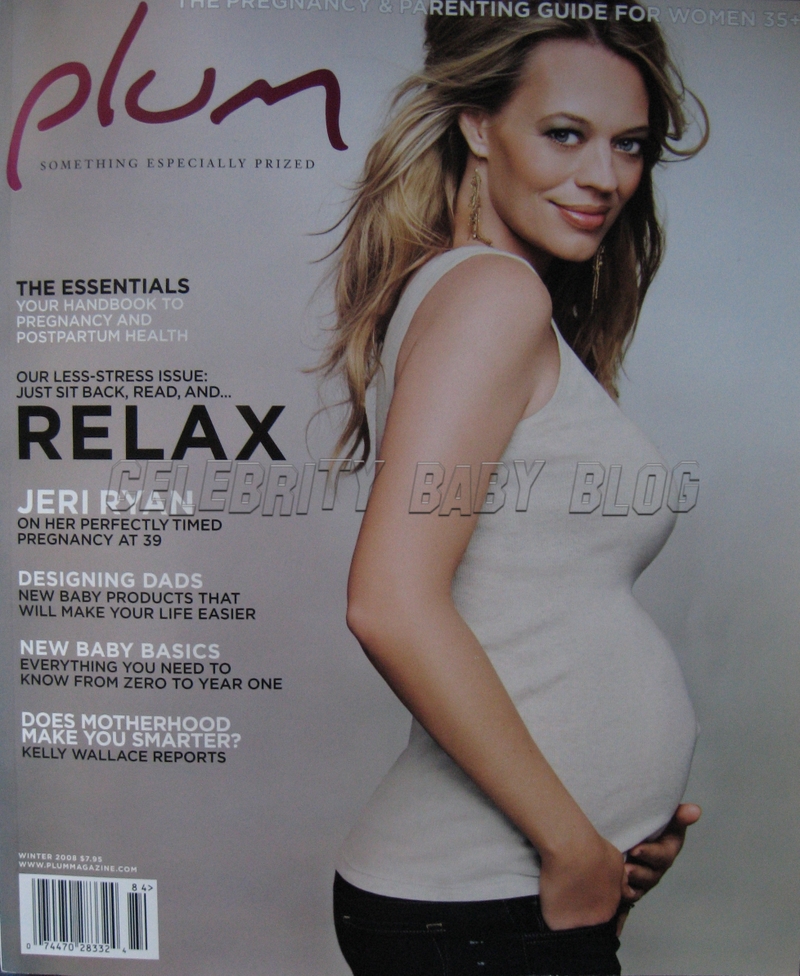 Source: Plum, Winter 2008, p. 162-169
Photo by Naomi Kaltman.