Boom Boom Room Giveaway: Little Playdates DVD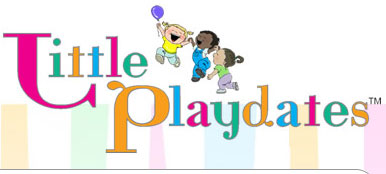 Little Playdates is a first of its kind video program for young children that focuses on positive social and emotional growth through child-to-child interaction and play. The videos provide a unique and uplifting experience for children where they can interact and learn with other children in a wonderfully vivid, natural live-action experience. Watch your child coo, smile, point, laugh, wiggle and dance as they interact with the children in the show!
Little Playdates is endorsed by the President of the National Autism Association (NAA), Wendy Fournier:
The Little Playdates videos are a wonderful learning tool for children with developmental disabilities. They are a perfect combination of favorite songs and adorable children modeling appropriate play skills. They are visually attractive in a bright and colorful way that does not overwhelm the senses.
Little Playdates wants to give you the opportunity to check out their great DVDs — they're offering 75 lucky CBB readers the chance to win the Volume 1, Little Friends DVD from Little Playdates. All you have to do is go to their site and use their contact us page to send them email. Make sure you put Celebrity Baby Blog in the subject line and your name and mailing address in the body of the e-mail. The first 75 people to do this will win a copy of one of their DVDs. Little Playdates also wants to extend a coupon for $5 off your purchase, just use coupon code "lpdiscount" at the time of purchase.
Click continue reading to see Little Playdates' pictures from the Boom Boom Room.
Kim Porter with twin daughters, Jessie James and D'Lila Star and assistant with Little Playdates.
Ali Landry with Little Playdates.
Carnie Wilson with Little Playdates.
Samantha Harris with Little Playdates.
Tracey Gold with Little Playdates
Gary Anthony Williams with Little Playdates
Jason Issacs with Little Playdates
Joely Fisher with Little Playdates
Kevin Frazier with Little Playdates
Neal McDonough with Little Playdates
Roger Cross with Little Playdates
Sally Richardson with Little Playdates